CROCHET
Crochet. My youngest great-niece turns 2 today.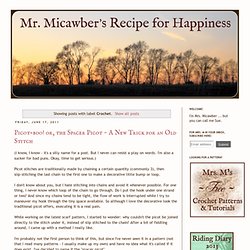 I thought it would be fun to make her a little sundress, with a crocheted bodice or yoke and a thrifted men's shirt for the body. There are a lot of cute patterns out there for re-purposing men's shirts into girls' dresses, and also many cute ideas for crochet-top dresses. I decided to come up with my own design, which was dictated by the amount of yarn I had available (1 skein), and my almost pathological dislike of weaving in yarn ends (hence the 1-piece yoke). Here's how it turned out: Moriarty: two colour stripey crochet beanie « The little house by the sea. Toddler sized beanie made in Debbie Bliss Pure Cotton, colours 21 and 26 Toddler sized beanie made in Rowan Cashsoft colours 12 (blue) and 24 (pink) Men's size beanie made in Debbie Bliss Cashmerino Aran – can't remember the colours!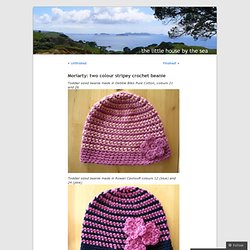 Moriarty is a two coloured beanie, crocheted in a spiral, which means it doesn't have a seam, but it does have a slight jag at the end of the hat, though if you do the version with the flower, this won't show. If you don't want a jag, then join each round using a slip stitch rather than crochet in a spiral. Sizes. ¿Tejes conmigo 2? Hola chiquillas, hoy es un sábado nuboso, húmedo y muy caluroso, realmente no dan muchas ganas de nada.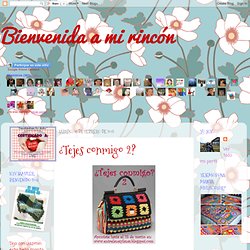 Por lo tanto estoy en la camita con un buen ventilador, vitriniando por la web. Y entre tantas cosas lindas que encontré, esta ésta maravillosa cartera que quiero proponer para que la tejamos juntas. No tengo idea de quien es, si alguien reconoce su autoría y no esta de acuerdo con esta actividad, me lo hace saber y rapidamente se anula toso, si? Realmente no se de quien es y tampoco quiero que hagamos replicas de ella, sino que cada una de nosotros en base a este formato, hagamos una con nuestro propio gusto, agregándole nuestros detalles. Crocheted Pin Cushion Pattern - English version. This pattern I'm going to share with you today came to me in a rather round about way, but I have received permission from everyone involved to share it with you here.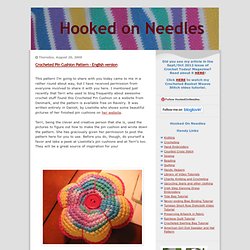 I mentioned just recently that Terri who used to blog frequently about awesome crochet stuff found this Crocheted Pin Cushion on a website from Denmark, and the pattern is available free on Ravelry. It was written entirely in Danish, by Liselotte who shows some beautiful pictures of her finished pin cushions on her website. Terri, being the clever and creative person that she is, used the pictures to figure out how to make the pin cushion and wrote down the pattern.
She has graciously given her permission to post the pattern here for you to use. EASY. Ruusun aika. The English Fantasy Flower bag Pattern. The English Fantasy Flower bag Pattern Hier de link naar het Nederlandse patroon: Hi everyone, Now I can finally show you all my pattern and my finished bag!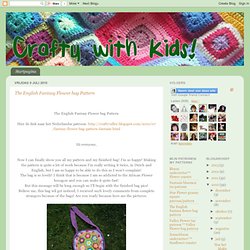 I'm so happy! Making the pattern is quite a lot of work because I'm really writing it twice, in Dutch and English, but I am so happy to be able to do this so I won't complain! Web.archive.org/web/20010616013820/members.aol.com/lffunt/sthookcase.htm?mtbrand=AOL_US. Web.archive.org/web/20070813221526/ Web.archive.org/web/20020210040044/www.cei.net/~vchisam/groovy/tab-7. Members.optusnet.com.au/we2/childspurse. Crochet Bag Pattern. Way back in July, you may remember me making this bag.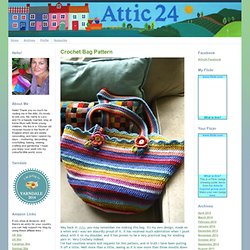 It's my own design, made on a whim and I was/am absurdly proud of it. It has received much admiration when I jaunt about with it on my shoulder, and it has proven to be a very practical bag for stashing yarn in. Very Crochety indeed.I've had countless emails and requests for this pattern, and in truth I have been putting it off a little. Well more than a little, seeing as it is now more than three months down the line. How to Crochet Sea Pennies. Crochet Cute Little Flower - Free Pattern. Crochet Cute Little Flower Pattern Designed by crocheterie Skill level: Easy Supplies: Crochet thread - mercerized cotton #10, crochet hook US 7 (1.50 mm), yarn needle.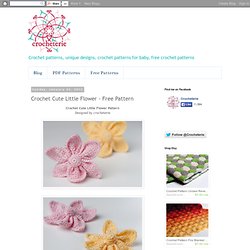 You may choose any other thread (yarn) and hook, but the size of your flower will be different. Yarn Ideas: Aunt Lidia's cotton thread, Aunt Lidia's Bamboo crochet thread, Royale Classic crochet thread, DMC Traditions cotton thread. Talking Crochet ...Colorful Carryall. Colorful Carryall Designed by Delores Spagnuolo You have a case for makeup and a case for money and credit cards.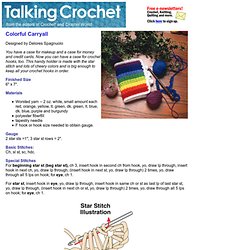 Aluminum Crochet Hook Case. Aluminum Crochet Hook Case by Priscilla Hewitt ©2000 This case is worked all in one piece and folds like a book.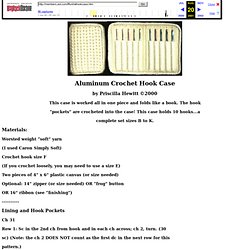 Papillon Scarf: A Free Crochet Pattern | Number 19. Papillon Scarf This is a free crochet pattern for a scarf.
It is made with simple crochet stitches, so it is a beginners project. Papillon is the French word for butterfly. For this scarf I used the butterfly stitch, where you crochet 3 rows of chains together with a single crochet. This gives a special effect, where the chains spread out mimicking butterfly wings. Crochet Hobo Bag. I saw this bag and it totally drove me crazy! For days! Can you imagine? As alluring as it could be, I had to restrain myself from placing another order to Knitpicks. They have some really wonderful wool yarns that are so soft and easy to crochet. The Swag Bag pattern by Marcelle's Creative Crochet. Craft blog : startling crochet-a-long. How to crochet a Elf Style Beanie / Hat with written pattern and Video tutorial.
There are 5 parts to the tutorial 1- Go to the FREE DOWNLOADS bobwilson123 folder that is located on the left hand side and find the pattern you want. 2-Click add to cart. When you have all the patterns you want to download, click checkout. You will have to sign up to the website, but you only have to do this once. 3- Select PAYPAL as the payment (don't worry its free, but you have to select a PAYPAL for it to work ) and then process the purchase. YouTube.
Crochet Flowers
---