Crochet
Get flash to fully experience Pearltrees
Okay, maybe not exactly a giant crocheted rosette flower, but definitely a very large crocheted flower. You know, the kind of flower that will certainly make a cheerful statement worn on a hat or a winter coat right about now. So I do hope that you crochet, since everyone could use a little wardrobe pick me up, especially one that's as simple and quick as this one!
Preparadas para saber o que aconteceu na semana passada ?
<img alt="CZ_HalloweenCrafts.gif" src="http://makezineblog.files.wordpress.com/2011/10/cz_halloweencrafts.gif?
You may remember in the Wash Your Washcloths post a dish cloth featured and I said I would show you the stitch.... Here 'tis. It's my all time go to for blankets.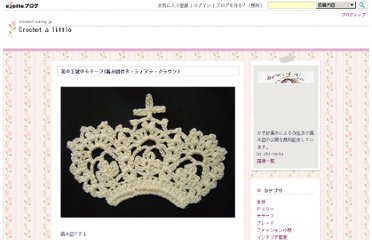 ☆編み図を無料で公開していますが著作権は放棄しておりません。 ☆編み図及び作品の画像を無断転写しないでください。
After I finished my Blue Shawl, I had to get crackin' on my potholders for Adrian and Maritza's Hotpad and Potholder Swap This was a great exciting idea, but I really should have left more time to make these, even though I am extremely happy with them. I think they are more decorative then functional, but so pretty I was sorry to have to send them away!
Paper Clip Stitch Markers I've been using vinyl-coated paper clips as stitch markers for years. At first it was out of necessity.
Click here to zoom Sc2tog [Insert hook in next st, yo and draw up a lp] twice, yo and draw through all 3 lps on hook.
How to crochet with beads! This is a very easy and simple way to crochet a beaded necklace… once you have had a little practice. I crochet a sample using large pony beads so you can see the different effect when you thread your beads onto your thread in a specific sequence or just at random .