Soups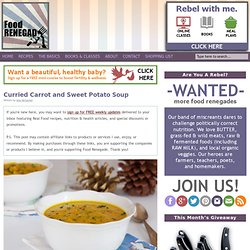 If you're new here, you may want to sign up for FREE weekly updates delivered to your inbox featuring Real Food recipes, nutrition & health articles, and special discounts or promotions. P.S. This post may contain affiliate links to products or services I use, enjoy, or recommend. By making purchases through these links, you are supporting the companies or products I believe in, and you're supporting Food Renegade. Thank you!
Curried Carrot and Sweet Potato Soup
Ruth's Red Lentil and Potato Soup Recipe
Pumpkins aren't just for decoration…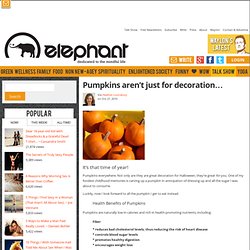 It's that time of year! Pumpkins everywhere. Not only are they are great decoration for Halloween, they're great for you.
curried sweet potato & rice autumn soup/stew
Wednesday October 6, 2010 Fall is my favorite season. And so far this fall is shaping up rather nicely.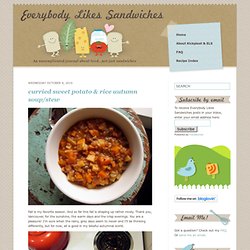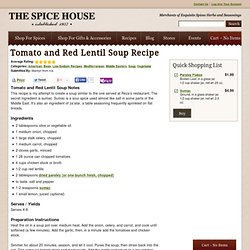 Heat the oil in a soup pot over medium heat. Add the onion, celery, and carrot, and cook until softened (a few minutes). Add the garlic, then, in a minute add the tomatoes and chicken stock. Simmer for about 20 minutes, season, and let it cool. Puree the soup, then strain back into the pot. This removes tomato skins and most seeds.
Tomato and Red Lentil Soup Recipe
I love a soup that is intensely flavorful yet simple to make. This soup has relatively few ingredients but boasts a rich flavor, and an equally beautiful color. The spinach adds a lovely bright green and both the color and taste celebrate spring time. The original recipe did not call for adding asparagus, but I had quite a few tips and cores left after making a shaved raw asparagus salad .
Creamy fennel, spinach and asparagus soup [Vegan]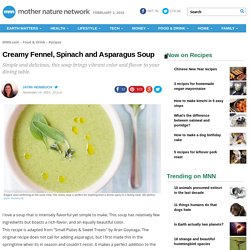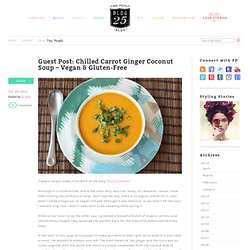 Guest Post: Chilled Carrot Ginger Coconut Soup – Vegan & Gluten-Free
Today's recipe comes from Beth of the blog Tasty Yummies! Although it is summertime, and it has been very, very hot, lately, for whatever reason I have been craving the comforts of soup. Don't ask me why, there is no logical reason for it. Last week I made a huge pot of vegan chili and although it was delicious, it just didn't hit the spot.
Cream of Mushroom Soup – Pure Liquid Moon-Soaked Earth
I can't believe I haven't posted a video recipe for cream of mushroom soup! It's such a classic cool weather staple, and quite simple to make – as long as you have a few hours to spare. The secret to this deep rich potage is a long slow caramelization, the key to unlocking the mushroom's magic. Oh, and by the way, I mean that literally. Mushrooms are by far the most mysterious and magical things we eat. Scientists still don't really understand how and why they grow like they do.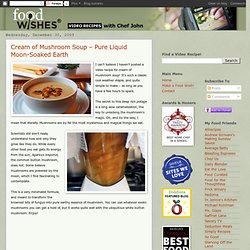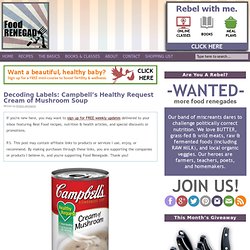 Perhaps my biggest pet peeve is seeing food marketed as "healthy" or "natural" that is anything BUT those things. How can they label bubble-gum flavored apples "100% Natural"? Of course, I know how. "Natural" is a regulated term that just means derived from nature rather than totally synthesized.
Decoding Labels: Campbell's Healthy Request Cream of Mushroom Soup
Cashew Curry Recipe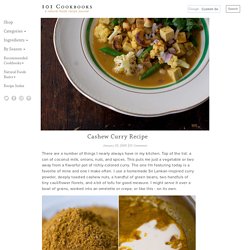 There are a number of things I nearly always have in my kitchen. Top of the list: a can of coconut milk, onions, nuts, and spices. This puts me just a vegetable or two away from a flavorful pot of richly-colored curry. The one I'm featuring today is a favorite of mine and one I make often. I use a homemade Sri Lankan-inspired curry powder, deeply toasted cashew nuts, a handful of green beans, two handfuls of tiny cauliflower florets, and a bit of tofu for good measure. I might serve it over a bowl of grains, worked into an omelette or crepe, or like this - on its own.
GCC: Tuscan Cannellini Bean Soup - Home - Sweetbites Blog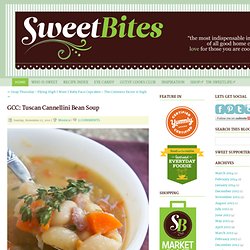 For the past few days we have experience early fall weather. Cool nights, gorgeous days, filled with a nice breeze and bright sunshine. Today was no exception, we woke up to the perfect day to lazy out at home and just be together. Tom and I did not have to think twice about it – we were going to park ourselves on our couch, snuggle and watch tons of TV. Just like I did not think twice about what to make for our lunch. Our December Gutsy Cook menu options it's all about comfort and warmth, and this week's option had the perfect choice for a cool day like today.
Comfort in a bowl. That is what this soup should be called. As Sugarcrafter, where I got the recipe, stated, I love the broccoli cheedar soup at Panera Bread. Not surprisingly, this soup was even better! Since I was craving this soup, I made it as soon as I saw it in a bread bowl. Since I didn't have a batch of bread dough sitting in the refrigerator and was very hungry, I just poured this soup in a bowl.
How to cook perfect tom yum soup | Life and style
By February, even reliable comfort foods can lose their warming charm. Risotto, jacket potatoes, dal – all the old favourites which seemed so exciting back in the late autumn now seem to stretch in an unending starchy line to spring (whenever that may be). And while it's not quite time to retire the masher for the season, a dose of fresh, dare I say "zingy" flavour in the form of a clean, aromatic soup is just the thing to shake up a hibernating palate. Thai tom yum is just what the doctor ordered, being both hot and searingly aromatic enough to cut through even the stuffiest of winter colds.
Senegalese Peanut Soup In fourth grade there was a girl named Karen who I envied something fierce. Karen was cool and pretty, she beat the boys at every sport in PE, and everyone—regardless of gender—wanted to be her friend. The main reason I envied her, though, was for her lunches.
The Traveler's Lunchbox - Journal - Out of Africa, Into the Bowl
Soothing Potato, Celery Root and Sunchoke Cream with Purple Potato Chips
When I took these photos last week, I had a different story to tell you. A story about autumn and potatoes. But things changed.
African Curried Coconut Soup with Chickpeas Recipe at Epicurious
yield Makes 4 servings Black-eyed peas can replace the chickpeas, if desired. For a lighter soup, the rice can be omitted.