Plants and such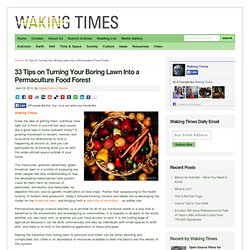 33 Tips on Turning Your Boring Lawn Into a Permaculture Food Forest - Waking Times
Waking Times Does the idea of getting fresh, nutritious food right out in front of you kitchen door sound like a good idea in these turbulent times? A growing movement to reclaim, restore, and re-localize our relationship to food is happening all around us, and you can participate by re-thinking what you do with the under-utilized space outside of your home. The manicured, grassed, perennially green American lawn is a symbol of a passing era when people had little understanding of how the developing industrialized food system could do them harm by overuse of pesticides, anti-biotics and herbicides, by depletion the soil, and by genetic modification of food crops.
Come Hither Kale, Mr. Candyland Game, Seductive Books and a Black-Eyed Gnome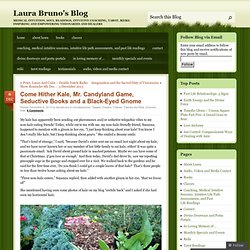 My kale has apparently been sending out pheromones and/or seductive telepathic vibes to my non-kale eating friends! Today, while out to tea with me, my non-kale-friendly friend, Suzanna, happened to mention with a gleam in her eye, "I just keep thinking about your kale! You know I don't really like kale, but I keep thinking about yours." She smiled a dreamy smile.
Dr. MercolaWaking Times Coconut oil has been a dietary and beauty staple for millennia. It's a powerful destroyer of all kinds of microbes, from viruses to bacteria to protozoa, many of which can be harmful, and provides your body with high-quality fat that is critical for optimal health. Around 50 percent of the fat in coconut oil is lauric acid, which is rarely found in nature. In fact, coconut oil contains the most lauric acid of any substance on Earth.
Countless Uses for Coconut Oil – The Simple, the Strange, and the Downright Odd - Waking Times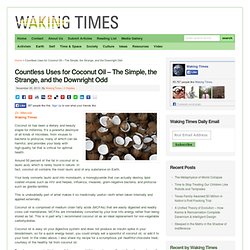 ▶ How To Construct A Maintanance-Free Solexx Greenhouse
TDG ~ Telling the Bees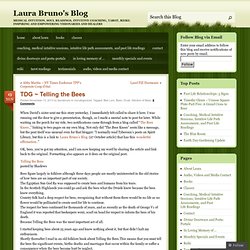 When David's sister sent me this story yesterday, I immediately felt called to share it here. I was running out the door to give a presentation, though, so I made a mental note to post for later. While waiting on the porch for my ride, two notifications came through from a blog called "The Bees Knees," linking to two pages on my own blog. Not only did "The Bees Knees" seem like a message, but the post itself was unusual even for that blogger: "I normally read Tyberonn's posts on Spirit Library, but this is a link to Laura Bruno's Blog (27 October article) that has this wonderful affirmation." OK, bees, you've got my attention, and I am now keeping my word by sharing the article and link back to the original. Formatting also appears as it does on the original post.
Carolanne Wright, GuestWaking Times No need to bypass all the health perks of fresh superfoods this winter — simply grow them inside on a sunny window ledge. As the weather turns colder, now more than ever it is important to fortify the body with nutrient dense foods. What better way than with unprocessed superfoods? An economical and fun undertaking, cultivating a micro-superfood garden is easier than you may think. With food costs skyrocketing this season, consumers are looking for novel ways to stay nourished on a budget.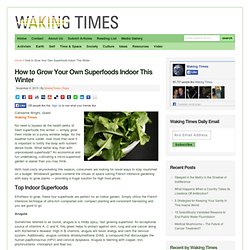 How to Grow Your Own Superfoods Indoor This Winter - Waking Times
A Wealth of DIY Eductional and Instructional material for Simple Living
Welcome to Jubilee 101. Here you will find a wealth of educational/instructional material* literally at your fingertips. Below is a list of the categories. Each category contains between 15 – 40 educational/instructional PDF documents* and 5 – 30 instructional videos. In total there are over 2600 PDF documents and over 1000 videos. While we are just beginning the process of putting up the videos, we do have all of the pdf documents online and ready.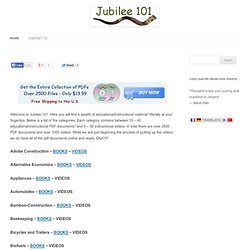 My friend Michelle asked whether I would be posting my speech from the March Against Monsanto, so I am going to post it here. This blog is about me becoming more comfortable in my writer's skin, about not being snarky and rude to myself about what I write, so I will not be the Teacher with The Red Pen telling you what I think is wrong with this piece. It's not bad, really. Some of it is pretty good, I think. It's just that as I wrote it, it didn't feel inspired. It didn't feel world-changing or earth-shaking.
My March Against Monsanto Speech | Mockingbird Chronicles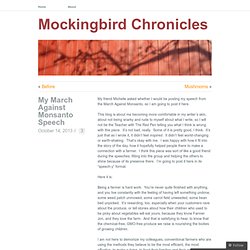 A group of us in Goshen got together last night for an evening of gleaning, and ohhhh, what a lovely, lovely time! Transition Goshen has a project called, "The Low Hanging Fruit Press," which many of us crowd funded so that we could purchase a community cider press. As a side part of this project, we also began to map fruit trees in town — on private or public property — in need of harvesting. Many people buy homes that already have fruit trees planted, and they find these trees a nuisance rather than a boon.
Gleaning | Laura Bruno's Blog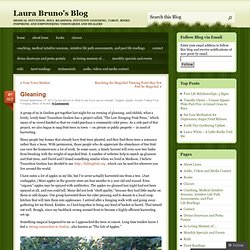 Organic Garden
On the Rikers Island GreenHouse program: "These types of programs not only enhance the environment by increasing the green:asphalt ratio, but growing food near prison sites improves the nutritional intake of the inmates, as well as trains them for green jobs when they get out—a track that when followed has been proven to reduce the rate at which former inmates return to prison. One study in San Francisco showed that 29 percent of prisoners were re-arrested within four months of their release, while only 6 percent of those who partook in a gardening program were re-arrested." - from"Rikers Island Sprouting Green" by Rachel Cernansky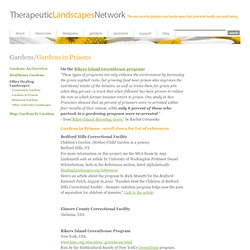 Community Gardens
Growing Herbal Medicine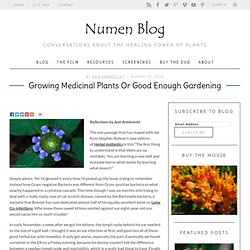 The one passage that has stayed with me from Stephen Buhner's new edition of Herbal Antibiotics is this:"The first thing to understand is that there are no mistakes. You are learning a new skill and everyone learns what works by learning what doesn't." Simple advice. Yet I'd ignored it every time I'd picked up the book, trying to remember instead how Gram-negative Bacteria was different from Gram-positive bacteria or what exactly happened in a cytokine cascade.
▶ Richard Heinberg: why end of growth can mean more happiness
Amazonian shamanism is, among other things, a form of herbal medicine. People who focus on the healing and transformative powers of ayahuasca may sometimes overlook the sheer size of the shamanic pharmacopoeia and the role that plant medicines play in healing. But to understand curanderismo in the Amazon, we have to understand these healing plants — their selection, preparation, indications, and application. My plant teacher doña María Tuesta Flores knew hundreds of plant medicines. The key to healing with plants, she told me, is not only to know which plant can heal which conditions, but also to understand the proper way to prepare the plants for use.
Susun Weed, Herbalist | Singing to the Plants
Hemp Could Free Us From Oil, Prevent Deforestation, Cure Cancer and It's Environmentally Friendly - So Why Is It Illegal? - Waking Times
Marco Torres, Prevent Disease Waking Times Hemp is a tall, beautiful and gracious looking annual plant that can reach heights over twelve feet. Although hemp ( cannabis sativa ) and marijuana ( cannabis sativa var. indica ) come from a similar species of plant, they are very different and confusion has been caused by deliberate misinformation with far reaching effects on socioeconomics as well as on environmental matters.
Ten Commandments of Butterfly Gardening
Cathy Margolin, GuestWaking Times Millions of kilos of this herb are sold throughout Asia every year, yet most Americans have never heard of it. It is Astragalus Membranaceus, also know as Huang Qi, and it's one of the greatest immune boosting, fatigue fighting herbs in the world. The functioning plant part is the root which has been native to Northern China and Mongolia for centuries. I'm excited to see Astragalus cultivation has begun in the U.S. Once found only in the wild, a wild root commonly grows 2-3 feet long and are more highly prized than a smaller cultivated root.
The Most Popular Immune Boosting Herb Sold In The World - Waking Times
Celery and Artichokes Contain Powerful Flavonoids That Kill Cancer Cells - Waking Times
Karen Foster, Prevent DiseaseWaking Times Celery, artichokes, and herbs, especially Mexican oregano, all contain powerful flavonoids that wipe out diseased cancer cells. Apigenin and luteolin kill pancreatic cancer in the lab by inhibiting an important enzyme, according to two new University of Illinois studies. James Duke, Ph.D., author of The Green Pharmacy, found more than 20 anti-inflammatory compounds in celery and celery seeds, including a substance called apigenin, which is powerful in its anti-inflammatory action. Adding celery seeds to soups, stews or as a salt substitute in many recipes can boost the flavonoid content of these preparations. "Apigenin alone induced cell death in two aggressive human pancreatic cancer cell lines.
Laura Bruno – Late Season Garden Recap – 4 September 2013
Green Acres Neighborhood Garden | Just another WordPress.com site
Wave goodbye to global warming, GM and pesticides
Laura Bruno – How I Did Less And Ate Better, Thanks To Weeds ~ Tama Matsuoka Wong At TEDx Manhattan – 28 August 2013
Jerry Baker's Old-Time Gardening Wisdom: Lessons Learned from Grandma Putt's Kitchen Cupboard, Medicine Cabinet, and Garden Shed! (Jerry Baker Good Gardening series): Jerry Baker, Kim Gasior: 9780922433353: Amazon.com
15 Great Uses for Tea Tree Oil
The Secret Link: Radiant Skin & Immunity
Tree Hugging Now Scientifically Validated | Spirit of Ma'at
Build a DIY vertical planter for small space gardening
Discovery Channel documentary Moringa - The Miracle Tree
Top 5 Herbs To Grow For Cooking & Medicinal Use
10 Mosquitoes Controlling Plants for Home
WakingTimes: 52 Wild Plants You Can Eat – 17 April 2013
Lord Metatron via James Tyberonn: Sequoia-Crystalline Portals of Healing and the Sacred Energy of Trees
Rainbow Bright
How Hemp Threatens the Corporatocracy ~ Brainwash Update
Amazing Singing Plant Technology, by Saveit4aSong
Top 10 Backyard Projects
How to Grow an Oak Tree from an Acorn: 7 steps (with pictures)
Permaculture — Lunaya Shekinah
Buy Moringa
Cool-season vegetables
Warm-season crops
Sepp Holzer's Permaculture
Search
The 7 Deadly Homemade Weed Killers
Revolutionary Plots | Rebecca Solnit
Legge Lewis Legge Elevated Prairie.html
Legge Lewis Legge Fractal Garden.html
Common Herb, Water Hyssop, Reverses Epilepsy, Treats and Prevents Other Brain Disorders
Promised you a Herb Garden - Matrix Energetics Message Boards
40 Inspiring DIY Herb Gardens
Suspended String Gardens
Kokedama String Garden Design*Sponge
Dzine - Garden landscaping, planting and growing your own veggies
More Creative Fence Ideas — J Peterson Garden Design
7 ways to design a garden of tranquility
Recycled Pop/Soda Bottle SIPs
gardening in the boroughs of nyc
Art - Fresh Dirt - Sunset.com
Runåbergs fröer - Ängsväxter
Netbutik
Gardening Tools and Decor
kelnanplants
Blue bamboo - Northern California
Recent warmth brings out the best in a beautiful bamboo...
Knoll Gardens
Grow Your Own Bee Garden: 7 Tips for a Bee-Friendly Habitat
Gossip in the Garden