Plants and such
The Man Who Planted Trees.
Medicinal. Home Aquaponics System: Plant and Fish Farming Made Easy | Aquaponics made easy - all people love organic farming to supply their food. Wouldn't you like to have a home-made aquaponics system that will make organic farming easy and fun?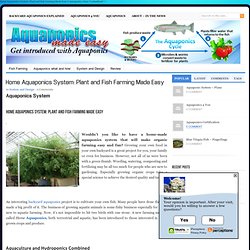 Growing your own food in your own backyard is a great project for you, your family or even for business. However, not all of us were born with a green thumb. Weeding, watering, composting and fertilizing may be all too much for people who are new to gardening. Seawater Greenhouses Produce Tomatoes in the Desert. According to the World Health Organization, about 20 percent of the world's people live in regions that don't have enough water for their needs.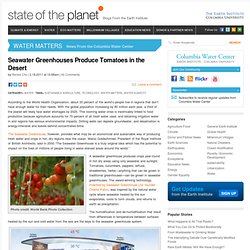 With the global population increasing by 80 million each year, a third of the planet will likely face water shortages by 2025. This looming water crisis is inextricably linked to food production because agriculture accounts for 70 percent of all fresh water used, and obtaining irrigation water in arid regions has serious environmental impacts. Drilling wells can deplete groundwater, and desalination is energy-intensive and leaves behind concentrated brine.
The Seawater Greenhouse, however, provides what may be an economical and sustainable way of producing fresh water and crops in hot, dry regions near the ocean. Japanese bio-expert showcases novel soil-less cultivation technology. Japanese bio-expert showcases novel soil-less cultivation technology Growing plants without soil (hydroponics) has been an oft-cited phenomenon under consideration for quite sometime.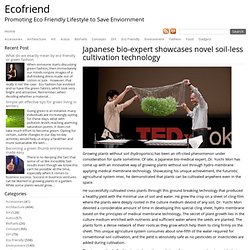 Of late, a Japanese bio-medical expert, Dr. Yuichi Mori has come up with an innovative way of growing plants without soil through hydro membrane applying medical membrane technology. 52 Wild Plants You Can Eat - Updated. Waking Times Editor's Note: This list is originally from Suntactics, however, Waking Times has added important addendums to this information and has corrected some errors.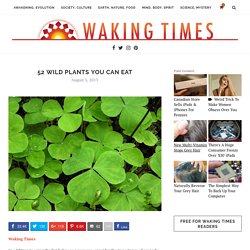 If you have any additional insight to share, please do so in the comments section below, and we can assemble another version of this article once more input is taken. In addition to using the list below as a resource, consider the importance of properly educating yourself before consuming wild plants. Below are some resources to consider: Stalking the Wild Asparagus and Stalking The Healthful Herbs by Euell Gibbons. Subversion Without Violence. Bill Mollison once said, "I teach self-reliance, the world's most subversive practice.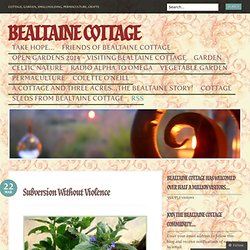 I teach people how to grow their own food, which is shockingly subversive. So, yes, it's seditious. How Plants Help Each Other Grow By Near-Telepathic Communication. Michael Forrester, Prevent DiseaseWaking Times Plants have scientifically been show to draw alternative sources of energy from other plants.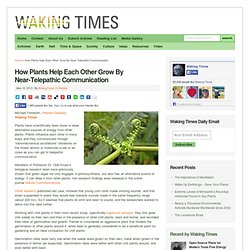 Plants influence each other in many ways and they communicate through "nanomechanical oscillations" vibrations on the tiniest atomic or molecular scale or as close as you can get to telepathic communication. Members of Professor Dr. Olaf Kruse's biological research team have previously shown that green algae not only engages in photosynthesis, but also has an alternative source of energy: it can draw it from other plants. His research findings were released in the online journal Nature Communications.
European Commission to Ban Heirloom Seeds and Criminalize Plants & Seeds Not Registered with Government. All in the name of "safety," of course!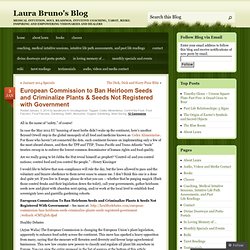 In case the May 2012 EU banning of most herbs didn't wake up the continent, here's another Beyond Orwell step in the global monopoly of all food and medicine known as Codex Alimentarius. For those who haven't yet connected the dots, each continent focuses on implementing only a few of the most absurd abuses, and then the TPP and TTIP, Trans-Pacific and Trans-Atlantic "trade" treaties swoop in to enforce the lowest common denominator of human rights and food quality. This Could Change the World! Real Crisis in the Economy, Economic Forecasts, Economic Recovery, …the list of headlines, news and political in-fighting over the economy seems endless.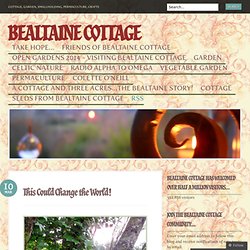 However, the figures that are collected year on year, collated and spun out to us all, regarding the state of our country's economy, are referred to as GDP or Gross Domestic Product. GDP is the market value of all officially recognized final goods and services produced within a country in a year. This includes trees. When Dreams "Bleed" Through. I had one of the stranger experiences of my life this morning, and that's saying something, given my unusual life!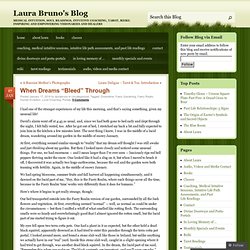 David's alarm went off at 4:45 as usual, and, since we had both gone to bed early and slept through the night, I felt fully rested, too. After he got out of bed, I stretched my back a bit and fully expected to join him in the kitchen a few minutes later. Most people have a favorite disaster scenario. Build a $300 underground greenhouse for year-round gardening. Build a $300 underground greenhouse for year-round gardening [W/VIDEO] Growers in colder climates often utilize various approaches to extend the growing season or to give their crops a boost, whether it's coldframes, hoop houses or greenhouses.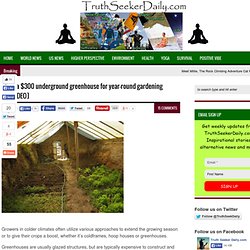 Greenhouses are usually glazed structures, but are typically expensive to construct and heat throughout the winter. A much more affordable and effective alternative to glass greenhouses is the walipini (an Aymara Indian word for a "place of warmth"), also known as an underground or pit greenhouse. First developed over 20 years ago for the cold mountainous regions of South America, this method allows growers to maintain a productive garden year-round, even in the coldest of climates. How To Construct A Maintanance-Free Solexx Greenhouse.
Keep Bees, Naturally! If you'd like to benefit your garden and community and offer a treat to your taste buds, consider trying your hand at natural beekeeping in your own backyard. As honeybees gather pollen and nectar to make 50 pounds or more of pure, wild honey per hive, they pollinate crops nearby — and up to four miles away. This pollination is essential for good yields for some flowering crops. TDG ~ Telling the Bees. When David's sister sent me this story yesterday, I immediately felt called to share it here.
I was running out the door to give a presentation, though, so I made a mental note to post for later. While waiting on the porch for my ride, two notifications came through from a blog called "The Bees Knees," linking to two pages on my own blog. Not only did "The Bees Knees" seem like a message, but the post itself was unusual even for that blogger: "I normally read Tyberonn's posts on Spirit Library, but this is a link to Laura Bruno's Blog (27 October article) that has this wonderful affirmation." OK, bees, you've got my attention, and I am now keeping my word by sharing the article and link back to the original. Formatting also appears as it does on the original post. Grow Your Own Bee Garden: 7 Tips for a Bee-Friendly Habitat.
Planting a bee garden is becoming increasingly important as across our planet, bees are thought to be suffering increased stress as a result of global warming, and the effect that this has on flowering times and nectar availability. It will take many generations of bees to evolve into stronger colonies able to deal with the change in climate. We depend on the work of bees and other insects more than most of us realise; almost 70% of the food we consume relies on pollination from insects, and bees are a critical part of this army of fertilizers.
Meanwhile there is plenty we can do to help. Knowing which plants bees prefer, and at what time of the year they need access to them, can make a fundamental difference to the success of local bee colonies. Colony Collapse Disorder Is a Fraud: Pesticides Cause Bee Die-Offs. Heidi Stevenson, Green Med Info Waking Times Years ago, Gaia Health informed that bee dieoffs are a direct result of pesticide nerve agents called neonicotinoids. The term, Colony Collapse Disorder, is fraudulent, designed to direct attention from the known cause. Agribusiness, the poison manufacturers making death-producing pesticides, is the other face of Big Pharma. Ten Commandments of Butterfly Gardening. My March Against Monsanto Speech | Mockingbird Chronicles. My friend Michelle asked whether I would be posting my speech from the March Against Monsanto, so I am going to post it here.
This blog is about me becoming more comfortable in my writer's skin, about not being snarky and rude to myself about what I write, so I will not be the Teacher with The Red Pen telling you what I think is wrong with this piece. It's not bad, really. Some of it is pretty good, I think. It's just that as I wrote it, it didn't feel inspired. It didn't feel world-changing or earth-shaking. Gleaning. Organic Garden. Community Gardens. Richard Heinberg: why end of growth can mean more happiness. Susun Weed, Herbalist | Singing to the Plants. Laura Bruno – Late Season Garden Recap – 4 September 2013. Green Acres Neighborhood Garden | Just another WordPress.com site.
Wave goodbye to global warming, GM and pesticides. Laura Bruno – How I Did Less And Ate Better, Thanks To Weeds ~ Tama Matsuoka Wong At TEDx Manhattan – 28 August 2013. Jerry Baker's Old-Time Gardening Wisdom: Lessons Learned from Grandma Putt's Kitchen Cupboard, Medicine Cabinet, and Garden Shed! (Jerry Baker Good Gardening series): Jerry Baker, Kim Gasior: 9780922433353: Amazon.com. Companion Planting.
WakingTimes: 52 Wild Plants You Can Eat – 17 April 2013. Lord Metatron via James Tyberonn: Sequoia-Crystalline Portals of Healing and the Sacred Energy of Trees. Rainbow Bright. Amazing Singing Plant Technology, by Saveit4aSong. Top 10 Backyard Projects. 10 Simple, Cheap Home Gardening Innovations to Set You on the Path to Food Independence. How to grow herbs indoors this winter. The 16 Best Healthy, Edible Plants to Grow Indoors. How to Grow Your Own Superfoods Indoor This Winter.
How to Grow Vegetables | Guide to Growing Vegetables. How to Grow an Oak Tree from an Acorn: 7 steps (with pictures) Cool-season vegetables. Warm-season crops. 17 Apart: Growing Celery Indoors: Never Buy Celery Again. Grow plants from your groceries, like ginger root and pineapple! Vegetable Spacing Guide". Dzine - Garden landscaping, planting and growing your own veggies.
Search. 10 Mosquitoes Controlling Plants for Home. The 7 Deadly Homemade Weed Killers. Ngo Family Farm: garlic tea for the garden. 5 Easy to Grow Mosquito-Repelling Plants. Revolutionary Plots | Rebecca Solnit. Legge Lewis Legge Elevated Prairie.html. Promised you a Herb Garden. VERTICAL HERB GARDENS - gardening, planting, nature, garden, sustainable lifestyle, do-it-yourself, creative environmental options, craft, organics, gardening, planting, flower pots, reusing, old and vintage, nature, environmental news, recycling tips, br. 40 Inspiring DIY Herb Gardens. Build a DIY vertical planter for small space gardening. Suspended String Gardens. Kokedama String Garden Design*Sponge. Moss carpet for your bathroom. Recycled pallet vertical garden.
More Creative Fence Ideas — J Peterson Garden Design. That Wall Looks Like a Perfect Spot for a Garden | Metro Hippie. Gardening in the boroughs of nyc. Inforgraphic: How Big A Backyard Do You Need To Live Off The Land? | Natural Farmacy. 7 ways to design a garden of tranquility. Gossip in the Garden. Recycled Pop/Soda Bottle SIPs. How To Make a Hanging Gutter Garden aHa! Home & Garden.
Legge Lewis Legge Fractal Garden.html. Runåbergs fröer - Ängsväxter. Netbutik. Gardening Tools and Decor. Kelnanplants. Blue bamboo - Northern California. Recent warmth brings out the best in a beautiful bamboo... Knoll Gardens. Growing Power. Root Simple | low tech home tech. Mushroom Adventures Mushroom Kits. Grow mushrooms at home.
---