Plants and such
Permaculture and the Sacred: A Conversation with Starhawk. Plant Consciousness Interview with John Perkins. Indoor Harvest Gardens.
Ormus. Bees, butterflies. Medicinal. Permaculture. 19 Garden Hacks for Thrifty Gardeners. Call them shortcuts, money savers or clever tricks, but many thrifty garden-management practices, or "hacks," have proved worthwhile for penny-pinching hobby farmers.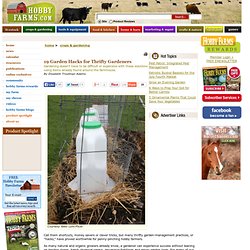 As many natural and organic growers already know, a gardener can experience success without leaning on big-box stores, harsh chemical sprays, pre-mixed fertilizers and pricey garden tools. For many of our parents and grandparents, remedies for garden challenges, such as pest repellants or fertilizers, originated from household staples and repurposed everyday items. While these garden hacks can save you money and a trip to the store, they can also provide a more natural approach to gardening that many growers—and eaters—desire.
Seed Starting Sometimes the beginning of gardening season can seem the most overwhelming—and pricey! How to Dry Moringa and Make Green Powder - A New Raw Super Food. The Secret to Building a Salad Keyhole Garden. Kelly Roberson, GuestWaking Times A keyhole garden is a remarkably adaptable element that works in a range of garden styles.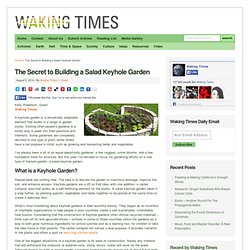 Visiting other people's gardens is a lovely way to peek into their passions and interests. Some gardeners are completely devoted to one type of plant, while others have a set purpose in mind, such as growing and harvesting herbs and vegetables. Moringa Stenopetala - the African Miracle Tree. Growing with Love: 4 Surprising Rules for a Healthy Crop. ~ Celine Koropchak. Via Celine Koropchakon Aug 3, 2014 Ever since I was a young girl, I found more peace and solace in being outside in nature than in any official church setting.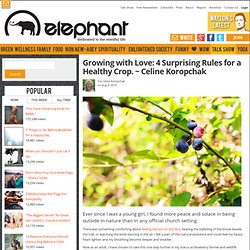 There was something comforting about feeling the sun on my face, hearing the babbling of the brook beside the trail, or watching the birds dancing in the air. I felt a part of this natural existence and could feel my heavy heart lighten and my breathing become deeper and steadier. Now as an adult, I have chosen to take this one step further in my status as blueberry farmer and wildlife hostess. For it appears that these blueberries are not just for me and my customers. The Man Who Planted Trees. 52 Wild Plants You Can Eat - Updated. Waking Times Editor's Note: This list is originally from Suntactics, however, Waking Times has added important addendums to this information and has corrected some errors.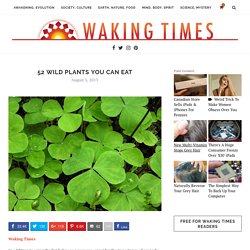 If you have any additional insight to share, please do so in the comments section below, and we can assemble another version of this article once more input is taken. In addition to using the list below as a resource, consider the importance of properly educating yourself before consuming wild plants. Below are some resources to consider: Stalking the Wild Asparagus and Stalking The Healthful Herbs by Euell Gibbons. Subversion Without Violence. Bill Mollison once said, "I teach self-reliance, the world's most subversive practice.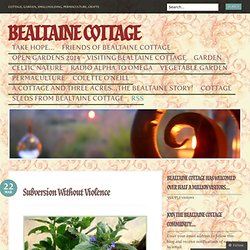 I teach people how to grow their own food, which is shockingly subversive. So, yes, it's seditious. How Plants Help Each Other Grow By Near-Telepathic Communication. Michael Forrester, Prevent DiseaseWaking Times Plants have scientifically been show to draw alternative sources of energy from other plants.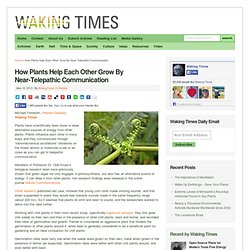 Plants influence each other in many ways and they communicate through "nanomechanical oscillations" vibrations on the tiniest atomic or molecular scale or as close as you can get to telepathic communication. Members of Professor Dr. Olaf Kruse's biological research team have previously shown that green algae not only engages in photosynthesis, but also has an alternative source of energy: it can draw it from other plants. His research findings were released in the online journal Nature Communications. European Commission to Ban Heirloom Seeds and Criminalize Plants & Seeds Not Registered with Government. All in the name of "safety," of course!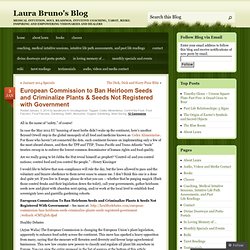 In case the May 2012 EU banning of most herbs didn't wake up the continent, here's another Beyond Orwell step in the global monopoly of all food and medicine known as Codex Alimentarius. For those who haven't yet connected the dots, each continent focuses on implementing only a few of the most absurd abuses, and then the TPP and TTIP, Trans-Pacific and Trans-Atlantic "trade" treaties swoop in to enforce the lowest common denominator of human rights and food quality. This Could Change the World! Real Crisis in the Economy, Economic Forecasts, Economic Recovery, …the list of headlines, news and political in-fighting over the economy seems endless.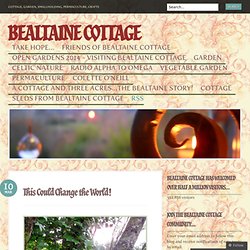 However, the figures that are collected year on year, collated and spun out to us all, regarding the state of our country's economy, are referred to as GDP or Gross Domestic Product. GDP is the market value of all officially recognized final goods and services produced within a country in a year. This includes trees. When Dreams "Bleed" Through. I had one of the stranger experiences of my life this morning, and that's saying something, given my unusual life!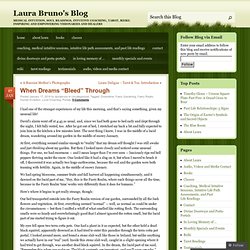 David's alarm went off at 4:45 as usual, and, since we had both gone to bed early and slept through the night, I felt fully rested, too. After he got out of bed, I stretched my back a bit and fully expected to join him in the kitchen a few minutes later. Most people have a favorite disaster scenario. My March Against Monsanto Speech | Mockingbird Chronicles. My friend Michelle asked whether I would be posting my speech from the March Against Monsanto, so I am going to post it here.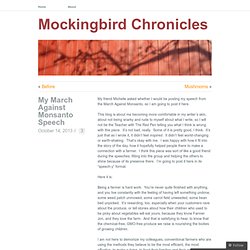 This blog is about me becoming more comfortable in my writer's skin, about not being snarky and rude to myself about what I write, so I will not be the Teacher with The Red Pen telling you what I think is wrong with this piece. It's not bad, really. Some of it is pretty good, I think. It's just that as I wrote it, it didn't feel inspired. It didn't feel world-changing or earth-shaking. Gleaning. A group of us in Goshen got together last night for an evening of gleaning, and ohhhh, what a lovely, lovely time! Transition Goshen has a project called, "The Low Hanging Fruit Press," which many of us crowd funded so that we could purchase a community cider press. As a side part of this project, we also began to map fruit trees in town — on private or public property — in need of harvesting.
Many people buy homes that already have fruit trees planted, and they find these trees a nuisance rather than a boon. Organic Garden. Community Gardens. On the Rikers Island GreenHouse program: "These types of programs not only enhance the environment by increasing the green:asphalt ratio, but growing food near prison sites improves the nutritional intake of the inmates, as well as trains them for green jobs when they get out—a track that when followed has been proven to reduce the rate at which former inmates return to prison. One study in San Francisco showed that 29 percent of prisoners were re-arrested within four months of their release, while only 6 percent of those who partook in a gardening program were re-arrested.
" - from"Rikers Island Sprouting Green" by Rachel Cernansky. Richard Heinberg: why end of growth can mean more happiness. Susun Weed, Herbalist | Singing to the Plants. Amazonian shamanism is, among other things, a form of herbal medicine. People who focus on the healing and transformative powers of ayahuasca may sometimes overlook the sheer size of the shamanic pharmacopoeia and the role that plant medicines play in healing.
But to understand curanderismo in the Amazon, we have to understand these healing plants — their selection, preparation, indications, and application. My plant teacher doña María Tuesta Flores knew hundreds of plant medicines. The key to healing with plants, she told me, is not only to know which plant can heal which conditions, but also to understand the proper way to prepare the plants for use. Laura Bruno – Late Season Garden Recap – 4 September 2013. All the gardening books I read keep mentioning "the importance of keeping a garden journal." On and on, enough already! Part of me just will not start another journal. Then, I realized, I've been record keeping all year on this blog, sharing my discoveries, goofs and adventures with fellow and vicarious gardeners.
Close enough. Green Acres Neighborhood Garden | Just another WordPress.com site. Wave goodbye to global warming, GM and pesticides. Updated 25 August 2013 09:56 AM The technology – radio wave energised water – massively increases the output of vegetables and fruits by up to 30 per cent. Not only are the plants much bigger but they are largely disease-resistant, meaning huge savings in expensive fertilisers and harmful pesticides. Laura Bruno – How I Did Less And Ate Better, Thanks To Weeds ~ Tama Matsuoka Wong At TEDx Manhattan – 28 August 2013.
Jerry Baker's Old-Time Gardening Wisdom: Lessons Learned from Grandma Putt's Kitchen Cupboard, Medicine Cabinet, and Garden Shed! (Jerry Baker Good Gardening series): Jerry Baker, Kim Gasior: 9780922433353: Amazon.com. Companion Planting. WakingTimes: 52 Wild Plants You Can Eat – 17 April 2013. Lord Metatron via James Tyberonn: Sequoia-Crystalline Portals of Healing and the Sacred Energy of Trees. Rainbow Bright. Amazing Singing Plant Technology, by Saveit4aSong. Top 10 Backyard Projects. 10 Simple, Cheap Home Gardening Innovations to Set You on the Path to Food Independence. How to grow herbs indoors this winter.
The 16 Best Healthy, Edible Plants to Grow Indoors. How to Grow Your Own Superfoods Indoor This Winter. How to Grow Vegetables | Guide to Growing Vegetables. How to Grow an Oak Tree from an Acorn: 7 steps (with pictures) Cool-season vegetables. Warm-season crops. 17 Apart: Growing Celery Indoors: Never Buy Celery Again. Grow plants from your groceries, like ginger root and pineapple!
Vegetable Spacing Guide". Dzine - Garden landscaping, planting and growing your own veggies. Search. 10 Mosquitoes Controlling Plants for Home. The 7 Deadly Homemade Weed Killers. Ngo Family Farm: garlic tea for the garden. 5 Easy to Grow Mosquito-Repelling Plants. Revolutionary Plots | Rebecca Solnit. Legge Lewis Legge Elevated Prairie.html. Promised you a Herb Garden. VERTICAL HERB GARDENS - gardening, planting, nature, garden, sustainable lifestyle, do-it-yourself, creative environmental options, craft, organics, gardening, planting, flower pots, reusing, old and vintage, nature, environmental news, recycling tips, br. 40 Inspiring DIY Herb Gardens. Build a DIY vertical planter for small space gardening. Suspended String Gardens. Kokedama String Garden Design*Sponge.
Moss carpet for your bathroom. Recycled pallet vertical garden. More Creative Fence Ideas — J Peterson Garden Design. That Wall Looks Like a Perfect Spot for a Garden | Metro Hippie. Gardening in the boroughs of nyc. Inforgraphic: How Big A Backyard Do You Need To Live Off The Land? | Natural Farmacy.
7 ways to design a garden of tranquility. Gossip in the Garden. Recycled Pop/Soda Bottle SIPs. How To Make a Hanging Gutter Garden aHa! Home & Garden. Legge Lewis Legge Fractal Garden.html. Runåbergs fröer - Ängsväxter. Netbutik. Gardening Tools and Decor. Kelnanplants. Blue bamboo - Northern California. Recent warmth brings out the best in a beautiful bamboo... Knoll Gardens. Growing Power. Root Simple | low tech home tech.
---