Inspired Thinking
Conversations with History
Conversations with History: Noam Chomsky
Conversations with History: Tom Engelhardt
Inspired Thinking - Google Docs
Uncommon Knowledge
Better World Links
Scitalks: Smart people on cool topics
Hoppa till textinnehållet Sajtkarta Support Kontakta Sveriges radio Spelaren Alla kanaler Nu börjar Teologiska Rummet I fyra veckor med start på påskdagen sänds Teologiska Rummet på söndagar 17:00 (repris fredagar 21:03).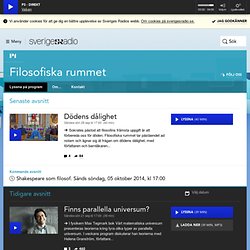 Filosofiska rummet
Charles Limb: Your brain on improv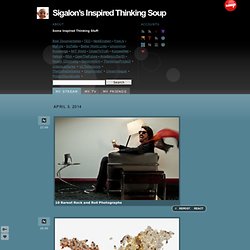 Eric Hudson's UCLA physics laboratory (Credit: UCLA) Chilling molecules to a fraction of a degree above absolute zero, the temperature at which they can be manipulated to store and transmit data in quantum computers, has proven to be a difficult challenge for scientists. At higher temperatures, molecules rocket around, bouncing into each other and exchanging energy. Any information a scientist attempted to store in such a chaotic system would quickly become gibberish. Now, UCLA physicists have pioneered a new technique that combines two traditional atomic cooling technologies and brings molecules to a frozen standstill by immersing charged barium chloride molecules in an ultracold cloud of calcium atoms.
Sigalon's Inspired Thinking Soup