Ipad ideas
Get flash to fully experience Pearltrees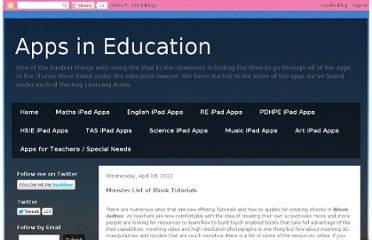 There are numerous sites that are now offering Tutorials and how-to guides for creating ebooks in iBook Author .
Presentations Presentations on various aspects of learning with iPads and Apps can be accessed via the links below: Reading Writing and Creating with the iPad - (Keynote Feb 2012)
iPad for Teaching & Learning
First port of call to look at options for using ipads in eductaion, especially to keeo some sort of track of new tools. by shellyw39 Jan 24
Email Share We love the iPad 2 and especially GarageBand and iMovie . In fact, after thought the excitement about the iPad 2 had as much to do with these two apps as it did the faster processor, more memory, thinner design and the cameras.
Good honest review of imove ap - worth reading before you buy by shellyw39 Jan 19
Highly recommented ap for creating interactive stories by shellyw39 Jan 19
Using Blooms Taxonomy in education is a highly effective way to scaffold learning for the students. With the recent popularity and pervasive nature of iOS devices in school districts it is essential for educators to understand how to implement Blooms in the classroom using the apps that are available. While this list is by no means fully comprehensive, it will assist educators in getting started when implementing iOS devices in the classroom.
Thinking about selecting aps using Blooms Taxaonomy by shellyw39 Jan 19
After seeing the chart on of Bloom's Taxonomy on bloomsapps , I thought I could make a more thorough table.