Occupy Wall Street
my collection Nov 26
FBI knew of plot to kill OWS activists, remained silent
The evolution of the V for Vendetta Guy Fawkes mask from a clever element in a comic book and film to a meme and a global symbol of online and offline resistance has been quite remarkable. A highlight of that trend was earlier this year when MPs in the Polish parliament donned the masks in protest against ACTA, spurred on by massive street demonstrations against the treaty that had recently been held across Poland. But if the mask has become a way of empowering and uniting protesters, aligning them with other movements around the world, it also becomes an obvious badge of dissent and rebellion, marking them out as a likely enemy of established power structures.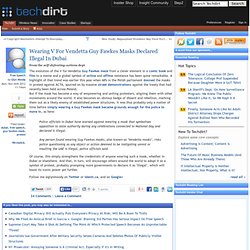 Wearing V For Vendetta Guy Fawkes Masks Declared Illegal In Dubai
Pussy Riot continue their fight against Vladimir Putin with new e-book
Anti-Austerity Protests In Spain And Portugal
Occupy Wall Street One Year Anniversary
Matt Taibbi: Libor Rate-Fixing Scandal "Biggest Insider Trading You Could Ever Imagine"
This is a rush transcript.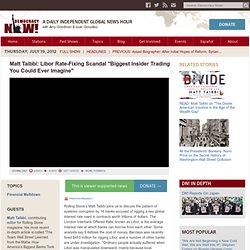 During a series of events earlier this week, startups from across the country got to meet with Members of Congress to not only explain what their companies are doing, but to also learn what Congress is doing to help encourage innovation as the Members shared their thoughts on things like SOPA, PIPA, and the STARTUP Act 2.0.
Startups Head to the Hill to Talk SOPA, PIPA, and STARTUP Act 2.0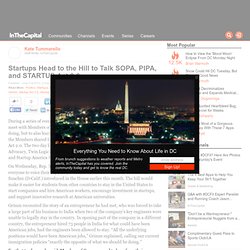 Thankfully, the Occupy Wall Street movement has moved past the drum circles as their main music genre and into a constructed, produced mix of everything. On May 15, a four-disc, 99-song compilation, Occupy This Album, will be released via the organization Music for Occupy.
Mogwai 'Earth Division' For 'Occupy This Album' (AUDIO)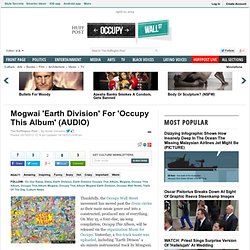 Brooklyn Supreme Court More than 100 Occupy Wall Street-affiliated protesters invaded a courtroom inside the Brooklyn Supreme Court yesterday afternoon in an effort to disrupt foreclosure auctions, the Brooklyn Paper reported.
Organizing For Occupation | Foreclosure Auctions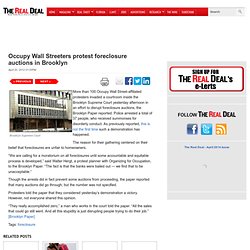 Media grows bored of Occupy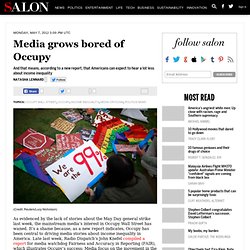 As evidenced by the lack of stories about the May Day general strike last week, the mainstream media's interest in Occupy Wall Street has waned. It's a shame because, as a new report indicates, Occupy has been central to driving media stories about income inequality in America. Late last week, Radio Dispatch's John Knefel compiled a report for media watchdog Fairness and Accuracy in Reporting (FAIR), which illustrates Occupy's success: Media focus on the movement in the past half year, according to the report, has been almost directly proportional to the attention paid to income inequality and corporate greed by mainstream outlets.
The Legal Intelligencer Blog: Twitter Contests Subpoena in Occupy Wall Street Case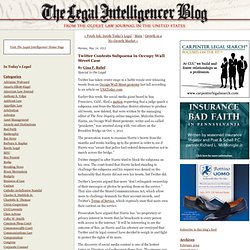 By Gina F.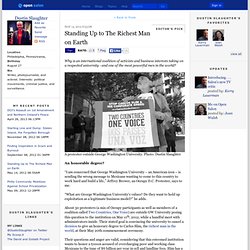 Standing Up to The Richest Man on Earth - Dustin Slaughter
Why is an international coalition of activists and business interests taking on a respected university - and one of the most powerful men in the world?
CHAPEL HILL — While Michael Bloomberg was speaking to tens of thousands of graduates and parents Sunday, a smaller celebration held by members of Occupy UNC-Chapel Hill sought to provide a different graduation experience – one they said was more real and less pretentious.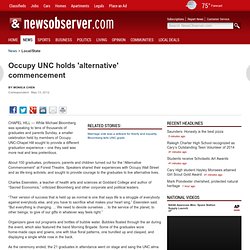 Occupy UNC holds 'alternative' commencement - Local/State
Occupy comes to Long Island - Long Island Political Buzz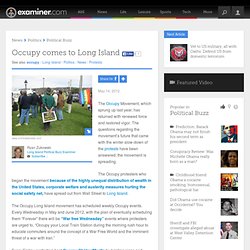 The Occupy Movement, which sprung up last year, has returned with renewed force and restored vigor. The questions regarding the movement's future that came with the winter slow-down of the protests have been answered; the movement is spreading.
2 Occupy protesters ticketed in Lansing
Police say they've ticketed two participants in a Lansing offshoot of the Occupy Wall Street protests for being at a city park later than permitted. The Lansing State Journal reports the man and woman were ticketed early Sunday.
Occupy Wallstreet and Police Human Torture
Here is a fact. If you were an Opednews newsletter subscriber, in all of 2013 you never received one single email that just requested donations. Not one.
JPMorgan Chase loss draws crowd outside annual shareholders meeting in Tampa
Alberto | Activity
Tom Morello, Outernational, others lead the charge (and sing-alongs) on Chicago's NATO weekend | Axis of Justice
Editors note: This was originally published here. Chicago, IL – I came to the event about 15 minutes late and I was worried I had missed the beginning. Luckily they didn't begin until about 30 minutes after the announced time.
My Thoughts on the 99% Spring