Occupy Wall Street
My collection
FBI knew of plot to kill OWS activists, remained silent. Wearing V For Vendetta Guy Fawkes Masks Declared Illegal In Dubai. The evolution of the V for Vendetta Guy Fawkes mask from a clever element in a comic book and film to a meme and a global symbol of online and offline resistance has been quite remarkable.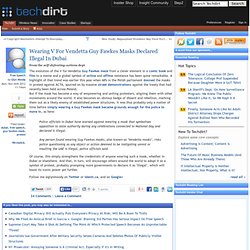 A highlight of that trend was earlier this year when MPs in the Polish parliament donned the masks in protest against ACTA, spurred on by massive street demonstrations against the treaty that had recently been held across Poland. But if the mask has become a way of empowering and uniting protesters, aligning them with other movements around the world, it also becomes an obvious badge of dissent and rebellion, marking them out as a likely enemy of established power structures.
Pussy Riot continue their fight against Vladimir Putin with new e-book. Nadezhda Tolokonnikova, 22, Maria Alekhina, 24, and Yekaterina Samutsevich, 30 were jailed for "hooliganism inciting religious hatred" for performing their song in Moscow's Cathedral of Christ the Saviour in February, which asked the Virgin Mary to help remove Russian President Vladimir Putin.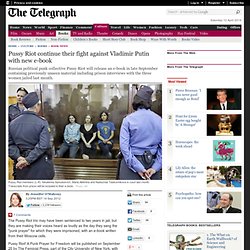 Russia's prime minister, Dmitri Medvedev, has recently called for their release. The cover of the new e-book A statement from the Feminist Press, publisher of the e-book, read: "As their trial unfolded, these young women became global feminist icons, garnering the attention and support of activists and artists around the world, including Madonna, Paul McCartney, and Sting, as well as contributors to this book: Yoko Ono, Johanna Fateman, Karen Finley, Justin Vivian Bond, Eileen Myles, and JD Samson. Anti-Austerity Protests In Spain And Portugal. Occupy Wall Street One Year Anniversary.
Matt Taibbi: Libor Rate-Fixing Scandal "Biggest Insider Trading You Could Ever Imagine" This is a rush transcript.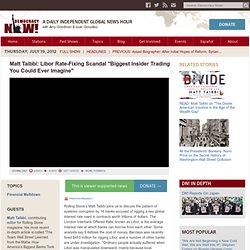 Copy may not be in its final form. JUAN GONZÁLEZ: We end today's show with Matt Taibbi. He's a contributing editor for Rolling Stone magazine. His most recent in-depth piece is "The Scam Wall Street Learned from the Mafia: How America's Biggest Banks Took Part in a Nationwide Bid-Rigging Conspiracy—Until They Were Caught on Tape. " Startups Head to the Hill to Talk SOPA, PIPA, and STARTUP Act 2.0. Mogwai 'Earth Division' For 'Occupy This Album' (AUDIO) Thankfully, the Occupy Wall Street movement has moved past the drum circles as their main music genre and into a constructed, produced mix of everything.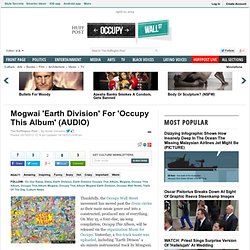 On May 15, a four-disc, 99-song compilation, Occupy This Album, will be released via the organization Music for Occupy. Yesterday, a five-track teaser was uploaded, including "Earth Divison" a six-minute instrumental track by Mongwai. Mogwai's track, "Earth Division," is a meandering rock epic with a sound that goes right along with the epic movement Occupy Wall Street has become. The song is pretty characteristic of Mogwai's post-rock sound -- droning guitars and heavy bass drum slowly build into the massive climax at the end. The album's producer Jason Samuel gave a hat tip to Matt Pless, a singer-songwriter and protestor in Zucotti Park, who served as inspiration for the album.
Organizing For Occupation | Foreclosure Auctions. Brooklyn Supreme Court More than 100 Occupy Wall Street-affiliated protesters invaded a courtroom inside the Brooklyn Supreme Court yesterday afternoon in an effort to disrupt foreclosure auctions, the Brooklyn Paper reported.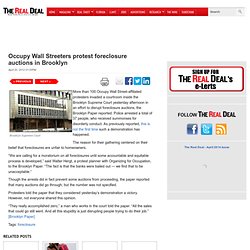 Police arrested a total of 37 people, who received summonses for disorderly conduct. As previously reported, this is not the first time such a demonstration has happened. The reason for their gathering centered on their belief that foreclosures are unfair to homeowners. "We are calling for a moratorium on all foreclosures until some accountable and equitable process is developed," said Walter Hergt, a protest planner with Organizing for Occupation, to the Brooklyn Paper. Media grows bored of Occupy. As evidenced by the lack of stories about the May Day general strike last week, the mainstream media's interest in Occupy Wall Street has waned.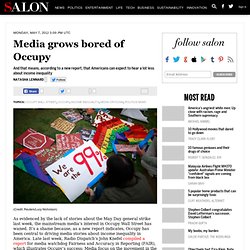 It's a shame because, as a new report indicates, Occupy has been central to driving media stories about income inequality in America. Late last week, Radio Dispatch's John Knefel compiled a report for media watchdog Fairness and Accuracy in Reporting (FAIR), which illustrates Occupy's success: Media focus on the movement in the past half year, according to the report, has been almost directly proportional to the attention paid to income inequality and corporate greed by mainstream outlets. The Legal Intelligencer Blog: Twitter Contests Subpoena in Occupy Wall Street Case. By Gina F.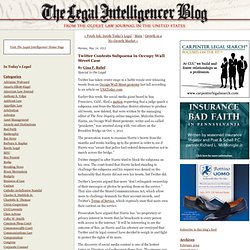 RubelSpecial to the Legal Twitter has taken center stage in a battle royale over releasing tweets from an Occupy Wall Street protester last fall according to an article on USAToday.com. Earlier this week, the social media giant based in San Francisco, Calif., filed a motion requesting that a judge quash a subpoena sent from the Manhattan district attorney to produce old tweets, now deleted, that were written by the managing editor of The New Inquiry online magazine, Malcolm Harris.
Harris, an Occupy Wall Street protester, writer and so-called "prankster," was arrested along with 700 others on the Brooklyn Bridge on Oct. 1, 2011. Standing Up to The Richest Man on Earth - Dustin Slaughter. Why is an international coalition of activists and business interests taking on a respected university - and one of the most powerful men in the world?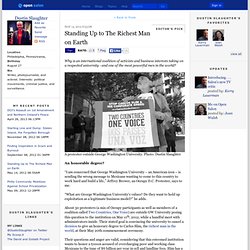 A protester outside George Washington University. Photo: Dustin Slaughter An honorable degree? Occupy UNC holds 'alternative' commencement - Local/State. CHAPEL HILL — While Michael Bloomberg was speaking to tens of thousands of graduates and parents Sunday, a smaller celebration held by members of Occupy UNC-Chapel Hill sought to provide a different graduation experience – one they said was more real and less pretentious.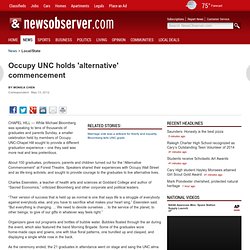 About 100 graduates, professors, parents and children turned out for the "Alternative Commencement" at Forest Theatre. Speakers shared their experiences with Occupy Wall Street and as life-long activists, and sought to provide courage to the graduates to live alternative lives. Charles Eisenstein, a teacher of health arts and sciences at Goddard College and author of "Sacred Economics," criticized Bloomberg and other corporate and political leaders.
Occupy comes to Long Island - Long Island Political Buzz. The Occupy Movement, which sprung up last year, has returned with renewed force and restored vigor.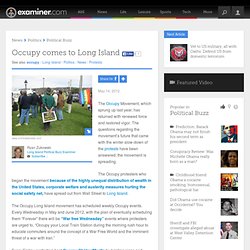 The questions regarding the movement's future that came with the winter slow-down of the protests have been answered; the movement is spreading. The Occupy protesters who began the movement because of the highly unequal distribution of wealth in the United States, corporate welfare and austerity measures hurting the social safety net, have spread out from Wall Street to Long Island. The Occupy Long Island movement has scheduled weekly Occupy events. Every Wednesday in May and June 2012, with the plan of eventually scheduling them "Forever" there will be "War free Wednesday" events where protesters are urged to, "Occupy your Local Train Station during the morning rush hour to educate commuters around the concept of a War Free World and the imminent threat of a war with Iran." 2 Occupy protesters ticketed in Lansing. Police say they've ticketed two participants in a Lansing offshoot of the Occupy Wall Street protests for being at a city park later than permitted.
The Lansing State Journal reports the man and woman were ticketed early Sunday. They face up to 90 days in jail and a $500 fine. Police say they were part of a group of about 20 that had gathered Saturday at Reutter Park for a "Picnic in the Park" event for participants in Occupy Lansing. The park was the site of camping by Occupy Lansing last year. The city ordinance prohibiting the use of parks after 10 p.m. was waived for those protests. Occupy Wallstreet and Police Human Torture. It's Crazy, what A great value Opednews is. -Make a donation today If you value Opednews.com as a source of news, opinion and inspiration, please consider: JPMorgan Chase loss draws crowd outside annual shareholders meeting in Tampa. Alberto | Activity. Tom Morello, Outernational, others lead the charge (and sing-alongs) on Chicago's NATO weekend | Axis of Justice.
From Chicago Sun-Times: Throughout the fall of 2011, we heard the questions: "What do the Occupy Wall Street protestors want?" "What are their goals?" "Who speaks for them?" My Thoughts on the 99% Spring. Editors note: This was originally published here. Chicago, IL – I came to the event about 15 minutes late and I was worried I had missed the beginning. Luckily they didn't begin until about 30 minutes after the announced time.
---