Almost-Famous Bloomin' Onion Recipe : Food Network Kitchens : Fo
Panko Mozzarella Sticks! | Tasty Kitchen Blog - Aurora. I first discovered panko bread crumbs back in 1999.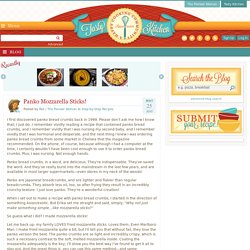 Please don't ask me how I know that; I just do. I remember vividly reading a recipe that contained panko bread crumbs, and I remember vividly that I was nursing my second baby, and I remember vividly that I was hormonal and desperate, and the next thing I knew I was ordering panko bread crumbs from some market in Chelsea that the magazine recommended. On the phone, of course, because although I had a computer at the time, I certainly wouldn't have been cool enough to use it to order panko bread crumbs.
Cheese-Stuffed Bread Sticks | The Kitchn - Aurora. Fair warning: You should only make these bread sticks when surrounded by plenty of people to help you eat them.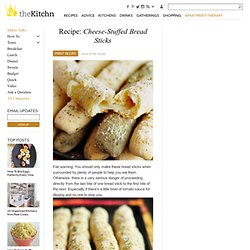 Otherwise, there is a very serious danger of proceeding directly from the last bite of one bread stick to the first bite of the next. Especially if there's a little bowl of tomato sauce for dipping and no one to stop you. I embarked on this mission of stuffing cheese inside bread thinking this would be easy-peasy. Wrap cheese in dough, bake, devour. Garlic butter roasted mushrooms | smitten kitchen - Aurora. A repeat offender in the lede-burier category, let me begin with what matters: this is absolutely my new favorite quick and obsessively delicious way to prepare mushrooms.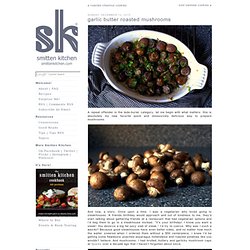 And now, a story. Once upon a time, I was a vegetarian who loved going to steakhouses. Garlic Butter Rolls › shutterbean - Aurora. For those of you who swoon over garlic twisty bread but can't bring yourself to order whole pizza to make the delivery worthwhile, this one's for you!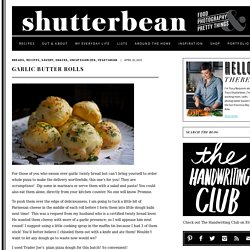 They are scrumptious! Dip some in marinara or serve them with a salad and pasta! Twice Baked Potatoes with Garlic Herb Shitake Mushrooms. I've been on a veritable binge with sweets, chocolate and desserts in general for the last few days!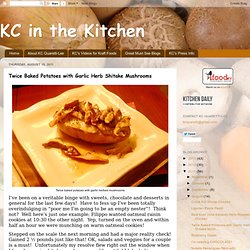 Have to fess up I've been totally overindulging in "poor me I'm going to be an empty nester"! Think not? Parmesan Roasted Potatoes. Ok fine.
I'm officially ready to make the transition to fall. And I thought, what better way to do it than with my all time favorite Parmesan Roasted Potatoes! These are like candy. 100% addictive. Once you stop, you just can't stop. If you knew the amount of potatoes we consumed in a week, you'd be shocked. Churro Tots. Happy Wednesday, beautiful people.Factoid for you: Getting my car serviced stresses me.To deal, I totally made Churro Tots.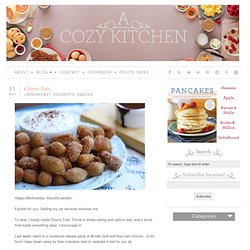 Throw in stress eating and calls to dad, and it some how made everything okay. I encourage it! Last week I went to a cookbook release party at Border Grill and they had churros…in tot form! I was blown away by their cuteness–had to replicate it stat for you all.I basically made a tweaked and adjusted version of this pate a choux recipe.
And then fried small balls of the dough. Loaded Potato Skins. Posted on April 23, 2010 by Erin We recently attended a potluck event and I signed up to bring both an appetizer and a dessert.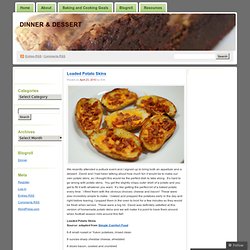 David and I had been talking about how much fun it would be to make our own potato skins, so I thought this would be the perfect dish to take along. It's hard to go wrong with potato skins. You get the slightly crispy outer shell of a potato and you get to fill it with whatever you want. Italian Grilled Cheese Sandwitch. Who doesn't love a good grilled cheese?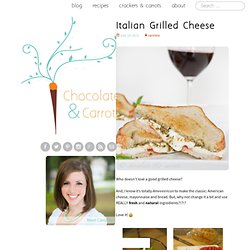 And, I know it's totally Ameeeerican to make the classic: American cheese, mayonnaise and bread. But, why not change it a bit and use REALLY fresh and natural ingredients?!?!? Blackened Chicken Wraps. Hassleback Potatoes. All, Eat, Mains4By admin · On July 3, 2011 Recently I realised how much I admire potatoes for the satisfaction and fill-factor they provide.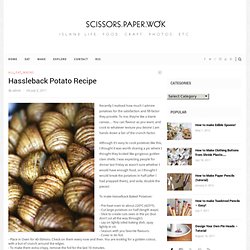 To me, they're like a blank canvas… You can flavour as you want, and cook to whatever texture you desire! I am hands down a fan of the crunch-factor. Sweet and Sour Onions. These onions are just as tasty at room temperature as they are hot. Method 1 The hardest part about this recipe is peeling the onions. Ultra-Thin-Crust Pizza with Onions, Mushrooms, and Ricotta. 1a If you are using a baking stone, place the stone on top of the middle rack in the oven. Preheat the oven to 450°F. Allow the oven to stay at 450°F for at least 15 minutes before cooking, to thoroughly heat up the stone. 1b If you are NOT using a baking stone, place racks in the upper and lower thirds of the oven.
Preheat the oven to 450°F. Baked Lotus Root Chips. June 20, 2007 | 46 Comments These are the tastiest chips we've ever eaten. Use them to garnish your biryani at a dinner party. Potato Skins. Method 1 Scrub the potatoes clean then bake the potatoes using your favorite method, either oven or microwave. If using an oven, rub with olive oil and bake in a 400°F oven for about an hour until the potatoes are cooked through and give a little when pressed. Onion Rings. Ingredients 2 large yellow onions, peeled, sliced into 1/2-inch to 3/4-inch thick ringed slices, rings separated (See How to Slice an Onion)2 cups buttermilk, or 1 cup plain yogurt mixed with 1 cup milkSaltFreshly ground black pepper1 1/4 cups all-purpose flour and 1/4 cup cornmeal OR 1 cup prepared cornbread flour plus 1/2 cup all-purpose flour2 or 3 cups of grapeseed oil, or other high smoke-point oil such as canola oil or peanut oil Equipment needed: a 5-quart heavy-bottomed dutch oven, tongs, candy thermometer, paper towels, cookie sheets Method.
Mushroom Caviar. Baked Stuffed Jalapeños.
---