Wednesday
Rock, Paper, Cynic: a webcomic for the unimpressed
QC: New Comics Every Monday Through Friday
Stephen Hawking
magnificent bastard - your sherpa. your life caddy. your sensei. your brutha.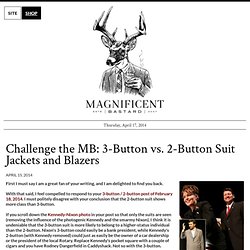 First I must say I am a great fan of your writing, and I am delighted to find you back. With that said, I feel compelled to respond to your 3-button / 2-button post of February 18, 2014. I must politely disagree with your conclusion that the 2-button suit shows more class than 3-button. If you scroll down the Kennedy-Nixon photo in your post so that only the suits are seen (removing the influence of the photogenic Kennedy and the smarmy Nixon), I think it is undeniable that the 3-button suit is more likely to belong to a higher-status individual than the 2-button. Nixon's 3-button could easily be a bank president, while Kennedy's 2-button (with Kennedy removed) could just as easily be the owner of a car dealership or the president of the local Rotary. Replace Kennedy's pocket square with a couple of cigars and you have Rodney Dangerfield in Caddyshack.
Put This On
Ralph Lauren announced last week that they plan to discontinue Rugby after this season. I admit many of Rugby's offerings were a bit overstylized for my taste, but one thing I'll miss is their affordable brushed Shetland sweaters. The original brushed Shetlands were invented by Irving Press of J. Press fame.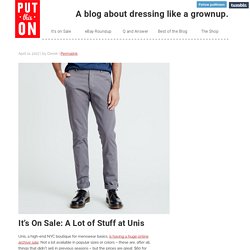 The Manly man should be an expert at retracting into his shell when the moment requires like an accomplished hermit. Self sufficient, happy in his own company and ready to rejuvenate his powers like a hibernating grizzly. Few survival tips to following the path of least resistance and escaping the bitter pill of commercial self improvement: The manly man is often resolved enough – he does not need to pander to the time of year
Manifesto | French Connection
Decadent Lifestyle
Anaïs Nin "I want to hear raucous music, to see faces, to brush against bodies, to drink fiery Benedictine. Beautiful women and handsome men arouse fierce desires in me. I want to dance. I want drugs.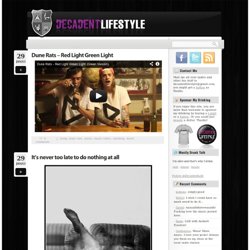 Goodmorning & Goodnight - A refreshing dose of interesting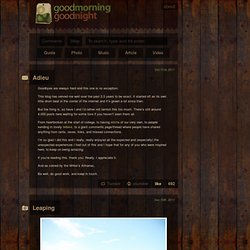 Adieu Dec 31st, 2011 Goodbyes are always hard and this one is no exception. This blog has served me well over the past 2.5 years to be exact. It started off as its own little drum beat in the corner of the internet and it's grown a lot since then. But the thing is, so have I and I'd rather not tarnish this too much.
A Conversation On Cool.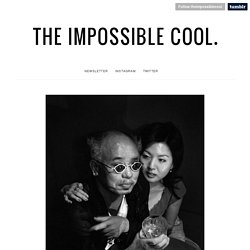 Mar 31 "Be here. Be present. Wherever you are, be there." Willie Nelson. Mar 18
the impossible cool.
Explosm.net - Home of Cyanide & Happiness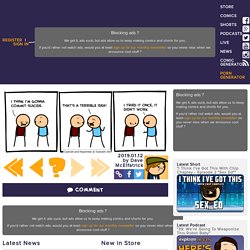 Can't make it to India Comic Con… by derek on 02.04.2014 We're bummed to announce that we won't be able to make it to India comic con. There were some last-minute visa issues we had that, even with the help from the AMAZING team at India Comic Con, we weren't able to fix in time.
Saturday Morning Breakfast Cereal
Sinfest: The Webcomic To End all Webcomics