Archetecture
A few awesome showers I would definitely not cry in (24 Photos. For The Love of Wood. Wood is both universal and unique.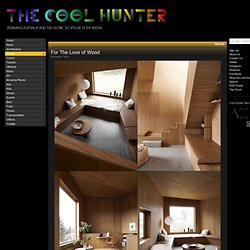 No other material is as deeply embedded in the history, culture and life of humans worldwide as wood, yet every single piece of wood is unique. The color tone, texture, durability, flexibility and even sound qualities of different tree species have puzzled and challenged artists, architects, designers, builders and artisans for thousands of years. 3 Story Contemporary Bachelor Pad in Los Angeles, California by Ben Bacal.
The luxury housing market in Los Angeles, California is vast, and there is never any shortage of incredibly crafted contemporary homes.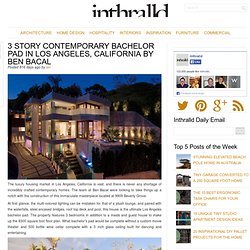 The team at Ben Bacal were looking to take things up a notch with the construction of this immaculate masterpiece located at 9909 Beverly Grove. At first glance, the multi-colored lighting can be mistaken for that of a plush lounge, and paired with the waterfalls, steel encased bridges, roof top deck and pool, this house is the ultimate Los Angeles bachelor pad. The property features 3 bedrooms in addition to a maids and guest house to make up the 8300 square foot floor plan. What bachelor's pad would be complete without a custom movie theater and 500 bottle wine cellar complete with a 3 inch glass ceiling built for dancing and entertaining. Most Interesting Libraries of the World. Modern Concrete House (15 photos) When you first think about the words concrete house, you might imagine a cold, sterile environment, perhaps something similar to a prison.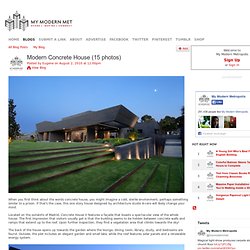 If that's the case, this one story house designed by architecture studio A-cero will likely change your mind. Located on the outskirts of Madrid, Concrete House II features a façade that boasts a spectacular view of the whole house. The first impression that visitors usually get is that the building seems to be hidden between concrete walls and ramps that extend up to the roof. Upon further inspection, they find a vegetation area that climbs towards the sky! The back of the house opens up towards the garden where the lounge, dining room, library, study, and bedrooms are found. Bates Masi Architects - Homepage. Top 100 Hotels & Resorts in the World. Rooms: 97Service: 97.1Food: 94.1Location: 91.2Design: 97.1Activities: 93.9 Paeans to the resort are many, and the refrain remains the same: "The closest thing to heaven!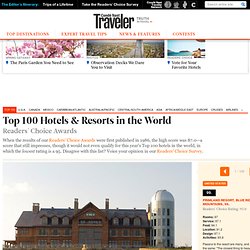 " The "gorgeous" eco-conscious lodge houses 26 rooms, while 3 cottages and 11 mountain homes lie further afield. The staff is "enthusiastic and devoted" and guests bless the "five-star equivalent" New American-style preparation of local, organic food in three choices of places to dine—Elements restaurant being the "hardest to resist every night. " The Luxury Coco Palm Dhuni Kolhu, Maldives « Luxury Furniture, Property, Travel & Interior Design.
The Luxury Coco Palm Dhuni Kolhu Resort, Maldives Coco Palm Dhuni Kolhu can be found on the private island of Dhuni Kolhu, in the Baa Atoll.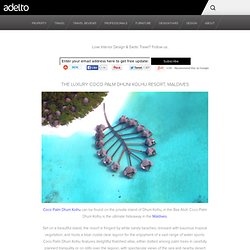 Coco Palm Dhuni Kolhu is the ultimate hideaway in the Maldives. Set on a beautiful island, the resort is fringed by white sandy beaches, dressed with luxurious tropical vegetation, and hosts a blue crystal clear lagoon for the enjoyment of a vast range of water sports. Luxury Anantara Kihavah Villas, Maldives « Luxury Furniture, Property, Travel & Interior Design. Luxury Anantara Kihavah Villas Resort, Maldives Luxury Anantara Resorts opened Anantara Kihavah Villas earlier this year in the beautiful Maldives.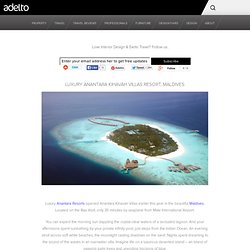 Located on the Baa Atoll, only 35 minutes by seaplane from Male International Airport. You can expect the morning sun dappling the crystal-clear waters of a secluded lagoon. And your afternoons spent sunbathing by your private infinity pool, just steps from the Indian Ocean. Tree Houses. Engineering Bridges that Are Alive. Home | About Us | Contact | Subscribe Bridges that Are Alive Ingenuity of the Indigenous People Meghalaya, India.
Video. The Sifter's Top 10 Homes of 2010. If you're a regular reader of the Sifter you're familiar with my real estate fascination.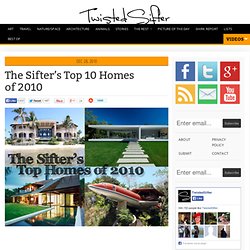 I love posting all types of homes. From the unique and interesting to the grand and opulent. Below you will find a collection of the Sifter's Top 10 Homes from 2010. Magic Box. Www.WorldArchitectureNews.com. The Luxury Dhigu Resort, Maldives | Luxury Furniture, Property, Travel & Interior Design. The luxury Dhigu Resort, Maldives Anantara Dhigu Resort & Spa is encircled by mystic lagoons and unspoilt crystal shores, the resort is a heavenly sanctuary on a secluded paradise island, offering barefoot elegance in one of the world's most celebrated tropical havens.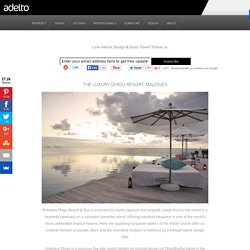 Here the sparkling turquoise waters of the Indian Ocean offer an endless horizon of aquatic allure and the evocative location is matched by a tranquil island design style. Anantara Dhigu is a luxurious five-star resort hidden on tropical terrain on Dhigufinolhu Island in the Maldives' South Male Atoll, a mere 35 minute speedboat journey from the island nation's international airport, or a scenic five minutes by private chartered seaplane.
Male-based architect Mohamed Shafeeq from Group X Design Associates and Thailand-based interior design company, Abacus, headed by John Lightbody, have styled the resort's distinctive environment as a creative complement to the natural beauty of the island. Dracula Castle Transylvania | Travel Guides, Luxury Travel and Travel Info. Bran Castle situated near Bran and in the immediate vicinity of Bra?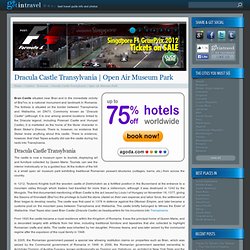 Ov, is a national monument and landmark in Romania. The fortress is situated on the border between Transylvania and Wallachia, on DN73. Commonly known as "Dracula Castle" (although it is one among several locations linked to the Dracula legend, including Poienari Castle and Hunyad Castle), it is marketed as the home of the titular character in Bram Stoker's Dracula. 10+ Most Beautiful Island Photography on Earth. Today, we want to have a little break and have a deep breath while looking at these magnificent and beautiful island photography from around the world. Island in Lhaviyani Atoll Source.
The Armada House. Is This Hidden Architectural Gem Another "Blade Runner" Building? Each day, thousands of people walk by 5 Beekman, a pretty yet unassuming building in Lower Manhattan, never guessing what could be found within. Scouting New York, a blog written by a location scout that's a must-read for local history freaks, got invited inside for an incredible peek at an architectural gem that's hidden in plain sight. As you enter the building it's nothing special, says Scouting NY. "And then you look up…" For nine stories, the ornate cast-iron railings twirl up and up through a light-filled atrium. 30 Incredible Infinity Pools.
Beautiful Houses: Lo Curro in Santiago, Chile. Looks like good Triangulo House by Ecostudio Architects. 15 Killer Offices by Tech Companies. Architecture. Furniture. Architecture. Architecture + design.
Architecture. Architecture & Design. Luxury Villa Amanzi, Thailand by Original Vision Studio | Luxury & Contemporary Furniture, Homes, Kitchens & Interiors.
---