FoodPorn
Get flash to fully experience Pearltrees
Call me easily amused, but these little torch-topped cupcakes delight me. Besides being a cute novelty item for a party, I think they would add a little drama to the end of a romantic meal. I've been looking for something different to serve for Valentine's dessert, and this is definitely different. The strawberries are hollowed out and filled with a bit of liquor, then ignited with a match.
Occasionally, I take an online stroll through this blog to check on things, as I did yesterday. Aside from finding, and correcting, an embarrassing number of typographical errors that somehow slipped past me earlier (blush), I also asked myself: What's missing here in terms of foods that readers and I both love and cook often? And I was surprised to find that I hadn't published a single muffin recipe. Zero. What?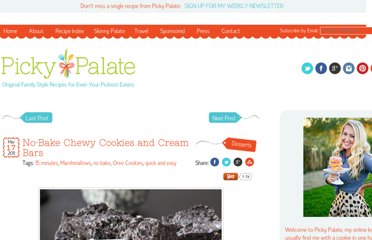 Oh how I love a treat that can be whipped up in about 15 minutes. My boys and their buddies couldn't get enough of these Chewy Oreo Bars we had as an after school snack this week. Sometimes my spontaneous recipe creations turn out to be the most fun, lol! Yes you use an entire package of Oreo Cookies, but what you get in return is a marshmallow-y Oreo treat that is worth every bite
This time I decided to make it with those mini fruit flavored marshmallows. I had to sort them by colour first. I figured they would add a little bit of flavor to the fondant so I wouldn't have to add much flavoring oil.
Truth be told, I am a food snob. I shun away from chain restaurants–Cheesecake Factory, nah ; The Olive Garden, meh ; Denny's, are you kidding me ?! So, you have it, I am a food snob. I avoid going to franchise or chain restaurants at all cost, well, unless I am starving to death or stuck in the middle of nowhere and the only restaurant in town is Applebee's. Somehow, the notion of an evil a huge restaurant empire scares me. I am afraid they are going to take over the world and infest the dining scenes with the likes of Planet Hollywood (are they still in business?)
Breading This easy, three-step technique ensures an even crumb coating. It's commonly used on thin cuts of chicken, pork or veal that will be fried or baked. To begin, set up your breading station. Fill the first of three shallow dishes with flour.
From Italian truffle butter to Vietnamese saffron, foodies have turned the act of tasting the world's best food into a competitive sport. Meanwhile, back in your own pantry, you're lucky to find so much as a can of beans. But even if your own budget won't support such refined ingredients, you too can be a frugal foodie. Here are some simple items that can turn your everyday grocery list into something resembling a 4 star menu-for fewer than 4 bucks: 1. Off-Brand Orange Marmalade $2-3 Why spend the money on high-end (read: expensive) orange marmalade if you're just using it as a glaze for meat or adding it into a dessert?
More Infographics on Good <a href="http://ad.doubleclick.net/N6709/jump/Transparency/;article=submissions-design-the-new-food-pyramid;tag=projects,health,design,food,vegetables,fruits,food-pyramid,calories,carbohydrates,healthy-eating,protein,marion-nestle;pos=baseboard;tile=1;sz=728x90;ord=123456789?" target="_blank"><img src="http://ad.doubleclick.net/N6709/ad/Transparency/;article=submissions-design-the-new-food-pyramid;tag=projects,health,design,food,vegetables,fruits,food-pyramid,calories,carbohydrates,healthy-eating,protein,marion-nestle;pos=baseboard;tile=1;sz=728x90;ord=123456789?" /></a>