Fg-architecture
SATORI ASSOCIATES - INSURANCE CONSULTANT/EXPERT WITNES
Information Letter 10
Next: Information Letter 11Up: The Autodesk File Previous: Piece of Cake
It is Alive in the Lab: Butterfly DWG Editing
LACCD Sustainable Building Program
Build LACCD - BIM Standards DB
NANOCITY - A new hub of business, technology and education has arrived - Welcome to NanoCity.
weißensee | Prof. Dr. Günter Nest
The paradox of current research and teaching in urban studies.
Super-efficient. Cost effective. Carbon-neutrality within reach. Today.
fg-architecture
nice (?) architecture office website
Snøhetta awarded Calgary Public Library in Canada Today, the Calgary Public Library announced the winner of the design competition for the city's new central library. The 600,000 book library will become Snøhetta's most recent library project, joining the Alexandria Library in Egypt, the James B. Hunt Library at North Carolina State University, the Ryerson Student Learning Centre in Toronto, among several others in our work for innovative, collaborative and social learning spaces. More information about the Calgary Public Library's ambitious plans here.
Softwarepatch is Uniblue's online bible for all matters software-related. Connect with Uniblue: Applies to: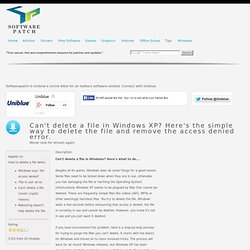 Cannot delete a file in Windows XP? Here's the simple way to delete the file and remove the access denied error.
How to Form a Limited Liability Company in California
Büro 2.0
PDF Revu - PDF Viewing, Markup and Editing Tools for CAD and Office Users
2009 Volltext
Teil 1 Allgemeine Vorschriften § 1 Anwendungsbereich
Startseite – Fraunhofer IRB
CAD-Manager
Bund Deutscher Baumeister, Architekten und Ingenieure e.V.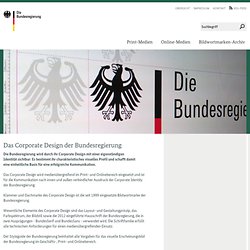 Styleguide der Bundesregierung - Styleguide der Bundesregierung
Die Bundesregierung wird durch ihr Corporate Design mit einer eigenständigen Identität sichtbar: Es bestimmt ihr charakteristisches visuelles Profil und schafft damit eine einheitliche Basis für eine erfolgreiche Kommunikation. Das Corporate Design wird medienübergreifend im Print- und Onlinebereich eingesetzt und ist für die Kommunikation nach innen und außen verbindlicher Ausdruck der Corporate Identity der Bundesregierung. Klammer und Dachmarke des Corporate Design ist die seit 1999 eingesetzte Bildwortmarke der Bundesregierung. Wesentliche Elemente des Corporate Design sind das Layout- und Gestaltungprinzip, das Farbspektrum, der Bildstil sowie die 2012 eingeführte Hausschrift der Bundesregierung, die in zwei Ausprägungen - BundesSerif und BundesSans - verwendet wird. Die Schriftfamilie erfüllt alle technischen Anforderungen für einen medienübergreifenden Einsatz.
BMVBS: Bundesministerium für Verkehr, Bau und Stadtentwicklung
Initiative Architektur und Baukultur Materialien
Initiative Architektur und Baukultur International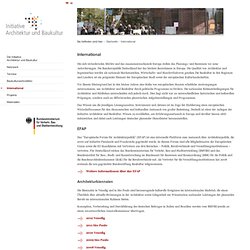 Die sich verändernden Märkte und das zusammenwachsende Europa stellen das Planungs- und Bauwesen vor neue Anforderungen. Die Bundesrepublik Deutschland hat das höchste Bauvolumen in Europa.
Initiative Architektur und Baukultur Baukulturwerkstätten
Die Baukulturwerkstätten stellen eine Veranstaltungsreihe des BMVBS im Rahmen der Initiative Architektur und Baukultur zu aktuellen Themen der Baukultur sowie Tätigkeits- und Forschungsschwerpunkten des BMVBS in diesem Zusammenhang dar.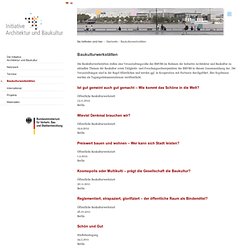 Initiative Architektur und Baukultur Startseite
Baukultur ist nicht erst seit heute ein Thema. Sie entsteht täglich in den deutschen Städten und Gemeinden und prägt wesentlich das Erscheinungsbild und die Lebensqualität in Regionen und Bundesländern. Baukultur braucht die Unterstützung von vielen.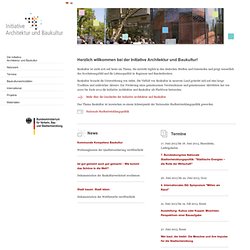 Die Pilotprojekte der Nationalen Stadtentwicklungspolitik sollen das Bewusstsein für den Wert von Stadt und Urbanität stärken.
Nationale Stadtentwicklungspolitik - Projekte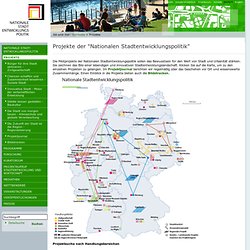 McGraw-Hill Construction's Continuing Education Center | Earn AIA Continuing Education Credits Online
Holy smokes!
Blog | www.teslamotors.com
aecKnowledge. Where Minds Converge
Sky Architects
Architekten Gehälter 2010 - tektorum.de
meine allgemeinwirtschalftliche Aussagen beziehe ich eher nicht auf die Architekturbranche, sondern auf dei Wirtschaft im Allgemeinen.
Spring 2010 Energy Efficiency Classes
swissnex san francisco: Connecting the dots between Switzerland and North America — swissnex
GABA - German American Business Association - Home
Commonwealth Club
Stanford Energy Lectures
Presenter: Amory B. Lovins, Rocky Mountain Institute MAP/Ming Visiting Professor for Energy and Environment Stanford University, March 2007
CADD Resources