Collaboration
Different opportunities for pupils to share their interests and work
QuadBlogging | "In terms of young children developing as writers this is the most interesting development in the last 20 years." Pie Corbett. In Education. Teachers: Overview. Pora Ora also develops other attributes, like creativity, which is critical to develop at a young age.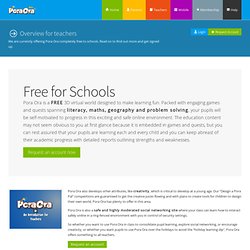 Our "Design a Pora Pal" competitions are guaranteed to get the creative juices flowing and with plans to create tools for children to design their own world, Pora Ora has plenty to offer in this area. Pora Ora is also a safe and highly moderated social networking site where your class can learn how to interact safely online in a ring-fenced environment with you in control of security settings. So whether you want to use Pora Ora in class to consolidate pupil learning, explore social networking, or encourage creativity, or whether you want pupils to use Pora Ora over the holidays to avoid the "holiday learning dip", Pora Ora offers something to all teachers. Organize your resources in an online binder - LiveBinders. Delicious.com - Discover Yourself!
AllyKatzz.com Partners With Yoursphere.com to Empower Outstanding Tween and Teen Girls Through an Expanded Digital Platform. New York, NY (PRWEB) January 25, 2012 AllyKatzz, the premier media company for tween and teen girls that combines social networking with news powered by a dedicated team of young female reporters, today announced its partnership with Yoursphere, the kids-only social media destination known for its rich functionality, unique experience and high standards for promoting safe online activity.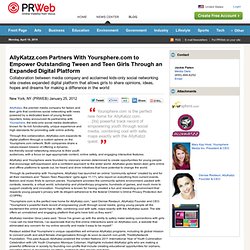 Through this collaboration, AllyKatzz.com expands its digital platform through a custom sphere on the Yoursphere.com network. Both companies share a values-based mission of offering a dynamic, kid-friendly social networking resource to their youth audiences, with a focus on age-appropriate content, online safety, and engaging interactive features. AllyKatzz and Yoursphere were founded by visionary women determined to create opportunities for young people that encourage self-expression and a confident approach to the wider world. Upload & Share PowerPoint presentations and documents. Twitter. Hoot.Me: Switch Facebook into study mode. Front page. Facebook. Www.bebo.com. Springnote - your online notebook based on wiki. RingSurf- Join our create your own community.
Delicious.com - Discover Yourself! WordPress.com — Get a Free Blog Here. Free Blogs, Pro Blogs, & Business Blogs. PrimaryWall - Web based sticky notes for schools. Create your free Blog. PBworks | Online Team Collaboration.
---