Energy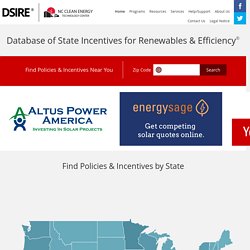 Disclaimer: The information presented on the DSIRE web site provides an unofficial overview of financial incentives and other policies. It does not constitute professional tax advice or other professional financial guidance, and it should not be used as the only source of information when making purchasing decisions, investment decisions or tax decisions, or when executing other binding agreements. Please refer to the individual contact provided below each summary to verify that a specific financial incentive or other policy applies to your project.
Alternative home energy-Discover alternative power sources for home electricity.
Because we are your nationwide "local" supplier of plug'n play home electricity systems that use alternative power sources. These turnkey units offer: Immediate power production Factory assembly and testing for trouble free start up Automatic operation Simple to use Easy, low cost installation Our people take care of everything, including finding and working with a local contractor to assure correct installation. Other services we offer are: Free site feasibility survey Free system sizing and custom system design Free shipping to continental US Toll free technical support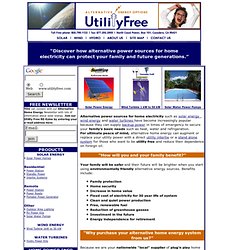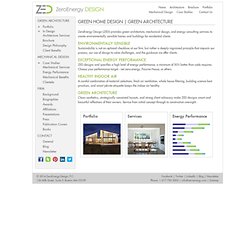 ZeroEnergy Design (ZED) provides green architecture, mechanical design, and energy consulting services to create environmentally sensible homes and buildings for residential clients ENVIRONMENTALLY SENSIBLE Sustainability is not an optional checkbox at our firm, but rather a deeply-ingrained principle that impacts our process, our use of design to solve challenges, and the guidance we offer clients. EXCEPTIONAL ENERGY PERFORMANCE ZED designs and specifies a high level of energy performance, a minimum of 50% better than code requires. Choose your performance target - net zero energy, Passive House, or others. HEALTHY INDOOR AIR A careful combination of material selections, fresh air ventilation, whole house filtering, building science best practices, and smart jobsite etiquette keeps the indoor air healthy.
Green Home Design | Green Architecture
Renewable Energy for Your Home and Property
Home Energy Information: Alternative energy resources from Backwoods Home Power
Energy Questions Sorry, we no longer answer questions online. Please Click Here to search the Energy Questions blog archive which includes many questions not listed below. We are in the process of transfering all the questions and answers listed below to the Energy Questions Blog.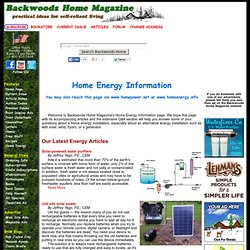 Win a FREE Ticket to the altE Direct Installer & Dealer Conference! ($199 Value) Feb 3, 2014 altE Announces 2014 Solar Installer and Dealer Conference Jan 16, 2014 Congrat's to Winners of Sunlinq 12 Watt Folding Solar Panel! Nov 19, 2013 altE Announces 2014 Solar Installer and Dealer ConferenceNew, Central Location and Additional Vendors, Highlight Annual Solar Installer and Dealer Conference to be held February 11-12, 2014 in Boxborough, MA.altE Expands Installer and Dealer Support With New HiresRecord growth leads to new hires in Sales and Customer Service to better service Installers and Dealers in New England region.
AltE: Solar Panels & Solar Energy Gear | Call 877-878-4060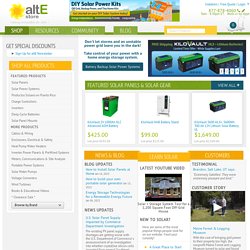 Solar Panels, Solar Power and Solar Kits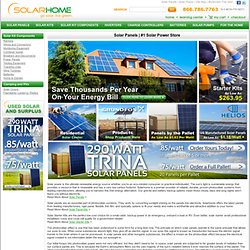 Solar power is the ultimate renewable energy source whether you're an eco-minded consumer or practical individualist. The sun's light is sustainable energy that provides a resource that is renewable and has a very low carbon footprint. Solarhome is a premier provider of reliable, durable, proven photovoltaic systems from leading manufacturers, allowing you to harness this free energy alternative. Our grid-tie and battery backup options mean those cloudy days and long nights won't leave you without electricity. Read More About Solar Panels > Solar panels are an essential part of photovoltaic systems.