Energy
DSIRE: DSIRE Home. Alternative home energy-Discover alternative power sources for home electricity. Green Home Design | Green Architecture. ZeroEnergy Design (ZED) provides green architecture, mechanical design, and energy consulting services to create environmentally sensible homes and buildings for residential clients ENVIRONMENTALLY SENSIBLE Sustainability is not an optional checkbox at our firm, but rather a deeply-ingrained principle that impacts our process, our use of design to solve challenges, and the guidance we offer clients.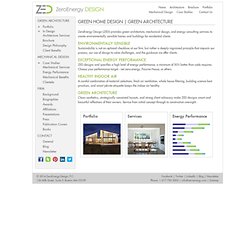 EXCEPTIONAL ENERGY PERFORMANCE ZED designs and specifies a high level of energy performance, a minimum of 50% better than code requires. Choose your performance target - net zero energy, Passive House, or others. HEALTHY INDOOR AIR A careful combination of material selections, fresh air ventilation, whole house filtering, building science best practices, and smart jobsite etiquette keeps the indoor air healthy. Department of Energy. Renewable Energy for Your Home and Property. Home Energy Information: Alternative energy resources from Backwoods Home Power. Energy Questions Sorry, we no longer answer questions online.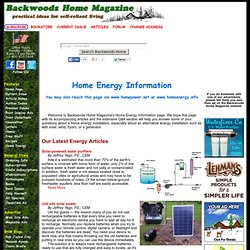 Please Click Here to search the Energy Questions blog archive which includes many questions not listed below. We are in the process of transfering all the questions and answers listed below to the Energy Questions Blog. AltE: Solar Panels & Solar Energy Gear | Call 877-878-4060. Solar Panels, Solar Power and Solar Kits. Home Power Magazine: Solar | Wind | Water | Design | Build.
---