Writing
BlaBlaMeter - Bullshit detection tool. Cardboard Cutouts Make Rotten Villains. Cardboard cutouts aren't very scary.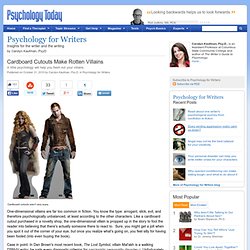 One-dimensional villains are far too common in fiction. You know the type: arrogant, slick, evil, and therefore psychologically unbalanced, at least according to the other characters. Character Chart for Fiction Writers - EpiGuide.com. If you're a fiction writer -- whether you're working on a novel, short story, screenplay, television series, play, web series, webserial, or blog-based fiction -- your characters should come alive for your reader or audience.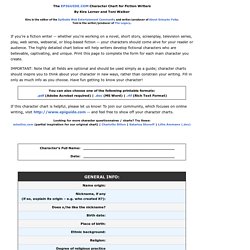 The highly detailed chart below will help writers develop fictional characters who are believable, captivating, and unique. Print this page to complete the form for each main character you create. IMPORTANT: Note that all fields are optional and should be used simply as a guide; character charts should inspire you to think about your character in new ways, rather than constrain your writing. Fill in only as much info as you choose. Have fun getting to know your character! Journal Writing Ideas - Journal Prompts. 105 Writing Tips from Professional Writers. "Advice on the Art of Writing Short Stories" - Roberto Bolaño. Struggle Is a Sure Sign Youre Creating Art. Overcome Writers Block, Suggestions To Get You Writing Again. ^ Back to top We use cookies, just to track visits to our website, we store no personal details.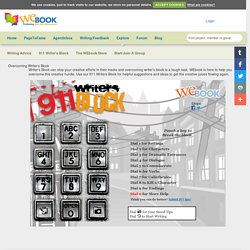 ACCEPT COOKIES What are cookies? Login Overcoming Writer's Block Writer's Block can stop your creative efforts in their tracks and overcoming writer's block is a tough task. 36 Writing Essays by Chuck Palahniuk. 1: Establishing Your Authority Chuck teaches two principal methods for building a narrative voice your readers will believe in.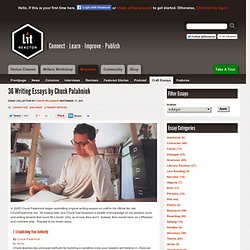 Discover the Heart Method and the Head Method and how to employ each to greatest effect. Faults- Poets.org - Poetry, Poems, Bios &More. CitySounds.fm - The music of cities. What happened in my birth year? Poem Starters and Creative Writing Ideas. Enter your e-mail to get the e-book for FREE.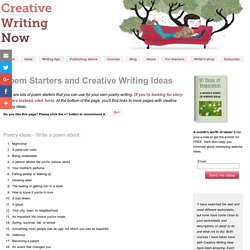 We'll also keep you informed about interesting website news. "I have searched the web and used different worksheets, but none have come close to your worksheets and descriptions of (what to do and what not to do). Both courses I have taken have with Creative Writing Now have been amazing. Each time I have learned something new. The one thing I love, you take everything apart and give examples. " - Katlen Skye. Exercises for Fiction Writers - Page 2. English 50 – Intro to Creative Writing: Exercises for Story Writers More Exercises: Write the first 250 words of a short story, but write them in ONE SENTENCE.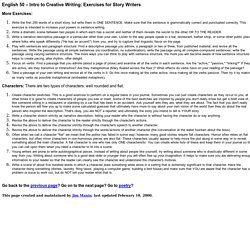 Make sure that the sentence is grammatically correct and punctuated correctly. This exercise is intended to increase your powers in sentence writing. Write a dramatic scene between two people in which each has a secret and neither of them reveals the secret to the other OR TO THE READER.
RainyMood.com: Rain makes everything better. How to Write a Blog: The 12 Dos and Don'ts of Writing a Blog. Thinking about writing a blog?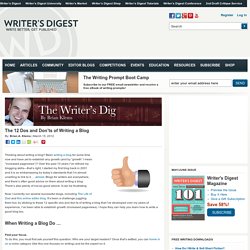 Been writing a blog for some time now and have yet to establish any growth (and by "growth" I mean "increased pageviews")? Over the past 10 years I've refined my blogging skills—that's right, I started my first blog back in 2001 and it is so embarrassing by today's standards that I'm almost unwilling to link to it … almost. Fiction Writing Plot Development Storyboards. If you like it, you should share it!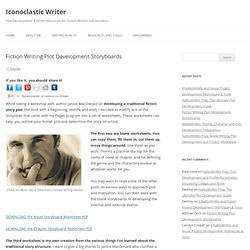 While taking a workshop with author Janice MacDonald on developing a traditional fiction story plot (the kind with a beginning, middle and end), I decided to modify one of the templates that came with my Pages program into a set of worksheets. These worksheets can help you outline your fiction plot and determine the story structure. The 10 Types of Writers Block (and How to Overcome Them) #4 was a really common event in my undergrad screenwriting classes (where it was commonly called the Page 70 Problem or the Act 2 Dead Zone or some other ridiculous name).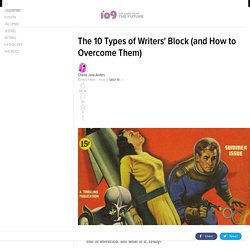 It is really where outlining-as-you-go can prevent problems. For instance, I might have a ten point outline for the whole story and as I catch up to various points I may go back over the outline and flesh out points with another outline. If a scene is really tricky, my outline might be as specific as three points for five pages. But something that is really simple may never get more than a "this happens". Daily Duo.
The Best of British - The Americans guide to speaking British... Ace - If something is ace it is awesome.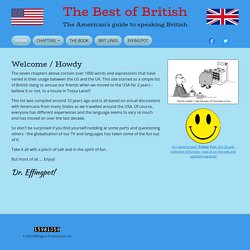 I used to hear it a lot in Liverpool. Kids thought all cool stuff was ace, or brill. Aggro - Short for aggravation, it's the sort of thing you might expect at a football match. Cliche Finder. FutureMe.org: Write a Letter to the Future.
---