Social Media
ENTREPRISE / MEDIAS SOCIAUX – Avoir un site web et être présent sur les médias sociaux est désormais indispensable. Mais comment les entreprises peuvent-elles monitorer leur présence de marque et surveiller la concurrence ? De nombreux outils gratuits permettent d'avoir une certaine vision de l'efficacité marketing des échanges sociaux. La réponse la plus courante -des professionnels du métier sur les meilleurs outils gratuits- est que "Google est ton meilleur ami" (encore entendu récemment lors d'un AperiTweet). A prendre en compte, donc, même si nous allons découvrir ci-après d'autres outils forts pratiques et utiles pour surveiller et comprendre son écosystème social. Focus.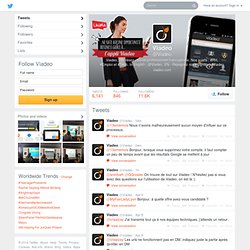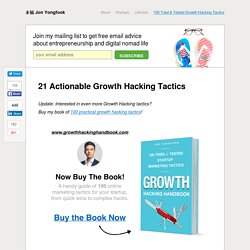 21 Actionable Growth Hacking Tactics
Update: Interested in even more Growth Hacking tactics? Buy my book of 100 practical growth hacking tactics! In this deck you will find 21 different areas of startup marketing where you can employ growth hacking tactics.
The next Facebook will be a toolkit for social computing | Sharism Lab
Working in social media is a blast but what's even more exciting is sharing my passion for content marketing.
10 Ways to Create Social Media Content That Succeeds - Salesforce Blog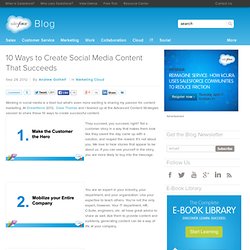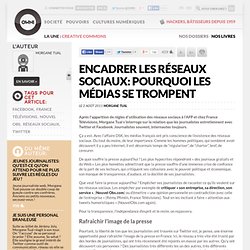 Après l'apparition de règles d'utilisation des réseaux sociaux à l'AFP et chez France Télévisions, Morgane Tual s'interroge sur la relation que les journalistes entretiennent avec Twitter et Facebook. Journalistes souvent, internautes toujours. Ça y est. Avec l'affaire DSK, les médias français ont pris conscience de l'existence des réseaux sociaux. Ou tout du moins, de leur importance. Comme les hommes politiques, qui semblent avoir découvert il y a peu Internet, il est désormais temps de "régulariser", de "charter", bref, de censurer.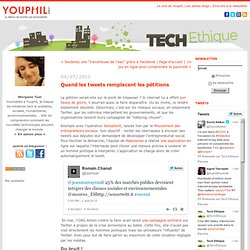 La pétition serait-elle sur le point de trépasser ? Si internet lui a offert son heure de gloire, il pourrait aussi la faire disparaître. Ou du moins, la rendre totalement obsolète.
Quand les tweets remplacent les pétitions
How to value big data ? Methodological issues and a glance at the future « Martin Pasquier
Everyone has data, and we're many to talk about them. But how can we monetize, or at least value social media data ? Here's a few ideas given by companies as well as researchers during a brilliant conference hosted in Paris by the Social Media Club.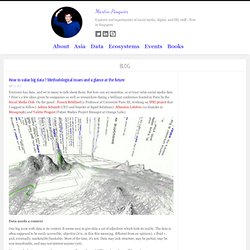 Les entreprises ne se questionnent plus sur "aller ou ne pas aller sur les réseaux sociaux".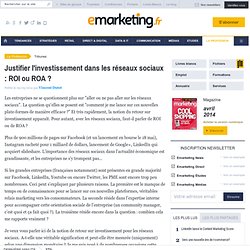 Justifier l'investissement dans les réseaux sociaux? ROI ou ROA - Vincent Dutot - , Stratégie marketing
[The Internet opens up new means of communications for major NGOs. But does it also make their position vulnerable to a new breed of web-native upstarts, who understand the power of technology more fully? Denise Searle, who has worked with some of the world's best known NGOs, explores that in this, the final part of our series on NGOs and the news. —Josh] At the offices of the Daily and Sunday Telegraph in London during December 2008, the customary Christmas and New Year parties were supplemented by a round of often tearful farewell drinks as staff at the respected broadsheet newspapers reeled from the third round of redundancies in two years. The Telegraph Media Group's desire to invest in its online activities was a key reason for the cuts in print journalist jobs, with the global economic downturn adding to the pressures.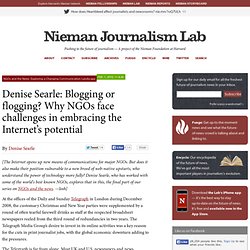 Denise Searle: Blogging or flogging? Why NGOs face challenges in embracing the Internet's potential
U&A2.0
Thank you for subscribing. We sent an email, please click the link to complete Tell your story visually before December 31st and get a free iPad Air!*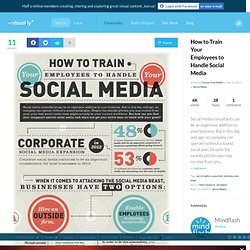 How to Train Your Employees to Handle Social Media
L'affaire Herta et le rôle d'Al-Kanz et des consommateurs font l'objet d'un cours à Sciences-Paris. Fabrice Epelboin qui en a fait un cas d'école a accepté de répondre à nos questions. Interview. Conseil stratégique auprès d'investisseurs, de business angels et de grands annonceurs, comme le rappelle sa bio sur Wikipedia, Fabrice Epelboin est aussi serial entrepreneur, blogueur et hacktiviste. Intervenant au Celsa et à Sciences-Po Paris, il y délivre un cours dans lequel il a choisi d'évoquer l'affaire Herta et le rôle d'Internet, dont celui d'Al-Kanz, dans ce qui a tenu en haleine, l'an dernier presque jour pour jour (le 17 janvier 2011), pendant près d'un mois non les consommateurs musulmans, mais toute la profession qui cible le marché du halal.
Fabrice Epelboin : "Il y a une vraie spécificité du cas Herta"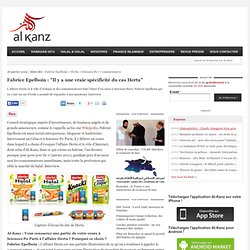 Le cas Orangina : la question de l'éthique
Ceux d'entre vous qui me connaissent savent qu'il n'est pas dans mes habitudes, ni dans celles de l'agence, de prendre part à des débats mettant en porte-à-faux une/d'autres agences. Cette prise de position n'est donc pas anodine : le cas Orangina interpelle parce qu'il décrédibilise un métier fondé sur l'honnêteté et la transparence, valeurs que nous revendiquons depuis la création de We Are Social et que nous ne cessons de prôner au quotidien… Dans un article intitulé « Orangina trompe ses fans sur Facebook » le blog Coups de Pub a en effet mis en avant des pratiques scandaleuses depuis confirmées par le « community manager » de l'agence de la marque : la création et l'utilisation de faux profils Facebook utilisés pour commenter dès la publication d'un statut par Orangina.