OER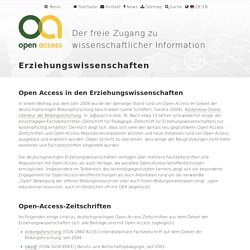 Informationsplattform Open Access: Erziehungswissenschaften
Im Folgenden sind einige Informationen über Open Access im Bereich Erziehungswissenschaften zusammengestellt. Wenn Sie weitere Tipps und Anregungen zu diesem Bereich haben, zögern Sie nicht, uns eine E-Mail zu schicken! Vertreterinnen und Vertreter der Wissenschaft, von Verlagen und des Deutschen Instituts für Internationale Pädagogische Forschung (DIPF) diskutierten über die Frage Open Access für die Erziehungswissenschaft?
Open Courses | iversity
404 - not found Congratulations! You have successfully found the not found page.
loading <div style="text-align:center; margin-bottom:10px;">Please use a <a href="/browsers">modern browser </a> with JavaScript enabled to use Coursera.</div> CS101 teaches the essential ideas of Computer Science for a zero-prior-experience audience. Computers can appear very complicated, but in reality, computers work within just a few, simple patterns. CS101 demystifies and brings those patterns to life, which is useful for anyone using computers today.