Creuset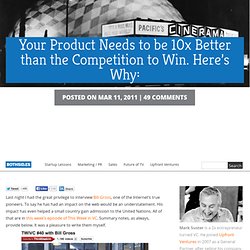 Last night I had the great privilege to interview Bill Gross, one of the Internet's true pioneers. To say he has had an impact on the web would be an understatement. His impact has even helped a small country gain admission to the United Nations.
Your Product Needs to be 10x Better than the Competition to Win. Here's Why: | Both Sides of the Table
Startups Need Focused Websites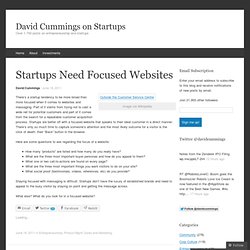 Image via Wikipedia There's a startup tendency to be more broad than more focused when it comes to websites and messaging. Part of it stems from trying not to cast a wide net for potential customers and part of it comes from the search for a repeatable customer acquisition process. Startups are better off with a focused website that speaks to their ideal customer in a direct manner.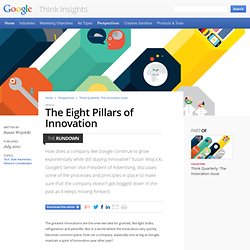 The greatest innovations are the ones we take for granted, like light bulbs, refrigeration and penicillin. But in a world where the miraculous very quickly becomes common-place, how can a company, especially one as big as Google, maintain a spirit of innovation year after year? Nurturing a culture that allows for innovation is the key.
The Eight Pillars of Innovation
Much to my chagrin I do not code. Somewhere in the archives of my brain is some C++ I learned back in the stone age (late 90's) but that's about it. I certainly understand the value in knowing how to code at least at a basic level as a Product Manager I just haven't taken the time to learn yet.& Well I should say I'm trying to learn and so far I'm pleased with the process on Codecademy . I have a long ways to go however. While it's debatable in many circles I personally think this is a huge weakness of mine. It's so much harder to have a deep understanding of what it takes to build an application, how all the pieces fit together, and what it means to maintain web based software when you don't have a fundamental understanding of it.
Product Managers, turn a weakness into a strength | The Recovering MBA
Voilà plus de 12 ans que je travaille dans le monde du web. Au cours de ces douze dernières années, j'ai été amené à travailler sur de nombreuses disciplines à différents postes (conception, rédaction, gestion de projet, conseil…). J'ai ainsi pu observer l'évolution de ces disciplines et la façon dont elles se recoupent et se complètent. C'est un article publié par Dion Hinchcliff sur le croisement des stratégies digitales, mobiles et sociales qui me donne l'occasion d'apporter ma pierre à cet édifice.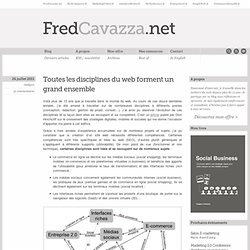 Toutes les disciplines du web forment un grand ensemble
Whenever someone visits your site, you have a desired action in mind. When a visitor or user completes that action, that's a conversion. You might want them to sign up for a free account, become a member of your mailing list or fill out a survey - it really depends on your business and it's goals.Since your ability to achieve your business goals depends on conversions, we've assembled a list of web conversion rate optimization tips from the top experts in the field. 1. Hypothesize First, Then Testby Thijs de Valk on YoastThis post makes a good point, don't assume that just because something worked well for someone else that it will work for you. The best bet is to take in what the experts have said, use that information to start forming hypotheses, and then test those hypothesis.No matter what you read about conversion rate optimization, always test your theories when they're put in action.
(4) What are some top strategies for conversion optimization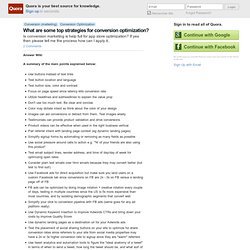 My engagement with the concept of gamification has followed the pattern below. I think this has been true for many people. The badges on Foursquare were fun and I thought the idea of using gaming concepts to make non-game service more engaging had legsI started to get bored with earning meaningless badges and points all over the placeI started to see the word 'gamification' in business plans as a sure-fire, but unexplained, driver of success (for a time 'viral marketing' was used with a similar lack of understanding and lack of impact)I lost interest in the whole concept Then this morning, having not heard or thought much about the concept of gamification for six months, I saw an article on Vator.tv titled Gamification is not, alone, a sustainable solution which I anticipated would re-enforce my opinion.
Gamification – a maturing concept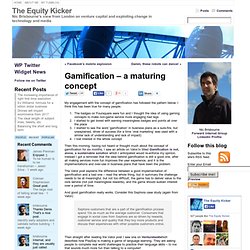 How to Build the Case for a Gamification Program in a Fortune 1000 Organization | Gamified Enterprise
Gamification is powerful. It is fresh, it is new, and it is revolutionary. Sound like the first line of sales pitch? Yes? Good. That is exactly what I was going for.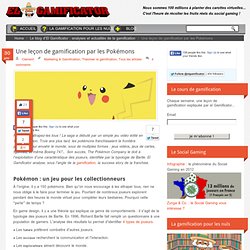 Pokémon : attrapez-les tous ! La saga a débuté par un simple jeu vidéo édité en 1996 au Japon. Trois ans plus tard, les pokémons franchissaient la frontière japonaise pour envahir le monde, sous de multiples formes : jeux vidéos, jeux de cartes, figurines, et même Boeing 747… Son succès, The Pokémon Company le doit à l'exploitation d'une caractéristique des joueurs, identifiée par la typologie de Bartle. El Gamificator analyse, sous l'angle de la gamification, la success story de la franchise. Pokémon : un jeu pour les collectionneurs
Pokémons et gamfication
The last 10 years have been called the era of Web 2.0, a term used to describe a new type of online experience, wherein a user could be both author and audience. That decade, said SCVNGR CEO Seth Priebatsch today in his opening keynote at the SXSW conference, was the decade of social. That decade, however, has been won, said Priebatsch. Facebook has come away as the clear leader and now, a new decade is upon us - the decade of games. These are not children's games, however. These are games that could change the world.
How Game Mechanics Will Solve Global Warming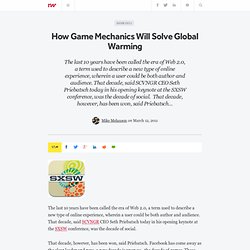 Since Seth Priebatsch's keynote at this year's SXSW, excitement about adding a "game layer" to the world - liberating games from their traditional place on a computer screen and imposing game-like, social and situational constraints onto the real world (largely through mobile apps) - has positively erupted. There's been considerable interest from businesses across industries, educators, social innovators and techies alike. Latitude Research (which partnered with ReadWriteWeb last year on a study about kids and future Web technology) has launched a new study on The Future of Gaming - they want to hear fresh perspectives from both game enthusiasts and non-gamers. What do you think the role of games will (or should) be in the future? Can they motivate and inspire people to reach personal or societal goals?
What Is the Future of Gamification? [Survey]
Steve Jobs: Get Rid of the Crappy Stuff - Carmine Gallo - Your Communications Coach
Charming flat - Heart of Montmartre in Paris
Entering the offices of Match.com is a bit like strutting into a disco. Coloured lights flash from the ceilings, workers lounge on circular banquettes, dance music plays from hidden speakers. Despite being in a mid-rise office tower overlooking a turnpike in the dry, landlocked city of Dallas, Texas, the Match offices are evocative of a racier environment, where anything might happen. On a hazy Monday in June, I came to meet Mandy Ginsberg, the president of Match.com US, the world's largest online dating site. Petite, preppy and freckled, with long brown hair, Ginsberg was wearing sandals, tight black jeans and a loose blouse. Her jewellery was limited to a diamond bracelet and a wedding band.
Inside Match.com: It's all about the algorithm. - By David Gelles
The Dangers of Relying on Facebook I wanted to share a short post-mortem on our recent Facebook difficulties. Our app Pixamid is heavily reliant on Facebook - so much so that unless a user logs in with Facebook, the app is almost useless (it will still take photos and save them to the iPhone, but no magic whatsover). We knew that by only supporting Facebook identities, we would lose some users. But the advantages for us (ease of implementing Facebook's Single-Sign-on, the access to both a user's social graph and a limitless photo store, and the nearly ubiquitous nature of Facebook) were huge, so we decided early on to start with Facebook-only.
Blog
SXSW 2011: The internet is over | Technology
If my grandchildren ever ask me where I was when I realised the internet was over – they won't, of course, because they'll be too busy playing with the teleportation console – I'll be able to be quite specific: I was in a Mexican restaurant opposite a cemetery in Austin, Texas, halfway through eating a taco. It was the end of day two of South by Southwest Interactive, the world's highest-profile gathering of geeks and the venture capitalists who love them, and I'd been pursuing a policy of asking those I met, perhaps a little too aggressively, what it was exactly that they did. What is "user experience", really?
E-commerce : 5 sites au concept original