Creuset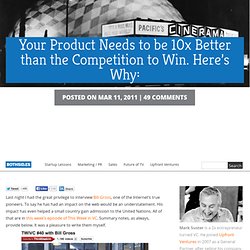 Last night I had the great privilege to interview Bill Gross, one of the Internet's true pioneers. To say he has had an impact on the web would be an understatement. His impact has even helped a small country gain admission to the United Nations.
Your Product Needs to be 10x Better than the Competition to Win. Here's Why: | Both Sides of the Table
Startups Need Focused Websites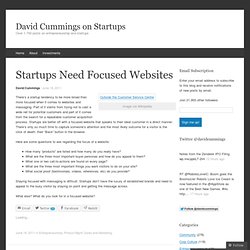 Image via Wikipedia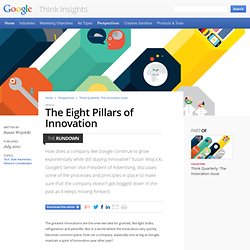 The greatest innovations are the ones we take for granted, like light bulbs, refrigeration and penicillin. But in a world where the miraculous very quickly becomes common-place, how can a company, especially one as big as Google, maintain a spirit of innovation year after year? Nurturing a culture that allows for innovation is the key.
The Eight Pillars of Innovation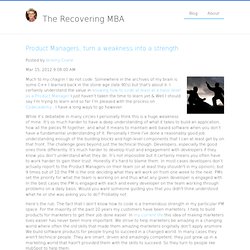 Much to my chagrin I do not code. Somewhere in the archives of my brain is some C++ I learned back in the stone age (late 90's) but that's about it. I certainly understand the value in knowing how to code at least at a basic level as a Product Manager I just haven't taken the time to learn yet.& Well I should say I'm trying to learn and so far I'm pleased with the process on Codecademy .
Product Managers, turn a weakness into a strength | The Recovering MBA
Voilà plus de 12 ans que je travaille dans le monde du web.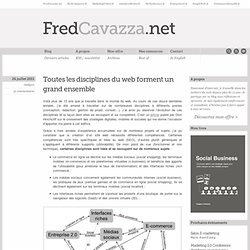 Toutes les disciplines du web forment un grand ensemble
(4) What are some top strategies for conversion optimization
My engagement with the concept of gamification has followed the pattern below.
Gamification – a maturing concept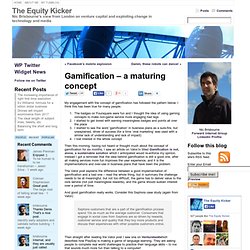 How to Build the Case for a Gamification Program in a Fortune 1000 Organization | Gamified Enterprise
Gamification is powerful. It is fresh, it is new, and it is revolutionary.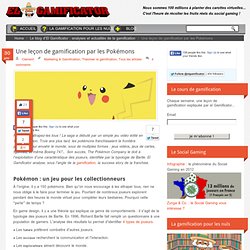 Pokémon : attrapez-les tous !
Pokémons et gamfication
The last 10 years have been called the era of Web 2.0, a term used to describe a new type of online experience, wherein a user could be both author and audience. That decade, said SCVNGR CEO Seth Priebatsch today in his opening keynote at the SXSW conference, was the decade of social. That decade, however, has been won, said Priebatsch. Facebook has come away as the clear leader and now, a new decade is upon us - the decade of games. These are not children's games, however.
How Game Mechanics Will Solve Global Warming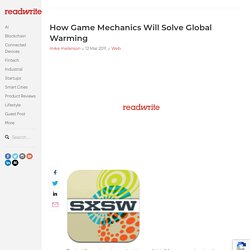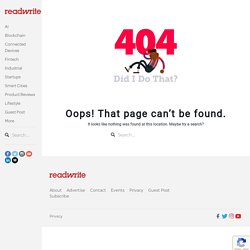 Since Seth Priebatsch's keynote at this year's SXSW, excitement about adding a "game layer" to the world - liberating games from their traditional place on a computer screen and imposing game-like, social and situational constraints onto the real world (largely through mobile apps) - has positively erupted. There's been considerable interest from businesses across industries, educators, social innovators and techies alike. Latitude Research (which partnered with ReadWriteWeb last year on a study about kids and future Web technology) has launched a new study on The Future of Gaming - they want to hear fresh perspectives from both game enthusiasts and non-gamers. What do you think the role of games will (or should) be in the future? Can they motivate and inspire people to reach personal or societal goals? Can they bring together online and offline experiences in meaningful ways?
What Is the Future of Gamification? [Survey]
Steve Jobs: Get Rid of the Crappy Stuff - Carmine Gallo - Your Communications Coach
Charming flat - Heart of Montmartre in Paris
On a hazy Monday in June, I came to meet Mandy Ginsberg, the president of Match.com US, the world's largest online dating site. Petite, preppy and freckled, with long brown hair, Ginsberg was wearing sandals, tight black jeans and a loose blouse.
Inside Match.com: It's all about the algorithm. - By David Gelles
The Dangers of Relying on Facebook
Blog
SXSW 2011: The internet is over | Technology
If my grandchildren ever ask me where I was when I realised the internet was over – they won't, of course, because they'll be too busy playing with the teleportation console – I'll be able to be quite specific: I was in a Mexican restaurant opposite a cemetery in Austin, Texas, halfway through eating a taco. It was the end of day two of South by Southwest Interactive, the world's highest-profile gathering of geeks and the venture capitalists who love them, and I'd been pursuing a policy of asking those I met, perhaps a little too aggressively, what it was exactly that they did. What is "user experience", really?
E-commerce : 5 sites au concept original
Avec plus de 80 000 sites de e commerce en France et une augmentation des achats en ligne en constante évolution, certains acteurs du e commerce tentent de tirer leur épingle du jeu en innovant avec des sites aux concepts originaux.