UI & UX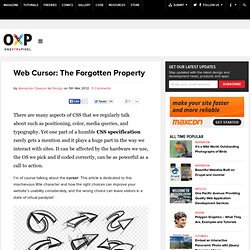 Web Cursor: The Forgotten Property
There are many aspects of CSS that we regularly talk about such as positioning, color, media queries, and typography.
Back in February at the Future of Web Apps (FOWA) conference in Miami, Union Square Ventures' Fred Wilson presented on his 10 Golden Principles of Successful Web Apps.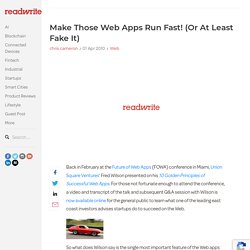 Make Those Web Apps Run Fast! (Or At Least Fake It) - ReadWriteS
Earlier this week usability expert Jakob Nielsen (famous for his eyetracker studies) published the results of some research into the importance of page response times to user experience and perceptions of brand. In his words "users really care about speed". In Jakob's assessment speed matters for two reasons: human limitations, espescially in the areas of memory and limitation human aspirations – fast interfaces make us feel like we control the computer (a feeling we like) whilst slow interfaces make us feel like it is the computer that is controlling us (not so good…)
UI research – speed matters and 10s+ page load is a killer | The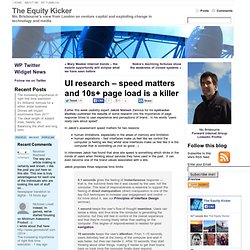 I was invited to speak at the event this week where getting a little sweary and ranty is kind of encouraged (it goes well with the craft beer consumption that is an integral part of the conference mix). This was my contribution. Slides: When I checked the agenda to see what I was supposed to be talking about at Monkigras, I saw that I was down to talk for 15 mins about 'Crafting Good UX'. Where to start. I suspect James expected me to come up with something like this post that ReadWriteWeb published the day before my talk: If you're interested, the five signs (aside from simply *being* ), are: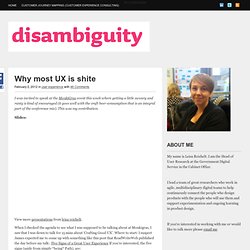 Why most UX is shite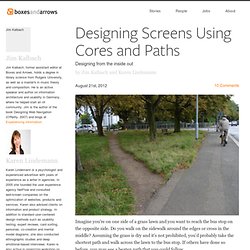 Designing Screens Using Cores and Paths
Imagine you're on one side of a grass lawn and you want to reach the bus stop on the opposite side. Do you walk on the sidewalk around the edges or cross in the middle? Assuming the grass is dry and it's not prohibited, you'd probably take the shortest path and walk across the lawn to the bus stop. If others have done so before, you may see a beaten path that you could follow.
What are some top strategies for conversion optimization
Your Facebook Account has Three Passwords
I'm sure I was swearing allegiance to one brand over another as soon as I began to develop the capacity for critical thought. Reebok vs. Nike, Coke vs. Pepsi, SEGA vs.
Brand as Context in Interaction Design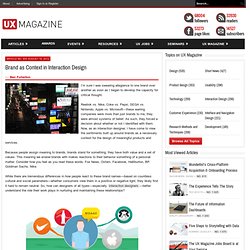 by anthony on 08/17/11 at 10:17 pm Designers use rounded corners so much today that they're more of an industry standard than a design trend. They're not only found on software user interfaces, but hardware product designs as well. So what is it about rounded corners that make them so popular? Indeed they look appealing, but there's more to it than that.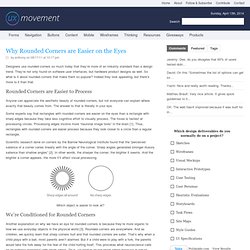 Why Rounded Corners are Easier on the Eyes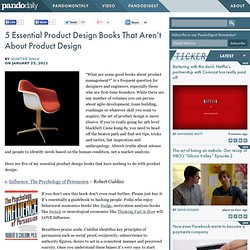 5 Essential Product Design Books That Aren't About Product Design
By Hunter Walk On January 25, 2012 "What are some good books about product management?"
by anthony on 07/11/11 at 12:33 pm Tables are great for displaying information. But making them user-friendly is a challenge. One reason it's challenging is because the table grid limits the amount of information you can display in a table cell. This means you have to figure out how to display the information the user needs without displaying too much of it. Also, when users read tables, they need to move their eyes vertically and horizontally to scan information.
9 Useful Techniques for User-Friendly Tables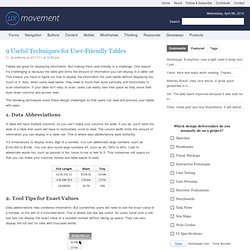 When to Use White Text on a Dark Background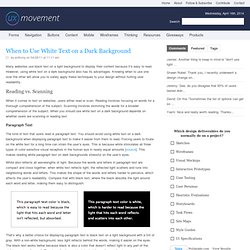 by anthony on 04/28/11 at 11:11 am Many websites use black text on a light background to display their content because it's easy to read. However, using white text on a dark background also has its advantages.
Why Users Fill Out Forms Faster with Top Aligned Labels
by anthony on 09/01/10 at 3:48 pm Imagine a user who is really excited about your product or service. They're ready to sign up, so they go to your form page and start filling out their information. The way you align your labels with your form fields can affect how easy it is for users to fill out the form. Do you want to give users a quick, easy and painless experience or do you want to give them a hassle?
12 Useful Techniques For Good User Interface Design - Smashing Magazine
Advertisement Last week, we presented 10 Useful Web Application Interface Techniques, the first part of our review of useful design trends in modern Web applications. Among other things, we highlighted embedded video blocks, specialized controls and context-sensitive navigation. We also encouraged designers to disable pressed buttons, use shadows around modal windows and link to the sign-up page from the log-in page. This post presents the second part of our review: 12 useful techniques for good user interface design in Web apps. We also discuss how to implement these techniques so that they are properly used.
10 UI Ideas to Learn from Gumroad)
10 UI Ideas to Learn from Gumroad Gumroad is an exciting new startup that lets anyone sell digital content with just a link. It was founded by the prolific Sahil Lavingia. Sahil has designed a number of useful apps, ranging from Pinterest in the early days, to Turntable, to Crate, to Caltrainer, etc.