Desserts
Get flash to fully experience Pearltrees
This post comes to you from damply beautiful Seattle, Washington! Yes, kids, I am in Seattle for BlogHer Food 2012 and not just as an attendee, but I am speaking ! I am nervous, but terribly excited, and ready to get the party started! The last month has been a CRAZY travel month for me. First, I went to Camp Blogaway, then I spent 6 days in Tokyo (expect a few Japanese themed recipes in the future – the place is life changing!)
This time I decided to make it with those mini fruit flavored marshmallows. I had to sort them by colour first. I figured they would add a little bit of flavor to the fondant so I wouldn't have to add much flavoring oil.
I love recipes that make me feel like I can get away with eating something sweet first thing in the morning. These banana bread cookies do the trick! Combining my own love for banana bread and the addition of chocolate chunks, these cookies are soft and cake like, much like the bread. They are perfect for enjoying with a cup of coffee in the morning, as a afternoon snack or the perfect dessert.
I'm sorry. I know it's Monday morning and you probably came here for some pretty pictures of food that you could glance at, and then move on with your day… and here I go thrusting warm, soft cinnamon sugar bread in your face. It's not fair. I know it's not fair. I know that now you're craving cinnamon rolls, and cream cheese frosting and chili fries and hot dogs. I am too… and I already ate half of this warm bread.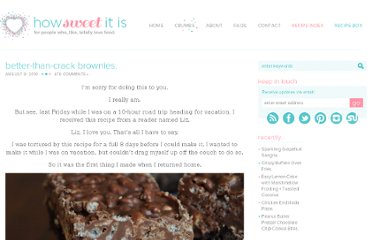 I'm sorry for doing this to you. I really am. But see, last Friday while I was on a 10-hour road trip heading for vacation, I received this recipe from a reader named Liz. Liz, I love you. That's all I have to say.
I have been experimenting with different mug cakes every since I heard about them about a year ago. None of them have been winners. They were either too chewy, too dry, or not sweet enough. Well, I continued experimenting, and thought why not add some decadent Nutella into the mix. I modified the classic mug cake recipe, added Nutella, and a little more milk and oil than I had been using before. The results were beyond amazing.
Cute & Easy Mini Santa Hat Brownies Noreen December 17, 2011 *Post Edit:- I had forgotten to mention the step where the sugar goes in the recipe image below….as pointed out by several people in the comments. So, Add the sugar when you melt the chocolate in the butter. =) I have now edited the image to include that and I hope this clears things up. Sorry again for the accidental omission. Makes: 48 mini muffin sized brownies or 24 regular muffin sized brownies.
28 Dec 2011 One of the perks of being a student (and right now as I'm in the middle of college applications and interviews there don't seem to be many) is that you get a long Christmas break. This is what I've done since Christmas: