Physics
Singularity Theory May Explain Fermi Paradox
The Drake equation demonstrates that due to the vast scope of our universe, it is highly unlikely that there is not intelligent life other than us. The Fermi paradox ponders why (considering the results from the Drake equation) we have not yet detected any other intelligent life. Singularity theory anticipates a point in time where rapid growth in intelligence and replication create a border that is like an asymptote or singularity threshold beyond which lies an undefinable area that is not comparable to what we currently know as intelligence. The Schwarzchild radius describes the limit of the ability of light to escape a black hole singularity, or the "edge" of the black hole where it becomes totally black. The answer to the Fermi paradox may lie in the idea of a singularity-like expansion in intelligence that rapidly moves beyond our ability to understand it or detect it.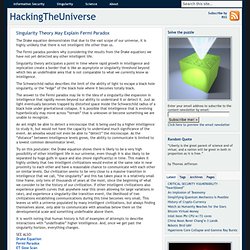 Lightning in a Bottle: Antimatter Trapped for Nearly 17 Minutes - Techland...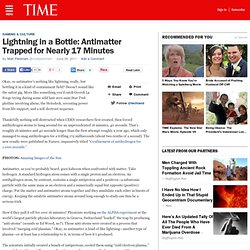 Okay, so antimatter's nothing like lightning, really, but bottling it in a kind of containment field? Doesn't sound like the safest gig. More like something you'd catch Geordi La Forge trying during some wild hair zero-sum Star Trek plotline involving aliens, the Holodeck, rerouting power from life support, and a self-destruct sequence. Thankfully nothing self-destructed when CERN researchers first created, then forced antihydrogen atoms to hang around for an unprecedented 16 minutes, 40 seconds. That's roughly 16 minutes and 40 seconds longer than the first attempt roughly a year ago, which only managed to snag antihydrogen for a trifling 172 milliseconds (about two-tenths of a second).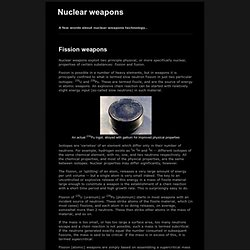 A few words about nuclear weapons technology.. Fission weapons Nuclear weapons exploit two principle physical, or more specifically nuclear, properties of certain substances: fission and fusion . Fission is possible in a number of heavy elements, but in weapons it is principally confined to what is termed slow neutron fission in just two particular isotopes: 235 U and 239 Pu. These are termed fissile , and are the source of energy in atomic weapons. An explosive chain reaction can be started with relatively slight energy input (so-called slow neutrons) in such material. An actual 239 Pu ingot, alloyed with gallium for improved physical properties Isotopes are 'varieties' of an element which differ only in their number of neutrons.
The Universe as a Hologram by Michael Talbot Does Objective Reality Exist, or is the Universe a Phantasm? In 1982 a remarkable event took place. At the University of Paris a research team led by physicist Alain Aspect performed what may turn out to be one of the most important experiments of the 20th century.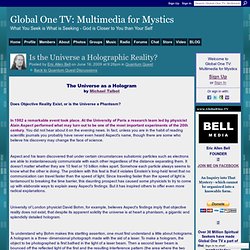 Don't cross the LHC stream!
There are a lot of questions in science that seem simple, but in fact lead to profound concepts.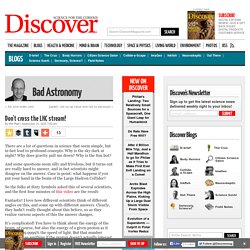 Einstein for Everyone Nullarbor Press 2007 revisions 2008, 2010, 2011, 2012, 2013 Copyright 2007, 2008, 2010, 2011, 2012 John D. Norton Published by Nullarbor Press, 500 Fifth Avenue, Pittsburgh, Pennsylvania 15260 with offices in Liberty Ave., Pittsburgh, Pennsylvania, 15222