Lol
Anti Jokes. What are Antijokes?
Anti Jokes (or Anti Humor) is a type of comedy in which the uses is set up to expect a typical joke setup however the joke ends with such anticlimax that it becomes funny in its own right. The lack of punchline is the punchline. We've just released huge update to the iOS app! Haiku. Courtroom Quotations. The following quotations are taken from official court records across the nation, showing how funny and embarrassing it is that recorders operate at all times in courts of law, so that even the slightest inadvertence is preserved for posterity.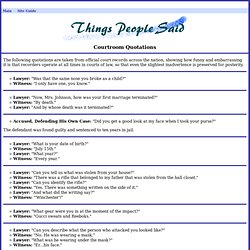 Lawyer: "Was that the same nose you broke as a child? "Witness: "I only have one, you know. " Lawyer: "Now, Mrs. Johnson, how was your first marriage terminated? " Burgler. Children are Awesome. Historical Facebook. Customer Service. This…Is…Spyware!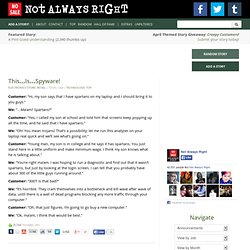 Customer: "Hi, my son says that I have spartans on my laptop and I should bring it to you guys." Me: "…Ma'am? Spartans?" Oh Engineers... Understanding Engineers #1 Two engineering students were biking across a university campus when one said, "Where did you get such a great bike?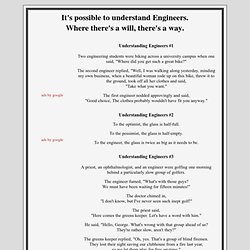 " The second engineer replied, "Well, I was walking along yesterday, minding my own business, when a beautiful woman rode up on this bike, threw it to the ground, took off all her clothes and said, "Take what you want. " The first engineer nodded approvingly and said, "Good choice, The clothes probably wouldn't have fit you anyway. " Understanding Engineers #2 To the optimist, the glass is half-full. Dear Blank, Un progetto ironico e geniale di Jared Wunsch e Hans Johnson.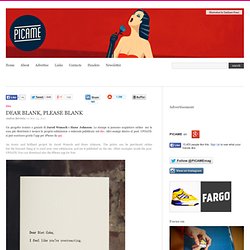 Le stampe si possono acquistare online ma la cosa più divertente è inviare le proprie submission e vedersele pubblicate sul sito. Altri esempi dentro al post. UPDATE: si può scaricare gratis l'app per iPhone da qui. Dis my Nigga?
---