Industry
One Chart Showing Who Trades With Who In The World. OK, so the big economies - US, China, and Germany - all have big slices of the overall circle, and that's no surprise.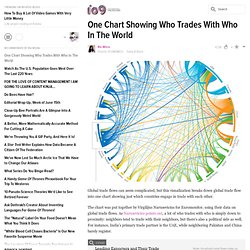 The city-states - Singapore and Hong Kong - and near city-states like the Netherlands and UAE also have big pieces. They have a high population-to-border ratios, though, so that's also not surprising. Some countries have the opposite problem - very low population per border, like the continental empires of Russia, Brazil, and Australia. TIL that China has built a new skyscraper every five days, more than 30 airports, metros in 25 cities, the three longest bridges in the world, more than 6,000 miles of high speed railway lines and 26,000 miles of motorway, all in the last 5 years. : today. Google Buys Boston Dynamics in Sensational Eighth Robotics Acquisition. Google just acquired Boston Dynamics.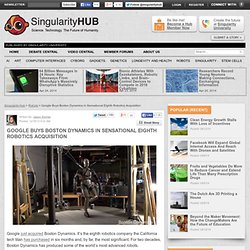 It's the eighth robotics company the California tech titan has purchased in six months and, by far, the most significant. For two decades, Boston Dynamics has produced some of the world's most advanced robots. Neil Jacobstein, co-chair of the Artificial Intelligence and Robotics Track at Singularity University, told Singularity Hub, "This is a watershed event. A very big deal. The Freight Train That Is Android. March 24, 2011: March 24, 2011: [Follow Me on Twitter] "People get ready, there's a train a comin'" - The Impressions From Zacks via Yahoo: Mark Vickery, On Thursday March 24, 2011, 4:58 pm EDT "BlackBerry maker Research In Motion (NasdaqGS: RIMM – News) beat its fiscal 4Q EPS estimates by 2 cents per share, but missed slightly on quarterly revenues and offered guidance well below the current consensus.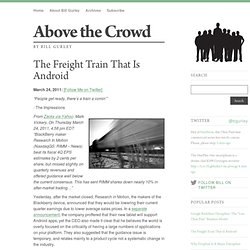 This has sent RIMM shares down nearly 10% in after-market trading…" Google's iron grip on Android: Controlling open source by any means necessary. Six years ago, in November 2007, the Android Open Source Project (AOSP) was announced.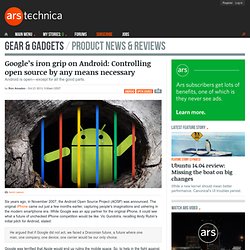 The original iPhone came out just a few months earlier, capturing people's imaginations and ushering in the modern smartphone era. While Google was an app partner for the original iPhone, it could see what a future of unchecked iPhone competition would be like. Vic Gundotra, recalling Andy Rubin's initial pitch for Android, stated: He argued that if Google did not act, we faced a Draconian future, a future where one man, one company, one device, one carrier would be our only choice.
Warren Buffett on castles and moats by Matt Linderman of 37signals. "In business, I look for economic castles protected byunbreachable 'moats'."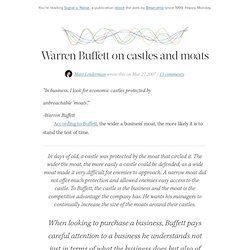 -Warren Buffett According to Buffett, the wider a business' moat, the more likely it is to stand the test of time. In days of old, a castle was protected by the moat that circled it. Economy of India. The independence-era Indian economy (from 1947 to 1991) was based on a mixed economy combining features of capitalism and socialism, resulting in an inward-looking, interventionist policies and import-substituting economy that failed to take advantage of the post-war expansion of trade.[21] This model contributed to widespread inefficiencies and corruption, and the failings of this system were due largely to its poor implementation.[21] In 1991, India adopted liberal and free-market principles and liberalised its economy to international trade under the guidance of Former Finance minister Manmohan Singh under the Prime Ministrship of P.V.Narasimha Rao, who had eliminated Licence Raj, a pre- and post-British era mechanism of strict government controls on setting up new industry.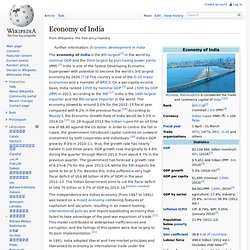 Hans Rosling: Let my dataset change your mindset. Gapminder: Unveiling the beauty of statistics for a fact based world view. Hans Rosling: The magic washing machine. China's middle-class boom - Jun. 26. Since 1980, yearly earnings for an average Chinese household multiplied ten times over.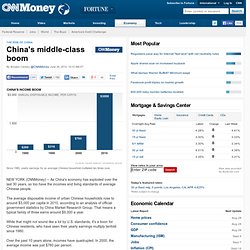 NEW YORK (CNNMoney) -- As China's economy has exploded over the last 30 years, so too have the incomes and living standards of average Chinese people. The average disposable income of urban Chinese households rose to around $3,000 per capita in 2010, according to an analysis of official government statistics by China Market Research Group. Watch 10 seconds of high-frequency stock trading in super slow motion. Presumably, it will take them a bit of time to actually read out the resolution.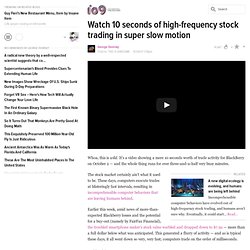 How do you know there weren't computers executing the trade before the news reached Chicago? Maybe they were measuring the probability that the decision would be made. In addition, a spike in trading could be bets placed both ways. There could be short options bought or long. Tomorrow's cities: Just how smart is Songdo? 1 September 2013Last updated at 21:36 ET By Lucy Williamson BBC News, Seoul A look at the newly built city of Songdo in South Korea As cities around the world look to technology to make themselves "smarter" many are watching Songdo.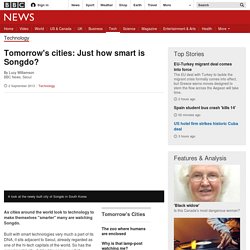 Built with smart technologies very much a part of its DNA, it sits adjacent to Seoul, already regarded as one of the hi-tech capitals of the world. Daryl Oster on Singularity 1 on 1: Evacuated Tube Technologies to Bring Space Travel on Earth. Podcast: Play in new window | Download | Embed Daryl Oster is an inventor and engineer who wants to bring space travel to Earth.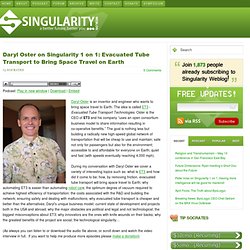 The idea is called ET3 - Evacuated Tube Transport Technologies. Oster is the CEO of ET3 and his company "uses an open consortium business model to share information resulting in co-operative benefits." The goal is nothing less but building a radically new high-speed global network of transportation that will be cheap to use and maintain; safe not only for passengers but also for the environment; accessible to and affordable for everyone on Earth; quiet and fast (with speeds eventually reaching 4,000 mph). Hype Builds Before Elon Musk's August Alpha Plan for SF to LA Hyperloop. I liked going to the bank drive-through with my mom as a kid. She'd send her checks to the teller inside by shooting a cylinder through a pneumatic tube. I always wanted a ride in that thing. And while there remains a woeful shortage of pneumatic tubes transporting people at the moment—that unhappy state of affairs may not last forever. Elon Musk, the billionaire tech mogul behind PayPal, Tesla Motors, and SpaceX and the entrepreneur who wants to colonize Mars with a vertically landing, reusable rocket—that guy—recently announced he's been busy thinking about building a pneumatic tube to shuttle people from SF to LA at 600+ mph.
He calls it the Hyperloop. Musk Estimates Hyperloop Could Shoot Travelers from SF to LA at 760 Miles Per Hour. Elon Musk has long been hinting at a high-speed form of transportation enigmatically named the Hyperloop. Earlier this summer, he promised to reveal his Hyperloop plans in August. After a round of media hype and an all-nighter with his engineers at SpaceX and Tesla Motors, Musk recently posted the 57-page Hyperloop Alpha plan online. The man isn't known for moderation, and the Hyperloop isn't exactly conservative.
Hyperloop Could Totally Work. But Will It Ever Happen? Young Americans are Abandoning Car Ownership and Driving. It's the interview that sparked a huge fight between director Abdellatif Kechiche and actress Léa Seydoux. The 10-minute graphic lesbian sex scene in the masterful French Drama 'Blue is the Warmest Color,' winner of the Palme d'Or, stunned Cannes. At Telluride, Marlow Stern spoke to the film's two onscreen lovers about 'that scene' and why they'll never work with Kechiche again. Film festival reviews are, as is their wont, often prone to hyperbole. Even the most weathered of movie critics can get swept up in the wonder of it all.
Didn't Get The Job? A Computer May Be To Blame. Robots continue to invade the workplace. But these bots aren't going to sift through mountains of paperwork or fetch a pair of scissors for you. On the contrary, it is you who will have to answer to them. There's a fast-growing trend in the corporate world to replace human bias with algorithmic precision during the hiring process. Lawyers Object As Computer Program Does Job Better. Robots won't be replacing lawyers anytime soon, but computer programs are already acting like overachieving interns. First doctors, now lawyers. I can hear them now: "I didn't go through all those years of school just to be replaced by a computer." Over half the world now live in cities according to UN Report. Amsterdam Tries to Change Culture With 'Repair Cafes' Rachel Botsman: The currency of the new economy is trust. Eddie Obeng: Smart failure for a fast-changing world. Startup Aims To Install Pipelines With Helicopters…Really!
Beyond Today - Larry Page - Zeitgeist 2012.
---