Cool places
Certified Green: Top 10 Loony Travel Destinations. Amazing Places To Experience Around the Globe (Part 3) - StumbleUpon. Devetashkata Cave - Bulgaria Ben Bulben at County Sligo, Ireland Shark Island - Sydney Baatara Gorge Waterfall, Tannourine - Lebanon Abel Tasman National Park - New Zealand Myrtos Beach, Kefalonia - Greece.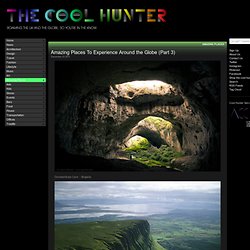 10 Natural Wonders of the World. With so many beautiful places on earth, a list of the top ten natural wonders of the world is unlikely to create a consensus.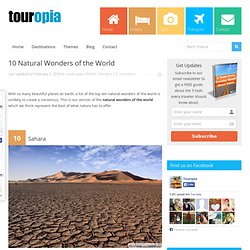 This is our version of the natural wonders of the world which we think represent the best of what nature has to offer. 10Sahara The Sahara is the world's largest hot desert covering most of Northern Africa, making it almost as large as the United States. Unusual hotels of the world — Celebrities, Current Events, Health & Fitness, Northwest Indiana Mom Blog. Crystal River - The most beautiful river on earth [Pics] - StumbleUpon. Cano Cristales - Crystal River.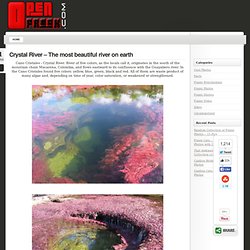 River of five colors, as the locals call it, originates in the south of the mountain chain Macarena, Colombia, and flows eastward to its confluence with the Guayabero river. In the Cano Cristales found five colors: yellow, blue, green, black and red. 12 bizarre real-life places that are stranger than science fiction | Blastr - StumbleUpon. Science fiction is home to some fantastic societies, from Cloud City to Bartertown.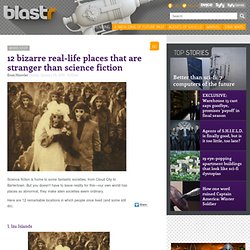 But you doesn't have to leave reality for this—our own world has places so abnormal, they make alien societies seem ordinary. Here are 12 remarkable locations in which people once lived (and some still do). 1. Heaven On Earth (8 Pics) - StumbleUpon. The Luxury Dhigu Resort, Maldives | Luxury Furniture, Property, Travel & Interior Design | Adelto - StumbleUpon.
The luxury Dhigu Resort, Maldives Anantara Dhigu Resort & Spa is encircled by mystic lagoons and unspoilt crystal shores, the resort is a heavenly sanctuary on a secluded paradise island, offering barefoot elegance in one of the world's most celebrated tropical havens.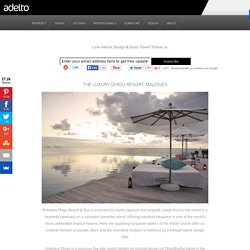 Here the sparkling turquoise waters of the Indian Ocean offer an endless horizon of aquatic allure and the evocative location is matched by a tranquil island design style. Anantara Dhigu is a luxurious five-star resort hidden on tropical terrain on Dhigufinolhu Island in the Maldives' South Male Atoll, a mere 35 minute speedboat journey from the island nation's international airport, or a scenic five minutes by private chartered seaplane. Male-based architect Mohamed Shafeeq from Group X Design Associates and Thailand-based interior design company, Abacus, headed by John Lightbody, have styled the resort's distinctive environment as a creative complement to the natural beauty of the island. 10 Best Places to Live for Escaping World Conflict | Expatify. Where would you be the safest if World War 3 broke out tomorrow?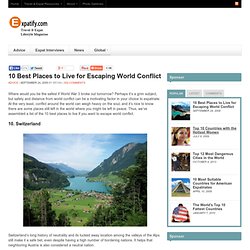 Perhaps it's a grim subject, but safety and distance from world conflict can be a motivating factor in your choice to expatriate. At the very least, conflict around the world can weigh heavy on the soul, and it's nice to know there are some places still left in the world where you might be left in peace. Amazing Places To Experience Around The Globe (Part 1) - StumbleUpon. Preachers Rock, Preikestolen, Norway Blue Caves - Zakynthos Island, Greece Skaftafeli - Iceland Plitvice Lakes – Croatia.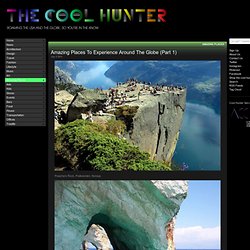 Most Dangerous Bridges In The World - StumbleUpon. Are you afraid of bridges?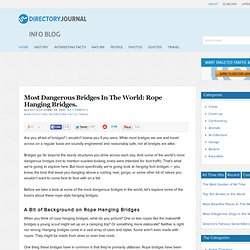 I wouldn't blame you if you were. While most bridges we see and travel across on a regular basis are soundly engineered and reasonably safe, not all bridges are alike. Glass Beach - The Dump You'll Want to Visit - Unfinished Man - StumbleUpon. It's like a little Inuksuk… Before you say anything about the content of this article, I hate people who litter.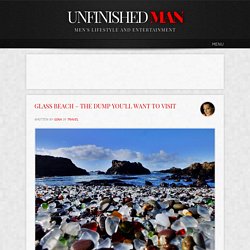 I'll judge you if I think you're too lazy to recycle. I hate pollution and the death of our fragile ecosystems and all the rest. But- with that disclaimer out of the way- Glass Beach in Fort Bragg, California is the incredible result of human wastefulness and the resilience of nature. I've been trolling around for lesser known landscapes to road trip to and explore, and stumbled across this chunk of multicolored west coast paradise.
---