Ed
First Grade Wow: math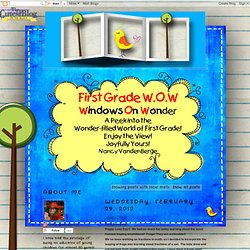 A peek into our day...What fun we had in math today. We have been studying growing patterns and when I found these cute little snowflake counters I knew how we were going to practice! Each table group was responsible for creating a growing pattern using their snowflake counters. Then they had to record their pattern using addition sentences. The kids worked so well together and tackled some tough problems!
interactive | Tips, Tools and Technology for Educators
Clutter-Free Classroom: CLASSROOM ORGANIZATION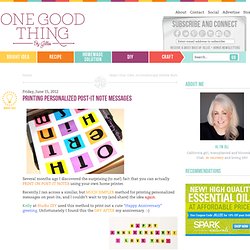 Several months ago I discovered the surprising (to me!) fact that you can actually PRINT ON POST-IT NOTES using your own home printer. Recently I ran across a similar, but MUCH SIMPLER method for printing personalized messages on post-its, and I couldn't wait to try (and share) the idea again . Kelly at Studio DIY used this method to print out a cute "Happy Anniversary" greeting .
Printing Personalized Post-It Note Messages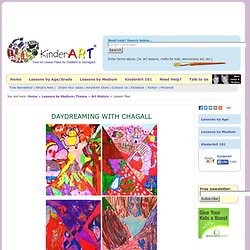 www.KINDERART.com Printer-Friendly Page DAYDREAMING WITH CHAGALL Written by : Julie Moses [Julie is a homeschooling art teacher who runs Miss Julie's Art School in La Quinta, CA.] Grade : K-6
Daydreaming with Marc Chagall Lesson Plan: Art History for Kids - KinderArt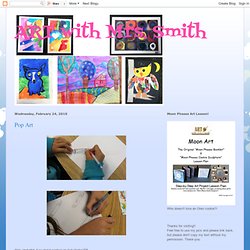 Image by Fábio Biff via Flickr *Note, small glitch, if you tried to purchase my Andy Warhol PDF lesson this morning of 2/26/10, the transaction was stopped by PayLoadz b/c the number of downloads exceeded my account level for this month. My PayLoadz acct. is now upgraded and all future transactions will go through, no problem.
ART with Mrs. Smith: Pop Art
www.KINDERART.com Printer-Friendly Page POP ART ICE CREAM PAINTINGS Written by : Madeline Buonagurio [Madeline is an art educator at Jefferson, Roosevelt and Washington Elementary Schools in North Arlington, NJ.] Grade : 4-6
Pop Art Ice Cream Painting - Art History - KinderArt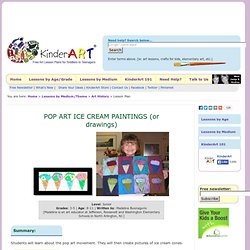 Kid c.r.a.f.t. #6: Crazy Circles |
w e l c o m e to Every Saturday and Wednesday in June I will post a new and exciting kid craft that can be done with materials around the house in less then 30 minutes! kid c.r.a.f.t. #6: Crazy Circles materials: plain white paper, crayons 1: make 5 random dots on paper 2: begin zig zagging around dots with crayon 3: continue zig zags until page is covered
Technology to Promote Thinking
iPad for Teaching & Learning
sites4primary.com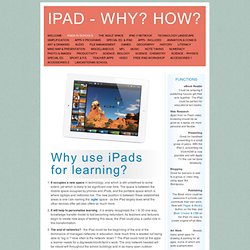 Functions eBook Reader Could be amazing if publishing houses get their acts together. The iPad could be perfect for educational text books. Web Research
Using Blooms Taxonomy in education is a highly effective way to scaffold learning for the students. With the recent popularity and pervasive nature of iOS devices in school districts it is essential for educators to understand how to implement Blooms in the classroom using the apps that are available. While this list is by no means fully comprehensive, it will assist educators in getting started when implementing iOS devices in the classroom. This site will change almost daily as it will be updated with new and exciting apps!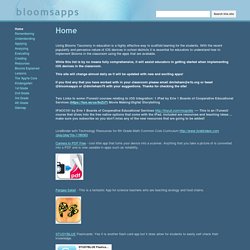 Dexteria | Home
iPad Resources For School Administrators
After seeing the chart on of Bloom's Taxonomy on bloomsapps , I thought I could make a more thorough table. I like the headings that were used in the chart. Creating Compile information together in a different way by combining elements in a new pattern or proposing alternative solutions. Create Predict Image Evaluating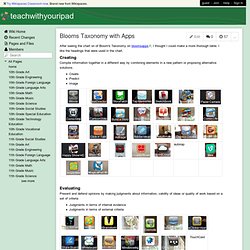 Tech & Digital | Digital | Magic at their fingertips