Digital Portfolio Tools
Artifact Design Tool
Offline Tools
Gimp - Photo Editing Software
HomeTutorialsBooksTermsPrivacy PolicyLicenseContact UsHow To Uninstall Gimpshop.com is not affiliated with Adobe® Systems Incorporated. Photoshop®, Photoshop CC® all other Adobe® product names are trademarks or registered trademarks of Adobe® Systems Incorporated. All other company and product names are trademarks or registered trademarks of their respective companies. © Copyright 2013 Gimpshop.com.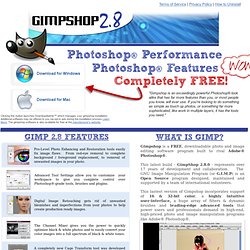 Microsoft Corporation
Microsoft Excel 2010, spreadsheet, data tracking software, numbers, enhanced tools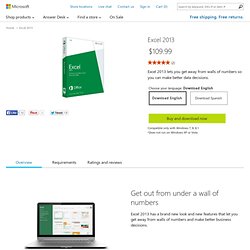 Visualize your data to understand it better Quick Analysis. Discover and compare different ways to represent your data visually.
Microsoft PowerPoint 2010, create share dynamic presentations, cinematic story
Microsoft Word 2010, create documents, store, edit, share online
Online Tools
Pictures, video and audio
YouTube - Broadcast Yourself.
Screencast-O-Matic - Free online screen recorder for instant screen capture video sharing.
Google Apps for Education
Drive – Google Apps for Education
Docs – Google Apps for Education
Picasa
Earth
SketchUp
Blogger Dashboard
Sites – Google Apps for Education
Calendar – Google Apps for Education
Portfolio Design Tools
Mahara ePortfolio System
Home - FolioSpaces free ePortfolios - school - college - university - business - students - professionals - lifelong learners Home - foliofor.me - a free ePortfolio site for YOU
What is foliofor.me? Built on award-winning Mahara software, foliofor.me gives you access to your own, free e-portfolio. You have the freedom to create your own portfolio away from the restrictions usually imposed by institutional e-Portfolio systems.
Blogging & Wiki Programs
Build a Website - Squarespace 6
" It's a way our clients can get to know us and see our culture without physically visiting the store. I couldn't believe I got the site up and running over one weekend." " I have been an entrepreneur for many, years, but suddenly my art licensing is really coming together and I need to have a simple, bold statement about my art. My Weebly site fits that vision for me."
Weebly - Create a free website and a free blog
WordPress › Blog Tool, Publishing Platform, and CMS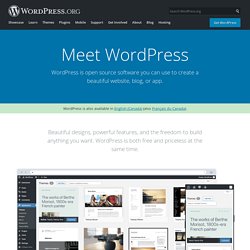 WordPress is web software you can use to create a beautiful website or blog. We like to say that WordPress is both free and priceless at the same time. The core software is built by hundreds of community volunteers, and when you're ready for more there are thousands of plugins and themes available to transform your site into almost anything you can imagine. Over 60 million people have chosen WordPress to power the place on the web they call "home" — we'd love you to join the family. Ready to get started? Download WordPress 3.8.1
Wikis for Everyone - Wikispaces
General Website Design
boe.wirt.k12.wv.us sites - Google Sites