Filmy gry dźwięki itp.
Christmas 2012 - THE DIGITAL STORY OF NATIVITY - (Christmas 2.0)
Digital Media- New Learners of the 21st Century
Future Shock (1972) 1/5
Epic Time-Lapse of Europe --HistoricalAtlas.com
BLOGERSI - film dokumentalny o sile Internetu (pełna wersja)
Derrida
Salvador Dali - A Soft Self Portrait - Complete
Copyright: Forever Less One Day
SoundWave: Using the Doppler Effect to Sense Gestures
Damien Hirst - The First Look presented by Channel 4
Processing the Signal - Part 1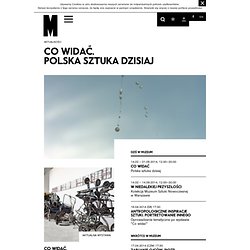 wideo | "Polscy internauci nie boją się mrozu. Pierwszy raport z badania liderów ruchu protestu anty-ACTA" | Muzeum Sztuki Nowoczesnej w Warszawie
Ruch protestu anty-ACTA, nazywany też STOP ACTA, zaskoczył nie tylko polski rząd.
Cykl Zhakować kulturę. Domena publiczna: jak myśleć o kulturze jako o dobru wspólnym. on Vimeo
Odbiorca, konsument, pirat. Uczestnik kultury w epoce cyfrowej reprodukcji. Relacja audio i video
Visualizing Data: Die Bürgschaft | Processing on Vimeo
JR - Inside Out Project by JR Art on Prezi
Internet, creative commons, remix
Network on Vimeo
The Bold and the Beautiful B&B my episode 1 the history between Brooke and Ridge and Taylor
The Vimeo HD Channel on Vimeo
HOW ART WORKS? - a serious movie about problems and solutions.
Visualize This
Sieciokracja. Władza, idee i społeczeństwo w epoce sieci
NO ACTA [Stop the Kraken] PL DUB
Java Programming Tutorial - 1 - Installing the JDK