Mars 2014
Education: Des profs en colère construisent un bûcher dans le préau de Pinchat. Education Les enseignants du cycle de Pinchat ont brûlé un "bonhomme Score" jeudi pour contester le projet de réévaluation des salaires à l'Etat. 1/11 Genève, le 20 Mars 2014.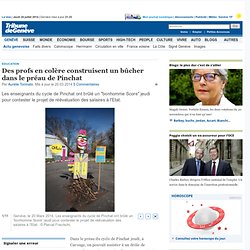 Les enseignants du cycle de Pinchat ont brûlé un 'bonhomme Score' jeudi pour contester le projet de réévaluation des salaires à l'Etat.. © Pascal Frautschi. The 5 Metrics You Need to Know to Give a Great Presentation. Here are 5 presentation tips you do not want to miss if you want to become a better presenter.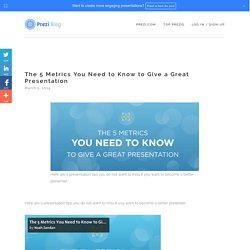 Noah Zandan is the co-founder and CEO of Quantified Impressions, the leading global provider of personal, professional, and organizational communication analytics. Noah and his team analyze presentations to provide public speakers with feedback on how to become more effective. Here are his top five metrics that are essential to giving a great presentation that engages your audience and drives results: 1. 15 seconds—the amount of time you have to make a positive first impression on your audience. (Tweet this.) Traversée de la Rade : un contre-projet ? et pourquoi pas ? : Le blog de Nathalie Hardyn. Le blog de Nathalie Hardyn Traversée de la Rade : un contre-projet ?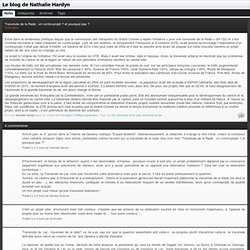 Et pourquoi pas ? Émoi dans le landerneau politique depuis que la commission des transports du Grand Conseil a rejeté l'initiative « pour une traversée de la Rade » (IN 152) et s'est montrée favorable à l'idée d'élaborer un contre-projet. Lors de son audition, le Groupement Transports et Economie (GTE) avait estimé qu'envisager l'élaboration d'un contre-projet n'était pas dénué d'intérêt. Former Yale Prez to Lead Coursera. Coursera is growing up.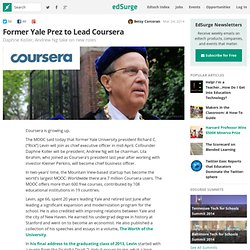 The MOOC said today that former Yale University president Richard C. ("Rick") Levin will join as chief executive officer in mid-April. Cofounder Daphne Koller will be president; Andrew Ng will be chairman. The CNN 10: Visionary Women. By Emanuella Grinberg, CNN Imagine being a single mother on welfare in Iowa, trying to find a job and earn an associate's degree -- and doing it without a car.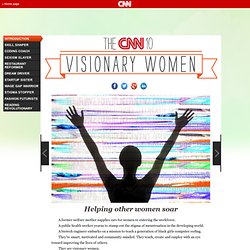 Molly Cantrell-Kraig was that woman 25 years ago. Two to four times a week, she caught a ride to school with a friend on his way to work, arriving two hours early for class. "I know what it's like to have transportation being a chief barrier to independence," she said. Meet Student Needs with Backchanneling. By Barry Saide and Chris Giordano A 5th grade teacher and a 9th grade social studies teacher from two different school districts who have never met were drawn together by several common interests.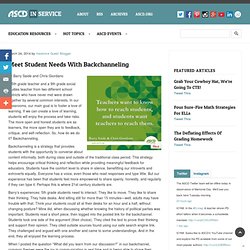 In our classrooms, our main goal is to foster a love of learning. ClassDojo. Top iPad Apps for Student Creativity. My school is currently 1:1 iPads in Grades 1, 4, and 5, and next year we're expanding that to include Grades 2 and 3.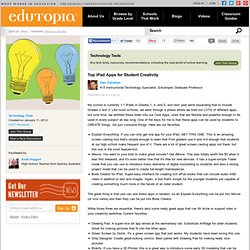 Like most schools, we went through a phase where we tried out LOTS of different apps, but over time, we whittled those down into our Core Apps, ones that are flexible and powerful enough to be used in every subject all day long. One of the keys for me is that these apps can be used by students to CREATE things, not just consume things. Here are our favorites: Explain Everything. Free VPN. 5.0 stars "pleasant util" April 11, 2014 | By qkwjtmiSimba Version: Free VPN 3.0 ProsReally easy inteface.See for your self.Get it now.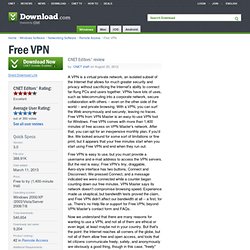 Consare you serious? ........ SummaryUsed to be OK, now its even better :) My favorite program together with *********. , I mean it. Reply to this review Was this review helpful? (0) (0) 3.0 stars "Will this software work with my router, if so how? " How the NSA Can Use Metadata to Predict Your Personality. Welcome - Defense One. 10 Social Media Sites For Education. 10 Social Media Sites For Education by Lila Daniels Our kids live on social media these days.
One crucial way to make learning relevant is to meet 'em where they live, which means finding social media sites that work in the classroom. Social media organically dovetails with subjects like language arts and social studies, but tech savvy teachers know that collaboration can work in any classroom. As Bitcoin Soars in Value, Alternative Cryptocurrencies, Such as Litecoin and PPCoin, Also Climb. In recent weeks, the digital currency Bitcoin has soared and then dipped in value, along the way attracting more public attention than ever before and speculation as to whether it could become an established and widely accepted way to pay for goods and services.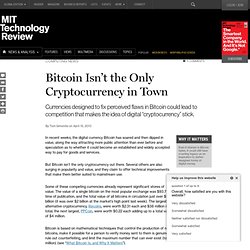 But Bitcoin isn't the only cryptocurrency out there. Several others are also surging in popularity and value, and they claim to offer technical improvements that make them better suited to mainstream use. Some of these competing currencies already represent significant stores of value. The value of a single bitcoin on the most popular exchange was $93.70 at time of publication, and the total value of all bitcoins in circulation just over $1 billion (it was over $2 billion at the market's high point last week).
Le Conseil national réclame des mesures au Conseil fédéral pour éviter de nouveaux scandales IT. Les différents scandales informatiques qui ont secoué l'administration ces derniers mois ont incité les élis du Conseil national à demander au Conseil fédéral de prendre des mesures pour reprendre en main l'informatique. Ils ont adopté deux motions et deux postulats en ce sens hier. Une première motion du PLR propose d'élaborer une véritable stratégie d'acquisition pour les projets informatiques.
Lors d'un nouveau projet, il s'agira en premier lieu de déterminer s'il est plus intéressant de fabriquer ou d'acheter un programme informatique. Pour la conseillère fédérale Eveline Widmer-Schlumpf, il faudra mettre l'accent sur les logiciels prêts à l'emploi. Le Conseil des Etats dit oui aux chevaux de Troie étatiques. Le Conseil des Etats a clairement approuvé hier la révision de la loi fédérale sur la surveillance des postes et télécommunications (LSCPT), par 30 voix pour, 2 contre et 4 abstentions. Lors du débat, Géraldine Savary (PS) s'était exprimée en faveur du projet, comme le rapporte l'ATS: «Les dealers n'envoient pas les lieux de rendez-vous pas courrier B!
Les nouvelles technologies facilitent les pratiques criminelles, il faut donc mettre en adéquation les moyens de la justice.» A New Fantastic Bloom's Taxonomy Wheel for iPad Apps. March 21, 2014 Today while I was browsing through my Twitter feeds I came across this fabulous Bloom's Taxonomy wheel of apps shared by Anthony. If you still recall, some previous versions of this wheel have already been featured here in Bloom's Taxonomy for Teachers section .
As you can see, the wheel outlines a wide variety of verbs and activities related to each thinking level of Blooms taxonomy coupled with iPad apps that go with it. These apps are supposed to help teachers and students better cultivate these different thinking levels in their use of iPad apps. "50 Best iPad Apps for Reading Disabilities" "50 Best iPad Apps for Reading Disabilities" Guest Blog by Rosa Ray Whether you're the parent of a child with a reading disability or an educator that works with learning disabled students on a daily basis, you're undoubtedly always looking for new tools to help these bright young kids meet their potential and work through their disability.
Renseignement : Une coopération étroite et sans contrôle entre Orange et la DGSE. Crédit Photo: D.R A partir d'éléments issus des documents d'Edward Snowden, le quotidien Le Monde estime que l'opérateur historique France Télécom a coopéré pleinement et sans contrôle avec la DGSE, l'agence de renseignement français. Les données collectées ont été partagées avec son homologue britannique. Espionnage: La NSA a infiltré les serveurs du géant Huawei - High-Tech. Espionnage: La NSA a infiltré les serveurs du géant Huawei - High-Tech. Cisco va investir 1 milliard de dollars pour créer sa propre offre cloud. Les serveurs de Huawei infiltrés par la NSA. Les firmes actives sur le marché suisse négligent les menaces informatiques. 39 Tools To Turn Your Students Into Makers From edshelf. 5 TED Talks Teachers And Students Should Both Watch. 5 TED Talks Teachers And Students Should Both Watch.
The Other 21st Century Skills. The Other 21st Century Skills. WeAreTeachers / 12 Things You Should Never, Ever Say to Teachers. Digital Learning Day: Resource Roundup. Teacher's Gift | PowToon presents. 20 Awesome BYOD and Mobile Learning Apps. 20 Awesome BYOD and Mobile Learning Apps. 4 Wonderful Critical Thinking Graphics. 5 Tips to Help Teachers Who Struggle with Technology. 5 Tips to Help Teachers Who Struggle with Technology. 80 Interesting Ways To Use Google Forms In The Classroom.
Paper is not dead - הנייר לא מת. A Guidebook for Social Media in the Classroom. 4 Technologies to Help Students Find Their Voice In Your Classroom. 11 Tips For Students To Manage Their Digital Footprints - Beyond the Ban: Revisiting In-School Internet Access. The Problem with SAMR. Minecraft as a tool for learning. | Gaywood Community.
Preschoolers in the Digital Sandbox. The Shift: Media Specialists and the Common Core. 4 Technologies to Help Students Find Their Voice In Your Classroom. Alternative study models 'causing real angst' for universities. Les Etats-Unis vont émanciper l'Icann sur la gouvernance d'Internet. Monnaie virtuelle: Le bitcoin gagne l'économie réelle à Genève - High-Tech. eLearning as an Engine for Change.
College Board Enlists Khan Academy to Provide Free Online SAT Prep - Digital Education. Cours en ligne gratuit sur le droit d'auteur. Utilisation des cartes bancaires pour le paiement à distance : nouvelle recommandation. E-learning. J'ai visité le "Big Brother" à la française. 5 Tips for EdTech Entrepreneurs. Rapports d'activités. Untitled. Untitled. Using Social Media to Teach Visual Literacy in.
Social Media for Teachers: Guides, Resources and Ideas. Chaos to school in the cloud | Learning Technol. After Edward Snowden… are core banking systems secure ? | Free IT Foundation. 13es Rencontres Mondiales du Logiciel Libre (RMLL), Genève 2012. FOXEL | Stereo-photogrammetry solutions. Ces formidables créatures cinétiques se déplacent de façon autonome à la seule force des vents. The Right & Wrong Way To Use Technology For Learning. Computer coding more in demand than languages, survey shows. 20+ #EdTech Lovers Worth Following On Twitter. 20+ #EdTech Lovers Worth Following On Twitter. The 6 Education Technology Trends You Should Know About.
---