Character
18 Tricks to Make New Habits Stick - Stepcase Lifehack. Wouldn't it be nice to have everything run on autopilot?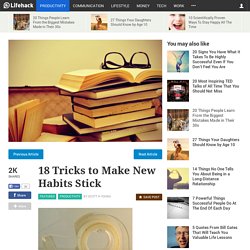 Chores, exercise, eating healthy and getting your work done just happening automatically. Unless they manage to invent robot servants, all your work isn't going to disappear overnight. But if you program behaviors as new habits you can take out the struggle. With a small amount of initial discipline, you can create a new habit that requires little effort to maintain. Here are some tips for creating new habits and making them stick: 14 websites to make you a more intelligent person. 40 Modern Nonfiction Books Everyone Should Read. How to Win Friends and Influence People by Dale Carnegie. 50+ Personal Productivity Blogs You've Never Heard of Before (and about a dozen you probably have) - Stepcase Lifehack. The personal productivity niche on the Web has grown by leaps and bounds since Lifehack launched only a few years ago.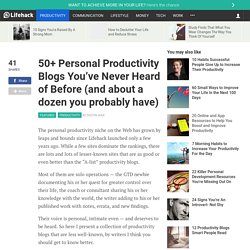 While a few sites dominate the rankings, there are lots and lots of lesser-known sites that are as good or even better than the "A-list" productivity blogs. Most of them are solo operations — the GTD newbie documenting his or her quest for greater control over their life, the coach or consultant sharing his or her knowledge with the world, the writer adding to his or her published work with notes, errata, and new findings. Their voice is personal, intimate even — and deserves to be heard. Seven Traits of the Highly Remarkable Man. 1stumbleupon Article by Kinowear contributor Jonathan Mead; follow him on twitter.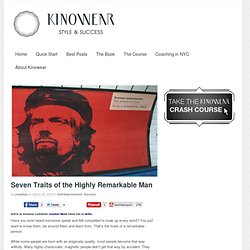 Have you ever heard someone speak and felt compelled to soak up every word? 7 Powerful Steps to Overcoming Resistance and Actually Getting Stuff Done | zen habits. By Leo Babauta Getting things done is really about one thing, and one thing only: overcoming the resistance to doing what we need to do.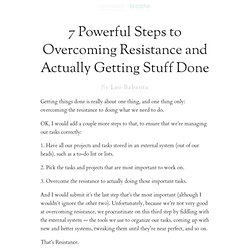 OK, I would add a couple more steps to that, to ensure that we're managing our tasks correctly: 63 Ways to Build Self-Confidence - Stepcase Lifehack. Confidence is a tool you can use in your everyday life to do all kinds of cool stuff, not least to stop second-guessing yourself, manage your fears and become able to do more of the things that really matter to you.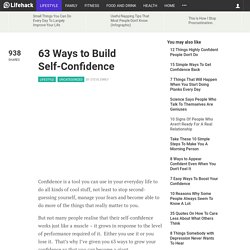 But not many people realise that their self-confidence works just like a muscle – it grows in response to the level of performance required of it. Either you use it or you lose it. That's why I've given you 63 ways to grow your confidence so that you can become a giant. 42 Practical Ways To Improve Yourself - Stepcase Lifehack. Are you someone who likes to grow?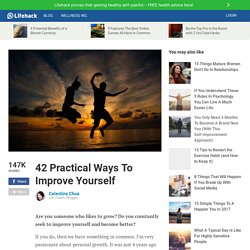 Do you constantly seek to improve yourself and become better? If you do, then we have something in common. I'm very passionate about personal growth. How to Quit a Bad Habit by Answering Four Power Questions - Stepcase Lifehack. I bet there's a habit you'd like to quit.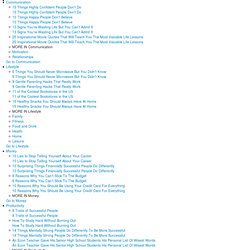 Maybe you have even tried, but things haven't worked out as you hoped. Unfortunately, the very idea of "quitting" can make things difficult for you: let's discover why. The forbidden fruit is always very attractive. When you were a child, do you remember how everything became more attractive after it was forbidden? Well, there's a part of you which still works in the same way…Quitting something is difficult when you always think about it.
---