Arts and crafts
20 Awesome Do It Yourself Projects. Thursday, June 14, 2012 4:30 am, Posted by Chris Groves | Internet 20 Awesome Do It Yourself Projects Topics: At Home Project Ideas , Creative DIY Home Projects , Do It Yourself Projects for 2012 , Fun How To Projects , What to Do with Extra Stuff.
Gift Ideas for Poor Creative Souls (12) Posted by: Cathy on Jun 03, 2012 Tagged in: Untagged Summer Lights Garland I loved this idea and who would not love to receive this pretty gift.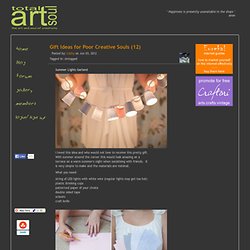 With summer around the corner this would look amazing on a terrace on a warm summer's night when socialising with friends. Hanging String Balls. Holder for Charging Cell Phone (made from lotion bottle) My husband and I both have cell phones.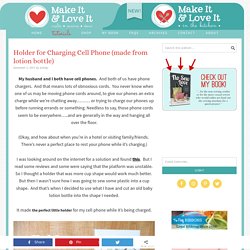 And both of us have phone chargers. And that means lots of obnoxious cords. You never know when one of us may be moving phone cords around, to give our phones an extra charge while we're chatting away……… or trying to charge our phones up before running errands or something. Needless to say, those phone cords seem to be everywhere…..and are generally in the way and hanging all over the floor. (Okay, and how about when you're in a hotel or visiting family/friends. - StumbleUpon.
The Beauty of Collecting Vintage Bottles. Vintage bottles are so interesting to collect because of their unique imperfections unknown history beautiful detailing Each bottle has a distinct character, color, and shape, which represent a little piece of history from the "good ol' days".
I have a neighbor who has a huge vintage bottle collection, which was amassed when working as a Clam Digger in the Long Island Sound. His assortment includes everything from Jameson Whiskey bottles, medicine pill bottles, and Ballantine Brewery beer bottles. The characteristics of each bottle is so unique and the weight in your hand seems to tell it's history.
Easy Folded Gift Boxes - Cosmo Cricket. UPDATE: If you came here from Pinterest, we later updated our readers with more examples and a video tutorial... it's much easier to follow!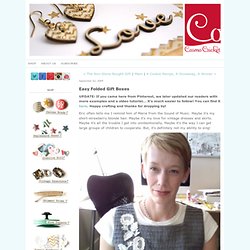 You can find it here. Happy crafting and thanks for dropping by! Eric often tells me I remind him of Maria from the Sound of Music. Maybe it's my short-strawberry blonde hair. Maybe it's my love for vintage dresses and skirts. V and Co how to: jersey knit bracelet - StumbleUpon. I don't know what it is about this time of year that makes me just want to have my bare feet in the sand, be watching the sun setting into the ocean, and breathing in the warm salty air of the beach...as i get older, more and more i find myself missing that place i used to go to almost every.single.day. as a teen.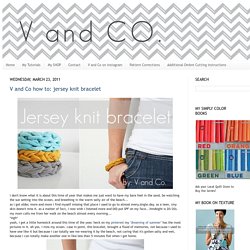 (my skin doesn't miss it. as a matter of fact, i now wish i listened more and DID put SPF on my face...hindsight is 20/20). my mom calls me from her walk on the beach almost every morning... *sigh*yeah, i get a little homesick around this time of the year. heck on my pinterest my "dreaming of summer" has the most pictures in it. ah yes. i miss my ocean. case in point. this bracelet, brought a flood of memories, not because i used to have one like it but because i can totally see me wearing it by the beach, not caring that it's gotten salty and wet, because i can totally make another one in like less than 5 minutes flat when i get home.
Tutorials for Recycling T-Shirts - StumbleUpon. So way way back, in June, I wrote this Studio Organization post, about starting the process of organizing my studio by cleaning out the closet full of junk.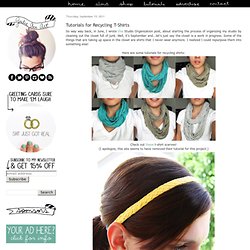 Well, it's September and...let's just say the closet is a work in progress. Some of the things that are taking up space in the closet are shirts that I never wear anymore. I realized I could repurpose them into something else! How to make gift bags from newspaper | How About Orange - StumbleUpon. When I bought something at a store recently, the clerk handed me my purchase in a bag made from a newspaper.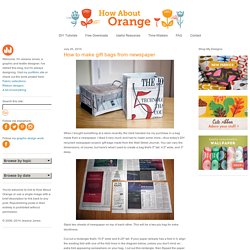 I liked it very much and had to make some more—thus today's DIY recycled newspaper project: gift bags made from the Wall Street Journal. You can vary the dimensions, of course, but here's what I used to create a bag that's 5" tall, 4.5" wide, and 3" deep. Stack two sheets of newspaper on top of each other. This will be a two-ply bag for extra sturdiness. DIY wedding favors project strike-anywhere match jars. Today's entry for the DIY Favor Contest is sent in by Mandy Fowler.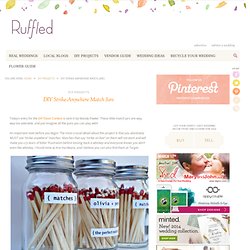 These little match jars are way, way too adorable, and just imagine all the puns you can play with! An important note before you begin: The most crucial detail about this project is that you absolutely MUST use "strike anywhere" matches. Matches that say "strike on box" on them will not work and will make you cry tears of bitter frustration before tossing back a whiskey and everyone knows you don't even like whiskey. I found mine at Ace Hardware, and I believe you can also find them at Target. Do-it-Yourself DIY String Wedding Lanterns Yarn Chandeliers - StumbleUpon. Jessica of Wednesday Inc shows us how to make those gorgeous twine chandeliers from the inspiration shoot she shared with us this morning.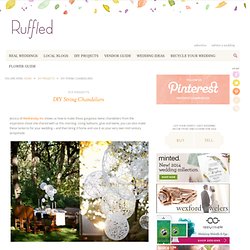 Using balloons, glue and twine, you can also make these lanterns for your wedding – and then bring it home and use it as your very own mid century lampshade. What you will need are: balloons, glue, yarn, tray for glue, corn starch 1/2 cup of Corn starch, 1/4 cup of Warm water, clear fast drying spray paint, hanging lamp cord or fishing line (depending on your desired final product), and a lighting kit if you're looking for a fully functional lantern. Jessica recommends using a sharpie to mark on the inflated balloon how much room you need to leave for the lighting cord.
Easy Button Earrings Tutorial - StumbleUpon. Did you know...that you can make new earrings with a button and a paperclip? True story! I've been trying to think of a way for us to make some earrings without having to buy supplies. Buying the beads and all the findings can really add up.
---