Climate Flux
Aerial photos from Greenland topple climate models. Aerial photos from the 1980s and 1990s show that Greenland has lost large quantities of ice before, but also that the ice-mass loss ceased later on.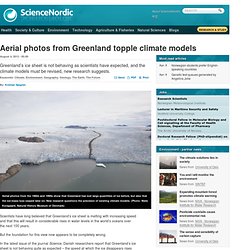 New research questions the precision of existing climate models. (Photo: Niels Korsgaard, Natural History Museum of Denmark) How Climate Change Is Changing The Oyster Business : The Salt. Hide captionScientists blame higher levels of carbon dioxide in Pacific Ocean waters caused by global warming for the failure of oyster seeds to thrive in hatcheries.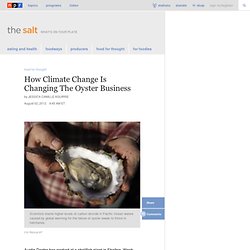 Eric Risberg/AP Scientists blame higher levels of carbon dioxide in Pacific Ocean waters caused by global warming for the failure of oyster seeds to thrive in hatcheries. Austin Docter has worked at a shellfish plant in Shelton, Wash., for 18 years and has a lot of words to describe what he calls the flavor profiles of oysters: Minerally. Metallic-y. Greenland Ice Melt, Measured By NASA Satellites, Reaches Unprecedented Level.
Unprecedented melting of Greenland's ice sheet this month has stunned NASA scientists and has highlighted broader concerns that the region is losing a remarkable amount of ice overall.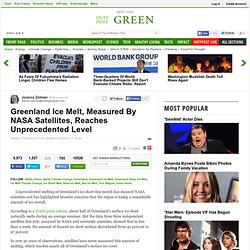 According to a NASA press release, about half of Greenland's surface ice sheet naturally melts during an average summer. But the data from three independent satellites this July, analyzed by NASA and university scientists, showed that in less than a week, the amount of thawed ice sheet surface skyrocketed from 40 percent to 97 percent.
In over 30 years of observations, satellites have never measured this amount of melting, which reaches nearly all of Greenland's surface ice cover. When Son Nghiem of NASA's Jet Propulsion Laboratory observed the recent melting phenomenon, he said in the NASA press release, "This was so extraordinary that at first I questioned the result: Was this real or was it due to a data error? " Global Warming's Terrifying New Math | Politics News. Study casts doubt on popular mass extinction theory. Mussels and other species of sea animals died in large numbers at the end of the Triassic geological period.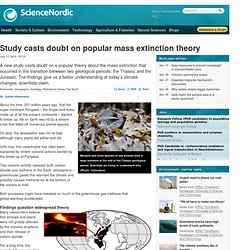 Scientists are trying to understand why. (Photo: Colourbox) About the time, 201 million years ago, that the super-continent Pangaea – the single land mass made up of all the present continents – started to break up, life on Earth was hit by a severe crisis that killed off numerous animal species. On land, the devastation was not so bad, although many plants did wither and die. Rise in sea level can't be stopped: scientists. By Nina Chestney LONDON Sun Jul 1, 2012 10:32pm IST LONDON (Reuters) - Rising sea levels cannot be stopped over the next several hundred years, even if deep emissions cuts lower global average temperatures, but they can be slowed down, climate scientists said in a study on Sunday.
'Hot Spring': Record Temps Herald Era of Warmer World. With the warmest March, third warmest April and second warmest May, the National Oceanic and Atmospheric Administration confirmed on Thursday that the 2012 Spring in the contiguous United States since has been the hottest ever on record.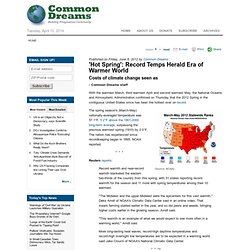 (Source: NOAA) The spring season's (March-May) nationally-averaged temperature was 57.1°F, 5.2°F above the 1901-2000 long-term average, surpassing the previous warmest spring (1910) by 2.0°F. The nation has experienced since recordkeeping began in 1895, NOAA reported. Search Results. Journal home : Nature Climate Change. Climate change makes cod grow. Global warming doesn't only have negative effects.
A new study shows that the increase in ocean temperatures has caused a sharp increase in the size of North Sea cod. (Photo: Wikimedia Commons) The recent explosive increase in size of the North Sea cod is baffling marine scientists. Clouds' Effect on Climate Change Is Last Bastion for Dissenters. Over time, nearly every one of their arguments has been knocked down by accumulating evidence, and polls say 97 percent of working climate scientists now see global warming as a serious risk.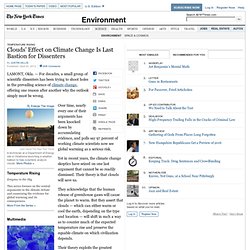 Yet in recent years, the climate change skeptics have seized on one last argument that cannot be so readily dismissed. Their theory is that clouds will save us. They acknowledge that the human release of greenhouse gases will cause the planet to warm. Arctic Sea Emits Methane. Atmospheric scientist Eric Kort was flying over the Arctic Ocean three years ago, monitoring readouts as onboard sensors sniffed the air.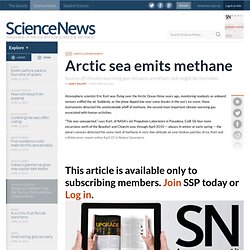 Suddenly, as the plane dipped low over some breaks in the sea's ice cover, those instruments detected the unmistakable whiff of methane, the second most important climate-warming gas associated with human activities. "This was unexpected," says Kort, of NASA's Jet Propulsion Laboratory in Pasadena, Calif. On four more excursions north of the Beaufort and Chukchi seas through April 2010 — always in winter or early spring — the plane's sensors detected the same taint of methane in very-low-altitude air over broken patches of ice, Kort and collaborators report online April 22 in Nature Geoscience. Computer model predicts tomorrow's nature.
Computers' powers of calculation have developed considerably in recent years – a situation that researchers have used to create complex simulation models of nature.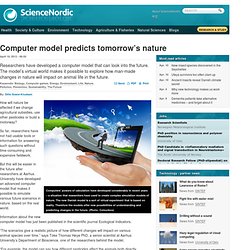 The new Danish model is a sort of virtual experiment that is based on reality. Therefore the models offer new possibilities of understanding and predicting changes in the future. (Photo: Colourbox) How will nature be affected if we change agricultural subsidies, use other pesticides or build a motorway? It's Getting Hot in Here: Understanding the Impact of the "Meteorological March Madness" | Think Tank. It's going to take some time for science to catch up with what happened this past winter. For instance, a lot has been made of the "Meteorological March Madness" we just experienced, in which over 15,000 local, all-time warm-weather temperature records were broken across the U.S. What is particularly significant, and alarming, is the broad context of this weather pattern, which is visualized in this animated video below, courtesy of NOAA's Environmental Visualization Lab. You can see how over the course of the month, the record warm temperatures were not at all geographically isolated, but actually formed a weather pattern that spanned the entire continental U.S.
NOAA: More Than 15,000 Temperature Records Broken In March. Should we blame the Sun? (Photo: NASA) Climate change can be confusing, especially because a number of researchers have criticised the UN Panel on Climate Change (IPCC). "The effect of solar activity on climate change is one of the issues on which there remains some uncertainty in the IPCC's work," says Kristoffer Rypdal, a physics professor at the University of Tromsø.
Force of Nature: Watch This Texas Tornado Toss Semi-Trucks Around (Video) Arctic Sea Ice Eyed for Clues to Weather Extremes. On the Brink: Planet Near Irreversible Point of Global Warming. We may have already passed the tipping points on global warming, say scientists at the Planet Under Pressure conference. At the London conference, scientists are giving a bleak view of the future of the planet due to catastrophic damage and growth by humans, saying we are close to the irreversible point of global warming. Will Steffen, executive director of the Australian National University's climate change institute, gave an urgent warning that humanity needs to act radically on climate change. "We can ... cap temperature rise at two degrees, or cross the threshold beyond which the system shifts to a much hotter state," he said.
Gulf Oil Spill: Coral Death 'Definitively' Linked To BP Spill. NEW ORLEANS (AP) — After months of laboratory work, scientists say they can definitively finger oil from BP's blown-out well as the culprit for the slow death of a once brightly colored deep-sea coral community in the Gulf of Mexico that is now brown and dull.
In a study published Monday, scientists say meticulous chemical analysis of samples taken in late 2010 proves that oil from BP PLC's out-of-control Macondo well devastated corals living about 7 miles southwest of the well. The coral community is located over an area roughly the size of half a football field nearly a mile below the Gulf's surface. San Francisco Fights Erosion as Coastal Cities Watch Closely. Unprecedented, "Eye-Popping" Temperatures Soar, Highs Continue. People from the Midwest and Northeast have been stepping out to record-setting temperatures this month.
Meteorologists are calling the temperatures unprecedented. Deke Arndt, who leads the climate monitoring branch of the National Climatic Data Center in Asheville, N.C., said, "This will be a March event that we'll look back on as one of the big March events of modern history." And Jonathan Martin, chairman of atmospheric and oceanic sciences at UW-Madison, adds, "This is to me the most unusual weather event I've witnessed in my lifetime. " Weather maps show many areas with temperatures at 30 degrees above normal days in a row.
Compare today's "average" high temperatures to the forecast highs.Is this May or March? CO2 is confusing fish. Climate towers in the Faroes? CO2 map provides quality control for climate research. The quest for the lost climate. Rising Sea Levels a Growing Risk to Coastal U.S., Study Says. Kiribati: First Nation to be Swallowed Up by the Sea. Antarctica Visitors Unwittingly Bring Invasive Species. Highway 12, Outer Banks Lifeline, Is Under Siege by Nature. INSURANCE INDUSTRY: Trust Us, Global Warming Is Real. Oceans' Acidity at Highest Point in 300 Million Years. 'Expect the unprecedented' Less Sea Ice Brings More Snow.
---