Leadership
Thousands of articles and books have been published describing what it takes to be a superior organizational leader. Some researchers and authors claim a superior leader possesses certain traits or abilities; others say it's all personality. Still others maintain it's the behaviors--not necessarily the intentions or thoughts--that are crucial. Whatever your viewpoint, it boils down to this: successful leaders share the following characteristics or views: Mission: Leaders know what their mission is.
10 Characteristics of Superior Leaders - Successful Leader Characteristics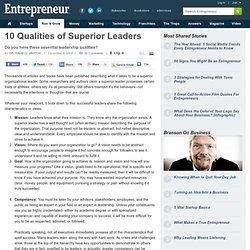 Leadership Self Test: The Difference Between Management and Leadership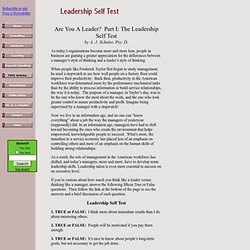 Are You A Leader? Part I: The Leadership Self Test by A. J. Schuler, Psy. D. As today's organizations become more and more lean, people in business are gaining a greater appreciation for the differences between a manager's style of thinking and a leader's style of thinking.
Disciplines > Leadership > Leadership vs. Management Managers have subordinates | Leaders have followers | See also What is the difference between management and leadership? It is a question that has been asked more than once and also answered in different ways. The biggest difference between managers and leaders is the way they motivate the people who work or follow them, and this sets the tone for most other aspects of what they do.