Progress
The Nation. TED: Ideas worth spreading. Amnesty International | Working to Protect Human Rights. 2011: A Brave New Dystopia - Chris Hedges' Columns. 2011: A Brave New Dystopia Posted on Dec 27, 2010 By Chris Hedges The two greatest visions of a future dystopia were George Orwell's "1984" and Aldous Huxley's "Brave New World."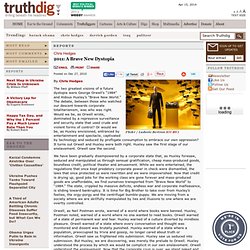 The debate, between those who watched our descent towards corporate totalitarianism, was who was right. Would we be, as Orwell wrote, dominated by a repressive surveillance and security state that used crude and violent forms of control? PRESS FOR TRUTH. Net Neutrality. Breaking News and Opinion on The Huffington Post. Home. The Daily Censored News Blog.
Adbusters Culturejammer Headquarters | Journal of the mental environment. Truthdig: Drilling Beneath the Headlines. Media Matters for America.
---
jdoran Feb 14 2012

None of this encapsulates "progress" unless it is equated to folly.
---