Cant find a part? Check these links
SchemeIt | Free Online Schematic Drawing Tool
Cool Gadgets at the Right Price - Worldwide Free Shipping - DealExtreme
Seeed Studio Bazaar, Boost ideas, extend the reach
Our educational and training materials are developed with a proven philosophy of learning and integrate visual, auditory, and hands-on exercises. We call it "The Heathkit Approach to Learning". At Heathkit Educational Systems, we've been preparing people for success in technology careers for over 75 years. Steve Jobs We Miss you! Thank you for bringing this to our attention. Steve as quoted in an April, 1995 Computerworld article:
heathkit.com
Choosing substitute electronic components is a common snag for beginners. What do you do if you can't get the exact part used in a project? Part finder posed this question about the USB IR Toy: This component is hard to find from my local store: D1, Small signal diode (DO323, BAS16HT1G, Rectifier 85V/0.2A Small Signal Diode). Can I replace it for example with [this]?
Choosing a substitute electronic part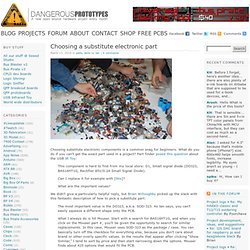 Components and electronics and open source hardware for the prototyper - Love Electronics
Today we've finally made live the changes we've been working on for some time. Since Love Electronics was founded in March 2011, we've moved from shipping from our offices, to shipping from a warehouse in our own country, the UK, and now we are stocking our products in the US. By stocking our .NET Gadgeteer and breakout boards in Los Angeles, California, we are able to serve North America with next day Love Electronics products. I know a lot of our American users were put off by the long delivery time from the UK, and the uncertainty over customs charges.
Parts + Tools for Repairing Apple MacBook, iPod, iPad, iPhone, & Game Consoles
Self-Repair Manifesto - iFixit
News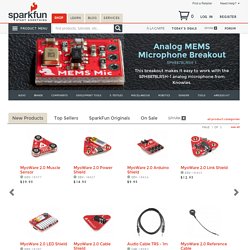 Products, products, and more products. That's what Fridays are all about here at SparkFun. We have a few new things this week. Check out the video and hear our engineer Shawn explain the new CC3000 shield and breakout board. I'm not kidding here: $50k for the first person to figure out how to harvest Shawn's energy. I think the secret might be in his bow-tie.