Cant find a part? Check these links
SchemeIt | Free Online Schematic Drawing Tool. Cool Gadgets at the Right Price - Worldwide Free Shipping - DealExtreme. Seeed Studio Bazaar, Boost ideas, extend the reach. Heathkit.com. Choosing a substitute electronic part. Choosing substitute electronic components is a common snag for beginners.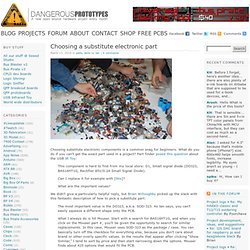 What do you do if you can't get the exact part used in a project? Part finder posed this question about the USB IR Toy: This component is hard to find from my local store: D1, Small signal diode (DO323, BAS16HT1G, Rectifier 85V/0.2A Small Signal Diode). Can I replace it for example with [this]? Components and electronics and open source hardware for the prototyper - Love Electronics. Parts + Tools for Repairing Apple MacBook, iPod, iPad, iPhone, & Game Consoles.
Self-Repair Manifesto - iFixit. News.
---