Politics
Rupert Murdoch is "not a fit person" to run a major international company, a report by the media select committee report today concluded, but descended into acrimony and accusations. But during the press conference, an amusing exchange took place. Tom Watson MP was accused by blogger Harry Cole (from Guido Fawkes) of contempt of Parliament by revealing details in his recently published book of the committee report. John Whittingdale (Tory MP) interjected and said that almost all of the evidence in the select committee report was already in public domain. Tom Watson MP then added snippets in the book that weren't published before were cleared with the senior clerk of the committee. Watson then said he had a question for Harry Cole in return.
Tom Watson smacks down Guido Fawkes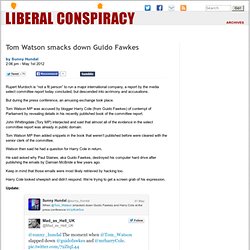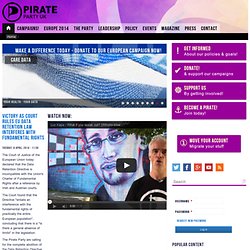 The Court of Justice of the European Union today declared that the Data Retention Directive is incompatible with the Union's Charter of Fundamental Rights after a reference by Irish and Austrian courts. The Court found that the Directive "entails an interference with the fundamental rights of practically the entire European population", concluding that there is a "is there a general absence of limits" in the legislation. The Pirate Party are calling for the complete abolition of the Data Retention Directive and similar laws in the United Kingdom and across the European Union...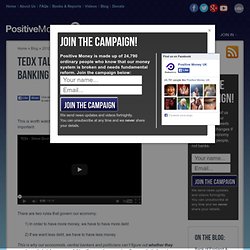 Written by Mira Tekelova on . This is worth watching! Excellent TEDx talk on why changing the rules of banking is so important:
TEDx Talk – Changing The Rules of Banking
The American Dream
The AMERICAN DREAM is a 30 minute animated film that shows you how you've been scammed by the most basic elements of our government system. All of us Americans strive for the American Dream, and this film shows you why your dream is getting farther and farther away. Do you know how your money is created? Or how banking works? Why did housing prices skyrocket and then plunge?
Winning the Oil Endgame-Homepage
n 2004, Rocky Mountain Institute's Chief Scientist, Chairman and Co-founder Amory Lovins and a team of RMI collaborators accomplished a highly complex and innovative task—the drafting of a roadmap for the United States to get completely off oil by 2050, led by business for profit. The result became a thoroughly researched, highly analytical yet practical book called "Winning the Oil Endgame" (WTOE). Following its release, RMI began working with key industry stakeholders to accelerate key components of the WTOE strategy.
A conversation on TED.com: RESOURCE BASED ECONOMY !! ?