Time category
AUSTRALIAN HISTORY, INFORMATION ABOUT AUSTRALIAS PAST, ABORIGINAL HISTORY IN AUSTRALIA, THINGS THAT HAVE HAPPENED IN AUSTRALIA, KEY DATES IN AUSTRALIAN HISTORY. The first settlers are thought to have arrived around 50,000 years ago.
This would have most likely been at a time when the sea levels were low, the land was more humid and animals larger. Although much of Australia became populated, the central dry areas didn't attract settlers until around 25,000 years ago. The population grew proportionately quicker around 10,000 years ago as the climate improved. At the time of British settlement at Sydney Cove it is estimated that 300,000 aboriginal people, speaking around 250 languages inhabited Australia.
Australian History. Home Search Site Contact Us Site Map Our FREE ebooks Help to download and convert files on this site.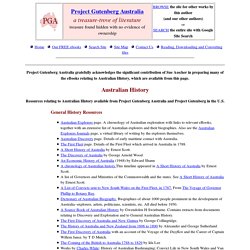 History. Those who cannot remember the past are condemned to repeat it.[1] History (from Greek ἱστορία, historia, meaning "inquiry, knowledge acquired by investigation")[2] is the study of the past, specifically how it relates to humans.[3][4] It is an umbrella term that relates to past events as well as the discovery, collection, organization, and presentation of information about these events.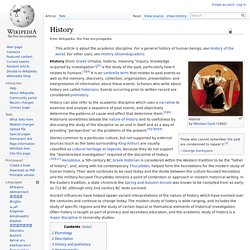 The term includes cosmic, geologic, and organic history, but is often generically implied to mean human history. Time. The flow of sand in an hourglass can be used to keep track of elapsed time.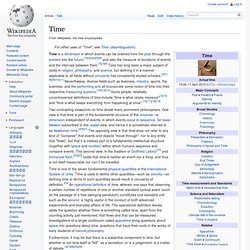 It also concretely represents the present as being between the past and the future. Time is a dimension in which events can be ordered from the past through the present into the future,[1][2][3][4][5][6] and also the measure of durations of events and the intervals between them.[3][7][8] Time has long been a major subject of study in religion, philosophy, and science, but defining it in a manner applicable to all fields without circularity has consistently eluded scholars.[3][7][8][9][10][11] Nevertheless, diverse fields such as business, industry, sports, the sciences, and the performing arts all incorporate some notion of time into their respective measuring systems.[12][13][14] Some simple, relatively uncontroversial definitions of time include "time is what clocks measure"[7][15] and "time is what keeps everything from happening at once".[16][17][18][19]
---