RPG Tools
Out of Context D&D Quotes | Maptool is another great thing to use, but is a...
Random List – Ship Names » Ennead Games
3.5e Diseases
The Dungeon Dozen
RPG-SoundMixer - The new PnP RPG Experience
Series: Character Hooks « | Campaign Mastery
Campaign Building Resources - The CBG Wiki
If you're enjoying the content here, check out our new site, Thoughtcrime Games. Thanks for visiting! If you're new here, you may want to subscribe to my RSS feed. Thanks for visiting! Scenario: You sleep and dream. You see people and places that you know.
Skill Challenge #7: Walk Through Dreams.
Country Name Generator For Real And Fantasy Country Names!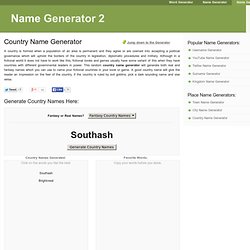 Jump down to the Generator A country is formed when a population of an area is permanent and they agree or are coerced into accepting a political governance which will uphold the borders of the country in legislation, diplomatic procedures and military. Although in a fictional world it does not have to work like this, fictional books and games usually have some variant of this when they have countries with different governmental leaders in power. This random country name generator will generate both real and fantasy names which you can use to name your fictional countries in your book or game.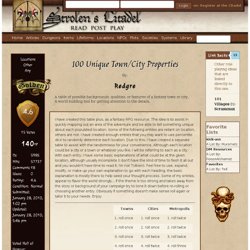 I have created this table plus, as a fantasy RPG resource.
Fabletop - Virtual Tabletop RPG
NPC Generator for D&D - Myth-Weavers
Version .68 Refresh the page for a new design.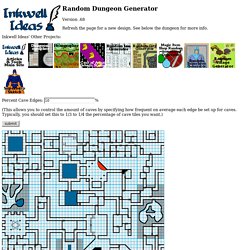 Random Dungeon Generator
*COMPLETE* Avatar the Last Airbender: A Guide to Playing Elemental Heroes in Dungeons and Dragons, 4th Edition
Color-Wheel-v2.gif (1700×2200)
Adventures are best presented when they provide a structure within which the game master can direct player action. The Epic Adventure System allows the Game Master to use any existing characters in a role-playing environment Easy Playable Interactive Checklist
www.Traveller5.com - EPIC Adventure System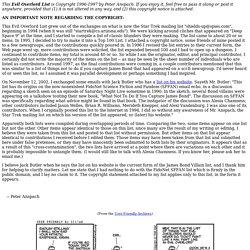 This Evil Overlord List is Copyright 1996-1997 by Peter Anspach. If you enjoy it, feel free to pass it along or post it anywhere, provided that (1) it is not altered in any way, and (2) this copyright notice is attached. This Evil Overlord List grew out of the exchanges on what is now the Star Trek mailing list "shields-up@spies.com", beginning in 1994 (when it was still "startrek@cs.arizona.edu").
Paranoia XP Mission Blender Online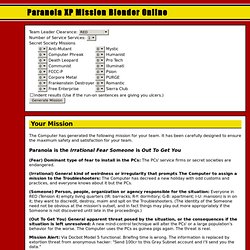 The Computer has generated the following mission for your team. It has been carefully designed to ensure the maximum safety and satisfaction for your team. Paranoia is the Irrational Fear Someone is Out To Get You (Fear) Dominant type of fear to install in the PCs: The effect the PCs are ordered to prevent will be caused by their actions. (Irrational) General kind of weirdness or irregularity that prompts The Computer to assign a mission to the Troubleshooters: One kind of technological object (sensor (detects something hitherto undetectable or inconvenient to detect); Problem: intelligent; neurotic or frightened) is misbehaving. (Someone) Person, people, organization or agency responsible for the situation: The Indigo leader of a rapidly-growing HPD & Mind Control firm, who plans to expand his personal power and the might of his company.
The random dungeon map creator will draw dungeon maps on the fly. Draw a Map Using the Random Dungeon Map Creator Welcome to the Random Dungeon Map Creator.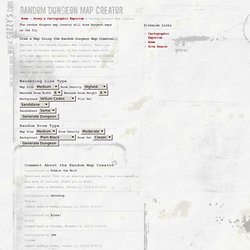 Ash's Guide to RPG Personality & Background :: The Guide
Welcome to the Dungeons & Dragons 3.5 Random Dungeon Generator, originally developed by Jamis Buck, updated and maintained by Myth-Weavers. Check out our other generators from the Site Tools menu in the navigation!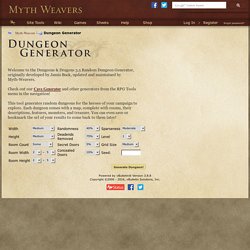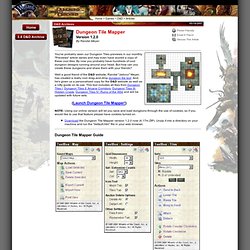 You've probably seen our Dungeon Tiles previews in our monthly "Previews" article series and may even have scored a copy of these cool tiles.
Dungeons 'N' Dragons
D20 Source: Dungeons & Dragons Blog
If you're enjoying the content here, check out our new site, Thoughtcrime Games. Thanks for visiting! If you're new here, you may want to subscribe to my RSS feed.