Side Dish
Get flash to fully experience Pearltrees
I woke up on Thursday last to a clean kitchen sink. Vaccum lines across the floor. Hair tucked in a loose, curly bun at the side of my head. The morning felt alive.
I must begin by saying where the recipe originated, if in fact it originated anywhere...really. I think bread has been baked for centuries using flour, salt, water, and yeast or other form of leavening. As far as I know the recipe for "No-Knead" bread dough was printed in the New York times. I don't know what month, day, or year. The originator is Jim Lahey of Sullivan Street Bakery.
1 lb. shredded cabbage 6 green onions, chopped 2 pkg. Oriental Ramen noodles 1 pkg. slivered almonds (1/2 c.) 5 tbsp. sesame seeds (1 oz.) 5 tbsp. sunflower seeds 4 tbsp. sugar 4 tbsp. vinegar 3/4 c. salad oil 1/2 tsp. salt Mix together cabbage, green onions and 2 packages of flavoring from Ramen noodles. Toast almonds, sesame seeds and sunflower seeds.
Roasted potatoes are pretty much my life. I've been told that I make one mean batch of roasted potatoes, and so I feel like it's my civic duty to share the recipe with you today. There really isn't anything that crazy that goes into these potatoes but I guess they are pretty much like crack. People, including my boyfriend, just can't get enough of them. I make big vats of these on the weekends so we can use them throughout the week.
11. Bacon Cook 1/2 pound chopped bacon until crisp. Make Classic Mash (No. 1); replace half of the butter with 2 to 4 tablespoons bacon drippings. Fold in some bacon; sprinkle the rest on top.
In the realm of Scalloped Potatoes, this recipe is the winner . . . at least in my book. It's a Family Favorite. We make these for almost every holiday dinner, and in between. When I was younger, we would devour these very quickly at the dinner table. If there were any left-overs, we would fight for them! I got smart though . . .
As always, thanks for visiting my site! If this looks delicious to you, please sign up for my occasional emails . . . with more great recipes! One of my absolute favorite flavors in the world (right up there with Nutella and mangoes) is Chipotle Peppers in Adobo Sauce . Spicy, smoky, and oh-so-yummy! This french fry recipe is so flavorful that you really don't need to dip them in anything.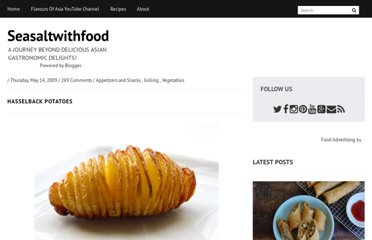 These Hasselback potatoes looks beautiful, don't' they? Here, I also added several cloves of garlic to these Swedish version of baked potatoes to enhance the flavor. It turned out great, they were very delicious, crispy on the outside and tender on the inside.. Hasselback Potatoes (Printable Recipe)
Hey Guys! So…it's still really hot out…wtf! I'm totally ready for fall…forget this, "I just don't want summer to end" BS…I'm OVER IT!
March 22, 2011 1:37 pm · Posted by Lauren G I looove refrigerated Pillsbury biscuits, mostly because I like popping open the can, but they're also delicious and easy to make. I wanted something different than just your everyday biscuit, so I looked up some recipes on the Pillsbury website. I had most of the ingredients on hand (with a few substitutions) so I chose this one.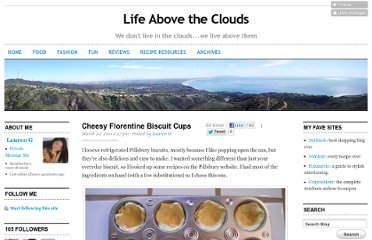 I'm never going to make garlic potato fries any other way. These garlic fries, win hands down as the best garlic french fries I've ever made. Plus they are baked – so I won't feel too guilty if I make it every time I'm craving for some potato comfort. When I read that there is garlic infused oil involved, my heart skipped a beat (in a good way, not the way oil would otherwise treat your heart).