Cake
Get flash to fully experience Pearltrees
Here are some ways to help your boxed cake mix : For a fluffier cake, add 1 tablespoon of meringue powder Instead of water called for on the box use other liquids for added flavor: Use milk instead of the water called for on the cake mix box.
May 17, 2011 | Print | E-mail | Filed under cheesecake , chocolate , coffee Every Easter, I try to come up with a new dessert to serve the family. The first year we hosted, it was fruit tartlets . The second year, I believe it was Oreo truffles .
Whipped, mixed, baked or frozen, at one point or another, most of us have lingered in our love affair with cheesecake. Here, we have 15 suggestions that might pull you back into a dangerous remission, glistening in all their creamy glory. We've got something for everyone, from raspberry-swirled to peanut butter-flavored; from no-bake fruitcake to bite-size bars; from tiramisu to pie.
I'm late making this pie. I know. But I'm hoping it will still bring comfort to Jennie , who lost her husband Mikey to a sudden, massive heart attack nearly two weeks ago.
Like the Marble Cake I made last weekend? Want to know how INCREDIBLY easy it is to make? Then keep reading…
Now I don't want to over sell this, so I'm going to be conservative and simply say, that these are... The Best Brownies In The WORLD. I know, big statement. They're called Slutty Brownies because they're oh so easy, and more than a little bit filthy.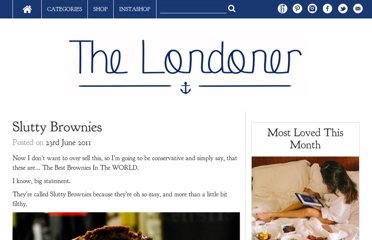 Frozen Caramel- Toffee Ice Cream Sandwich Dessert This recipe has been featured in a post on The Recipe Girl blog: Frozen Summer Dessert for a Crowd . Print Recipe Save Recipe Frozen Caramel- Toffee Ice Cream Sandwich Dessert Yield: One GIANT dessert Prep Time: 25 min + freezing time This easy, frozen dessert recipe is a family favorite. It's best to serve at a large gathering, where you can dish out the majority of it (plus seconds) in a short time, but it also keeps well in the freezer for about a week. Just cut off a chunk when the craving hits!
Oreo Cookies and Cream No-Bake Cheesecake Oreo Cookies and Cream No-Bake Cheesecake ~ An adult dessert gets some kid lov'n with an Oreo crush. Oreo Cookie and Cream No-Bake Cheesecake What kid doesn't love Oreos, right? But not every kid likes cheesecake. Please tell me I am not the only one that acquired a taste for cheesecake through the years.
I've been in a mini-mood lately when it comes to baking and these bite-sized pies met my big craving. They are really, really easy. Let me show ya.