Crochet/Knitting Projects
People webs: pattern: chunky circle scarf. I said to myself, i need a big chunky circular scarf to wear all the time.. and this is what came of it. i am putting this grey one in my etsy shop, and also, here is the pattern: ( this pattern is intended for personal use only, thank you!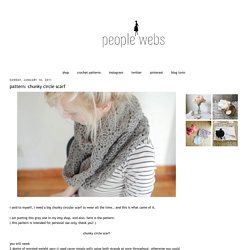 One Skein, One Night, Seed Stitch Tall Cowl [ Easy, Free Knitting Pattern ] This is my free knitting pattern for a super simple, easy to knit seed stitch cowl.
It uses one skein of yarn, and can be knitted up in one night, making it a perfect and affordable last-minute present! It's knit in the round, so there's no seaming at the end, and it's really warm and cozy. Supplies: 1 skein, Bernat Roving yarn, in a light grey Size 13 circular needles (hat sized length) Darning needles, for weaving in ends Instructions: Lace Love: Anya & ohmygoodknits! // a knitting & crochet blog. By Lisa Gutierrez on 11/17/2011 Anya is a large round doily blanket perfect for those moments you find yourself needing something to snuggle.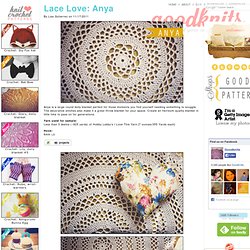 The decorative stitches also make it a great throw blanket for your space. Create an heirloom quality blanket in little time to pass on for generations. Mount Vernon Throw. Crochet Chart Symbols. Stitch charts in crochet and knit patterns are being used more and more as an addition to or in place of words to describe a pattern stitch.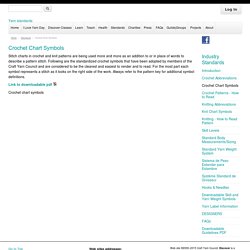 Following are the standardized crochet symbols that have been adopted by members of the Craft Yarn Council and are considered to be the clearest and easiest to render and to read. For the most part each symbol represents a stitch as it looks on the right side of the work. Always refer to the pattern key for additional symbol definitions. Link to downloadable pdf. Crochet Rain Boots. Spring is only 4 days away!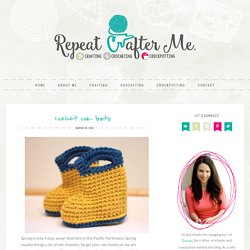 And here in the Pacific Northwest, Spring usually brings a lot of rain showers. So get your rain boots on, we are going puddle jumping! Handmade jewelry - Gift presents for women: Crocheted scarf with Eastern fan patterns | kids crafts ideas at - make-handmade.com. Joining Yarn - Russian Join - Knitting Community. This is an easy join and works well on those yarns that cannot be felted.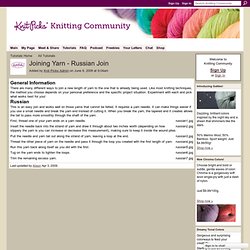 It requires a yarn needle. It can make things easier if you use a small needle and break the yarn end instead of cutting it. When you break the yarn, the tapered end it creates allows the tail to pass more smoothly through the shaft of the yarn. Recycled Lettuce Netting Diagonal Scrubbies. Posted on March 9, 2012 Here is a new twist on recycling those plastic produce nets that lettuce comes in at your grocery store.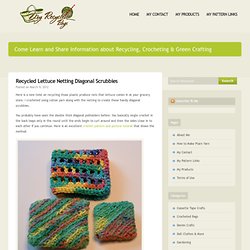 I crocheted using cotton yarn along with the netting to create these handy diagonal scrubbies. You probably have seen the double thick diagonal potholders before. Croc Stitch The Easy Way. I search and searched for a free pattern learn how to do the Crocodile Stitch.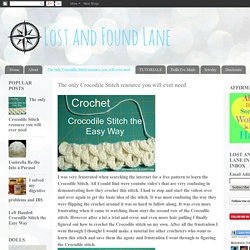 I found youtube video's showing, how to create the stitch. The video's were confusing at times and very confusing when showing how to add the second row. I had to stop and start the video several times to get the gist of the stitch. After messing around with this stitch on my own, I figured out an easier way to add the second and third row's and so on. So, I wanted to share with everyone who wants to learn how to do the Crocodile Stitch. Carinas Craftblog: Crochet magic ring tutorial. Mmm... happy colours!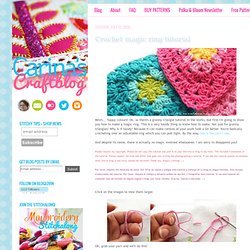 Ok, so there's a granny triangle tutorial in the works, but first I'm going to show you how to make a magic ring. This is a very handy thing to know how to make. Not just for granny triangles! Why is it handy? Crochet School - StumbleUpon. Sorry I've taken so long to post this very last post of the crochet school series.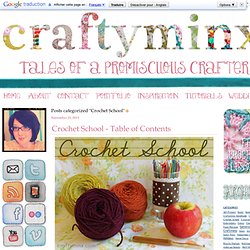 Would you believe me if I said I don't want it to end? Haha That's not the real reason, although it is a little weird to be writing the last crochet school post (for now). I've just been busy designing new patterns and crocheting my butt off for the craft show I'm in next month, Deluxe. I was also waiting for all of you to have time to put in questions you want answered in this post. - StumbleUpon. Here is another one in the series of cute crocheted animals - this time it's a giraffe. I think he's a nice companion to the moose and the sheep. And he's made entirely out of leftover yarn from the striped scarf. Foundation and Crochet | Doris Chan: Everyday Crochet. Foundation Single Crochet, that is. In the years since I began using the Fsc as an integral part of my designs, I've worried about why many who try the Fsc are having so much trouble with it.
I might be part of the problem. Here I hope to be part of the solution. I do not claim to have invented this technique. All About Circular Knitting - Laylock Knitwear Design. Circular knitting, or knitting in the round can seem daunting at first. I remember the first time I saw someone knitting with four needles. I was horrified, the thing looked like a pincushion! I thought I would never be able to do that (whatever it was), and that I would never see any reason to learn. Octopus Mittens pattern by Emily Peters. Octopus Mittens are a pair of stranded colorwork mittens. Size: The mittens are 8.5 inches around (measured above the thumb) and 9 inches tall (1.5 inches of cuff and 7.5 inches in hand).
They fit a medium-sized woman's hand, 7.5 inches around and 7 inches from the base of the palm to the tip of the fingers. Directions are given in only one size. Resize mittens by changing gauge appropriately. Difficulty: This is an intermediate colorwork project. Home Decor | Best Free Crochet - StumbleUpon. Loading ... Heart Coaster FP435 Original Design By: Maggie Weldon Copyright 2012 Maggie Weldon Skill: Easy Size: About 4½" wide by 4½" long. Materials: Worsted Weight Cotton Yarn: Shaded Pinks – ½ oz, 24 yd (14 g, 21 m) Crochet Hook: Size G-6 (4.25 mm) or size needed to obtain gauge. Gauge: 4 sc = 1 inch; 4 [...] Free Crochet Pattern Heart Coaster #53. Designs by KN - More Free Patterns - Crochet - StumbleUpon. Newsletter May 2010 - A crocheted flower brooch.
Maries making: Crochet Butterfly Pattern. Carinas Craftblog: Granny square joining tutorial - StumbleUpon. Granny Stripe Blanket :: the beginning - StumbleUpon. Neat Ripple Pattern. The Worlds Best Photos of grannysquares. Friendship Ring Square. Star Crochet Blanket, granny squares blanket | Yarn - StumbleUpon. Crochet School Lesson 21: Reading Crochet Charts - Craftyminx - StumbleUpon. Free Crochet Basketweave Bracelet Pattern. Zona's Journal Thingy.
---