Interesting Stuff
unnamed pearl
Movies
Sound Clip Collection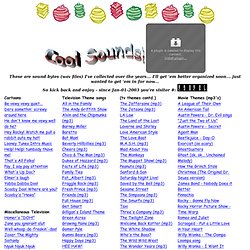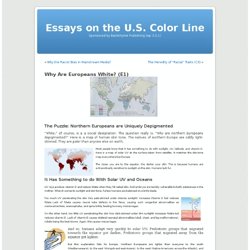 "White," of course, is a a social designation. The question really is, "Why are northern Europeans depigmented?" Here is a map of human skin tone.
Essays on the U.S. Color Line » Blog Archive » Why Are Europeans White? (E1)
25 Stunning and Creative Product/Industrial Designs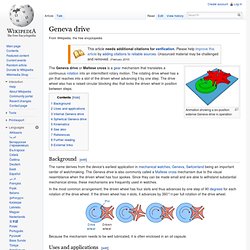 Animation showing a six-position external Geneva Drive in operation The Geneva drive or Maltese cross is a gear mechanism that translates a continuous rotation into an intermittent rotary motion. The rotating drive wheel has a pin that reaches into a slot of the driven wheel advancing it by one step.
Geneva drive
Wanna know 320 usless facts that you dont know and will never use!!
Two French hotel/camp, Attrape Reves in Bouches-du-Rhone (near Marseille) and Sky River near Loir-et-Cher, are the places where you can sleep under the stars.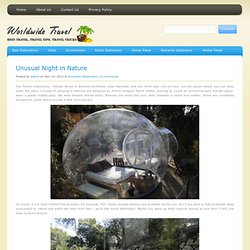 Unusual Night in Nature | Worldwide Travel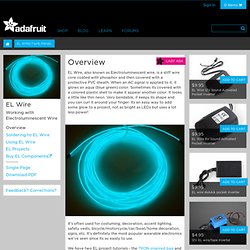 EL Wire, also known as Electroluminescent wire, is a stiff wire core coated with phosphor and then covered with a protective PVC sheath.
EL Wire
FV_18
Shape the Hive What are humans, really, but so many bees, buzzing away?
100 Websites To See Before You Die (Part 1) - Page 2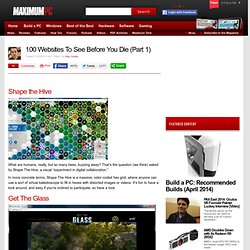 20 Inventive Ways to Upcycle Shipping Pallets by Ian Rebello | Bob Vila Nation
repurposing, diy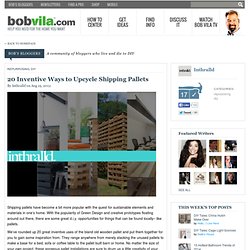 Print - 110 Predictions For the Next 110 Years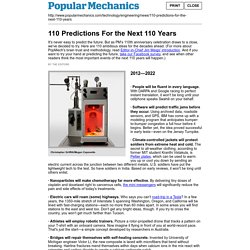 · People will be fluent in every language.
The Illustration & Design World of Zach Johnsen
Possible Evidence That Our Universe Is A Computer Simulation
A long-proposed thought experiment points out that any civilisation of sufficient intelligence would eventually create a simulation universe if such a thing were possible. Since there would therefore be many more simulations (within simulations, within simulations) than real universes, it is more likely than not that our world is artificial.Now a team of researchers at the University of Bonn in Germany say they have evidence this may be true. They point out that simulations of the universe naturally put limits on physical laws.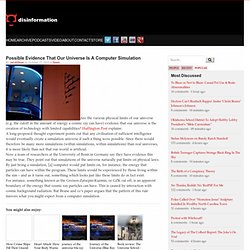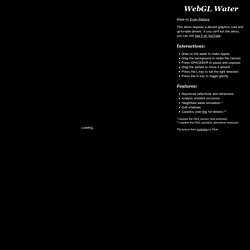 WebGL Water
Loading... Made by Evan Wallace This demo requires a decent graphics card and up-to-date drivers.
you knew i was going to make one.
they are all over pinterest....
This font is a set of cut-out layouts with which you can build 3D pixel style letters. They should all work. Just cut along the solid lines, fold along the dotted lines, put some glue on the shaded flaps, stick them together and there you go...
Punched Out Font
Global Research Editor's NoteAs September approaches, we are reminded that the anniversary of the tragic events of 9/11 will soon be upon us once again. 11 years laters, are we any closer to the truth about what really happened on that fateful day?
The Destruction of the World Trade Center: Why the Official Account of 911 Cannot Be True
9 Future Technologies That Will Radically Alter the World
We don't have to look back too far to understand the power that technology has had in shaping our world.
Battery from Pennies
A Valuable Oversight
The 101 Most Useful Websites on the Internet
Kidipede - History for Kids - Homework Help for Middle School Social Studies
Very Small Things - Photo Essays
The 10 Most Puzzling Ancient Artifacts
How to cut glass
Containers of Hope, a $40,000 Home by Benjamin Garcia Saxe
Download music, movies, games, software! The Pirate Bay - The galaxy's most resilient BitTorrent site
Hector Serrano
10 Vestigial Traits You Didn't Know You Had
emotions_and_facial_expression_by_cedarseed-ds1wwv.jpg (JPEG Image, 3650 × 3033 pixels)