Google
How to Find Anything Online: Become an Internet Research Expert. Einstein once said, "The secret to creativity is knowing how to hide your sources."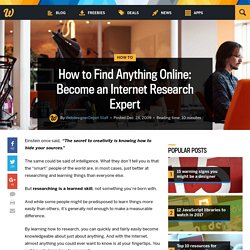 The same could be said of intelligence. What they don't tell you is that the "smart" people of the world are, in most cases, just better at researching and learning things than everyone else. But researching is a learned skill, not something you're born with. And while some people might be predisposed to learn things more easily than others, it's generally not enough to make a measurable difference. 6 Things I Bet You Didn't Know You Could Do with Google. Some of the tips below are effortless to implement and save you a lot of time and energy when dealing with these issues.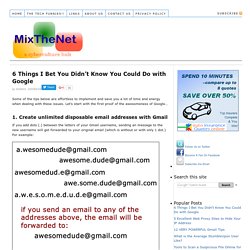 Let's start with the first proof of the awesomeness of Google… 1. Create unlimited disposable email addresses with Gmail If you add dots (.) between the letters of your Gmail username, sending an message to the new username will get forwarded to your original email (which is without or with only 1 dot.) For example: Google Censorship - How It Works. An anticensorware investigation by Seth Finkelstein Abstract: This report describes the system by which results in the Google search engine are suppressed.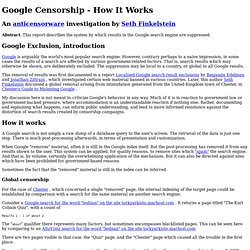 Google Exclusion, introduction Google is arguably the world's most popular search engine. However, contrary perhaps to a naive impression, in some cases the results of a search are affected by various government-related factors. That is, search results which may otherwise be shown, are deliberately excluded. The Get More Out of Google Infographic Summarizes Online Research Tricks for Students. My favorite Google trick is to use Google Books to search for citations and useful quotes.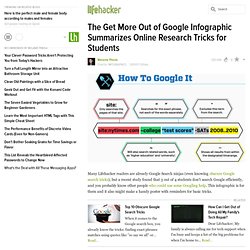 When I'm writing papers or doing research, I usually have a bunch of quotes that I've scribbled down somewhere, or thrown in my paper without citing it, and when I have to go back during the editing process and fill in all that information is super useful to be able to search google for the exact page number. It's also useful to help find themes within books. For example, in a current paper I'm working on I wanted to find all of the times that Locke talks about slavery. So I pulled up the edition of the book I had using the ISBN, and searched for the word "Slave. " The preview feature doesn't give me all of the text, but it gives the page numbers and that is enough for me to go to the book and look up all the useful references.
Top 10 Things You Didn't Know Google Maps Could Do. SExpand For over a year I've been contacting Google and TeleAtlas to update a wrong street address.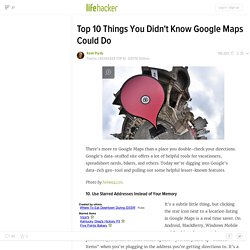 Sometimes I see cars going there and soon after returning because that street is supposed to be used by pedestrians. Also, it is located along a bird-sanctuary, so imagine a family van going bananas after digging a huge pile of sand and pebbles for walking pavements. Somehow, people are so stupid that they open the access gate that is closed and clearly marked as a different path name and prefer to follow the stupid directions from their GPS!!! I don't know what to do! Infographic: Get More Out Of Google. Folders - Gmail Help. SearchReSearch. Inside Search. Official Google Blog. Less Popular Google Search Tips. There's not a day that passes by without searching for information on Google.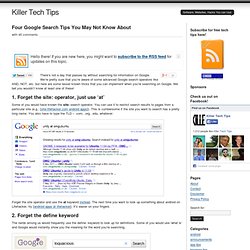 We're pretty sure that you're aware of some advanced Google search operators like AND, NOT, etc. but here are some lesser known tricks that you can implement when you're searching on Google. We bet you wouldn't know at least one of these! 1. Forget the site: operator, just use 'at' Some of you would have known the site: search operator. 7 Useful Google Cheatsheets – Download for Free! I know that our readers love cheat sheets: our last year's post listing SEO cheatsheets had a great response.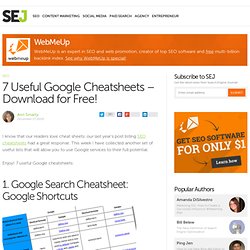 This week I have collected another set of useful lists that will allow you to use Google services to their full potential. Enjoy! 7 useful Google cheatsheets: Google Guide Quick Reference: Google Advanced Operators (Cheat Sheet) The following table lists the search operators that work with each Google search service.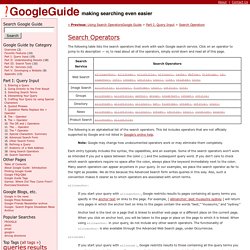 Click on an operator to jump to its description — or, to read about all of the operators, simply scroll down and read all of this page. The following is an alphabetical list of the search operators. Google Search Operators. Inside Search – Google. 12 VERY POWERFUL Gmail Tips. Google's Gmail is one uber-powerful tool.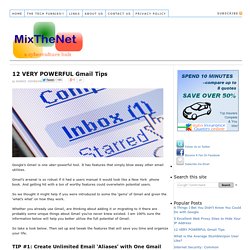 It has features that simply blow away other email utilities. Gmail's arsenal is so robust if it had a users manual it would look like a New York phone book. 6 Things I Bet You Didn't Know You Could Do with Google.
---