Music
Free Music with Neverending Playlist
Here I Go Impossible Again by Erasure - Presto.fm
Listen to Post-Rock on Presto.fm - Free Streaming Music Online
Search for Music Using Your Voice by Singing or Humming, View Music Videos, Join Fan Clubs, Share with Friends, Be Discovered and Much More For Free! - midomi.com
vip.aersia.net/vip-source.swf
Everyone's Mixtape
500 Greatest Songs of All Time: R.E.M., 'Radio Free Europe' | Rolling Stone
Jonk Music: Best Songs of the 2000s: Part 4
The Beatles Player
Waltz For Debby
Rock on AccuRadio online radio
▶ the broken places.
This week's curator: Chuck P, DJ for KCRW. Every two weeks, titans of the mediasphere give Nerve their music recommendations. This week: DJ Chuck P, of KCRW, whom you can join on his continuous search for what's next on KCRW's Music Blog.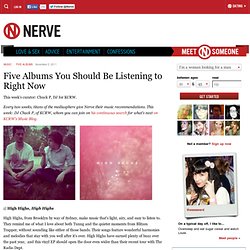 Five Albums You Should Be Listening to Right Now
:: procatinator ::
Online listening music | Listen to songs | Music to listen to online | What's your music style?
SoundCloud - Share Your Sounds