Music
Free Music with Neverending Playlist
Here I Go Impossible Again by Erasure - Presto.fm
Listen to Post-Rock on Presto.fm - Free Streaming Music Online
Search for Music Using Your Voice by Singing or Humming, View Music Videos, Join Fan Clubs, Share with Friends, Be Discovered and Much More For Free! - midomi.com
vip.aersia.net/vip-source.swf
Everyone's Mixtape
Checking your Google account... Checking your Facebook account... Everyone's Mixtape's celebrates the art of creating mixtapes. You can add to an existing mix, or start one of your own. Share with the world, your friends, or that girl from science class. Everyone's Mixtape is not about adding songs and hitting shuffle.
500 Greatest Songs of All Time: R.E.M., 'Radio Free Europe' | Rolling Stone
Jonk Music: Best Songs of the 2000s: Part 4
The Beatles Player
Waltz For Debby
Rock on AccuRadio online radio
▶ the broken places.
i don't sleep very well when i travel. and as a result, i tend to be awake in cities when everyone else is asleep. that's where this album, and the pictures that accompany it come from. it was primarily written late at night in cities when i felt like i was the only person awake (or alive), a soundtrack for empty cities at 2 a.m, at least that's how i hear it. the pictures were taken on tour while i was writing the album. i wanted to show a different side of touring and traveling. a side that is often mundane, disconcerting, and occasionally beautiful. as always, thank you for listening. and hopefully see you soon. moby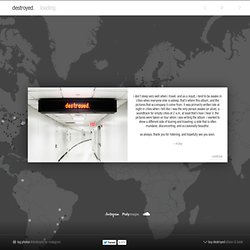 This week's curator: Chuck P, DJ for KCRW. Every two weeks, titans of the mediasphere give Nerve their music recommendations. This week: DJ Chuck P, of KCRW, whom you can join on his continuous search for what's next on KCRW's Music Blog.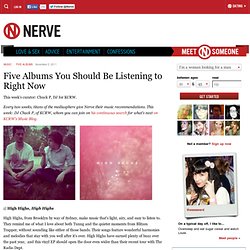 Five Albums You Should Be Listening to Right Now
:: procatinator ::
Online listening music | Listen to songs | Music to listen to online | What's your music style?
SoundCloud - Share Your Sounds