Art
Silk – Interactive Generative Art
21 Simple Ways To Swear Like Malcolm Tucker
Since The Fall swaggered onto the scene back in 1979, frontman and only consistent member Mark E Smith has carved himself a reputation as punk's snarling poet laureate. While his lyrics are evidence enough of his gift for using and abusing the English language, his interviews never fail to be anything less than a masterclass in agressive, righteous and unapologetic vitriol. Here we present some of his choicest turns of phrase: Photo: PA Photo: Getty Images Photo: Danny North/NME
The Savage Wit Of Mark E Smith - The Big Picture - NME.COM - The world's fastest music news service, music videos, interviews, photos and more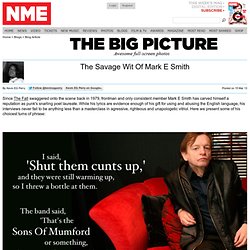 Top 10 Must Have iPad Apps for Logo Designers - You The Designer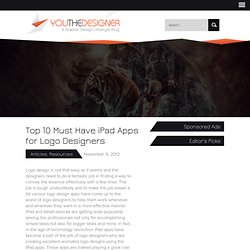 Articles, Resources November 9, 2012 Logo design is not that easy as it seems and the designers need to do a fantastic job in finding a way to convey the essence effectively with a few lines. The job is tough undoubtedly and to make the job easier a bit various logo design apps have come up to the world of logo designers to help them work whenever and wherever they want in a more effective manner. iPad and tablet devices are getting wide popularity among the professionals not only for accomplishing simple tasks but also for bigger tasks and more. In fact, in the age of technology revolution iPad apps have become a part of the job of logo designers who are creating excellent animated logo designs using the iPad apps. These apps are indeed playing a great role in taking the creativity of the logo designers to another dimension.
An invisible, ancient source of energy surrounds us—energy that powered the first explorations of the world, and that may be a key to the future. This map shows you the delicate tracery of wind flowing over the US. The wind map is a personal art project, not associated with any company.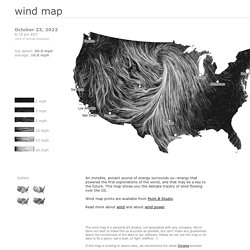 Wind Map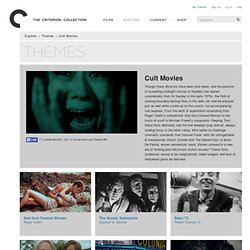 Though many drive-ins have been shut down, and the practice of screening midnight movies in theaters has waned considerably from its heyday in the early 1970s, the thrill of sharing boundary-testing films in the dark can now be enjoyed just as well while curled up on the couch—no accompanying cult required. From the whiff of exploitation emanating from Roger Vadim's sensational And God Created Woman to the touch of snuff in Michael Powell's voyeuristic Peeping Tom, these films delicately ride the line between pulp and art, always landing firmly in the latter camp. Who better to challenge cinematic standards than Samuel Fuller, with his unforgettable B melodramas Shock Corridor and The Naked Kiss, or Brian De Palma, whose wonderfully nasty Sisters ushered in a new era of thrilling post-Hitchcock stylish excess? These films stubbornly refuse to be marginalized, lower budgets and lack of Hollywood gloss be damned.
Cult Movies - Explore
Super Punch
'I am desperate to have some real fun again': Peter Sellers' final telegram to Spike Milligan
'I am desperate to have some real fun again': Peter Sellers' final telegram to Spike Milligan Peter Sellers didn't know he was dying, he believed he was going to live until he was seventy-five. That's what his spirit guide, the ghost of Victorian Music Hall performer, Dan Leno had told him. Sellers was terribly superstitious, his film career had often turned on the say-so of his clairvoyant, Maurice Woodruff. By the early 1970s, Sellers believed he was similarly able to communicate with the spirit world. He also recounted to his friends how he had been various famous people in various past lives.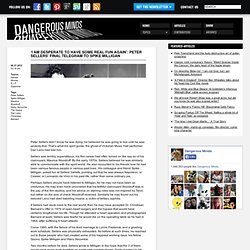 The Course of Empire is a five-part series of paintings created by Thomas Cole in the years 1833–36. It is notable in part for reflecting popular American sentiments of the times, when many saw pastoralism as the ideal phase of human civilization, fearing that empire would lead to gluttony and inevitable decay. The theme of cycles is also one that Cole returned to frequently, such as in his The Voyage of Life series.
The Course of Empire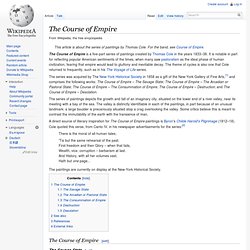 Brilliant Satirical Art by Pawel Kuczynski
Watch 'The Hobbit' (1977) in its entirety
LSD - specyfik na całe zło epoki dzieci-kwiatów. Ponad dwa lata temu - w kwietniu 2008 roku - zmarł Albert Hoffman - wynalazca tego panaceum. Przeżył piękny wiek. Miał 102 lata.
Re: LSD - A Documentary Report (1966) by request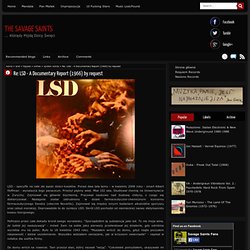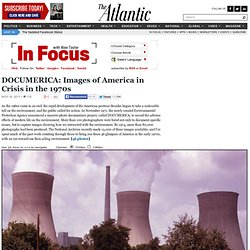 DOCUMERICA: Images of America in Crisis in the 1970s - Alan Taylor - In Focus
As the 1960s came to an end, the rapid development of the American postwar decades began to take a noticeable toll on the environment, and the public called for action. In November 1971, the newly created Environmental Protection Agency announced a massive photo documentary project, called DOCUMERICA, to record the adverse effects of modern life on the environment. More than 100 photographers were hired not only to document specific issues, but to capture images showing how we interacted with the environment. By 1974, more than 80,000 photographs had been produced. The National Archives recently made 15,000 of these images available, and I've spent much of the past week combing through those to bring you these 46 glimpses of America in the early 1970s, with an eye toward our then-ailing environment. [46 photos] Use j/k keys or ←/→ to navigate Choose:
Not Much Has Changed Since 1935 | SadAndUseless.com
by Maria Popova 'A magical display of the problem of life in the labyrinth of time.' After last week's discovery of Salvador Dalí's little-known 1969 Alice in Wonderland illustrations, I followed the rabbit hole to another confluence of creative culture titans. In 1945, Dalí and Walt Disney embarked upon a formidable collaboration — to create a six-minute sequence combining animation with live dancers, in the process inventing a new animation technique inspired by Freud's work of Freud on the unconscious mind and the hidden images with double meaning. The film, titled Destino, tells the tragic love story of Chronos, the personification of time, who falls in love with a mortal woman as the two float across the surrealist landscapes of Dalí's paintings. The poetic, wordless animation features a score by Mexican composer Armando Dominguez performed by Dora Luz.
Destnio: A Salvador Dalí + Walt Disney Collaboration Circa 1945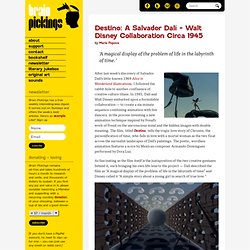 You can learn more about the famous anti-war painting, now housed at the Museo Reina Sofía in Madrid, by checking out the Smarthistory primer posted below. In the meantime, we're highlighting today a digitally-rendered 3D tour of Picasso's landmark work. It's the creation of Lena Gieseke, a visual effects artist who, once upon a time, was married to the filmmaker Tim Burton.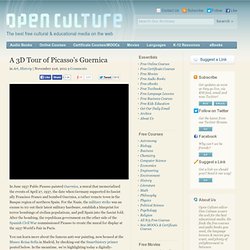 A 3D Tour of Picasso's Guernica
Salvador Dalí Illustrates Alice in Wonderland, 1969
by Maria Popova What the Mad Hatter has to do with one of the most inspired collaborations in Western culture. Last week, we marveled at Leonard Weisgard's stunning illustrations for the first color edition of Alice in Wonderland, circa 1949.
101 Zen Stories
FRONT PAGE - less than five hundred
The Nietzsche Family Circus
Editors' Choice
Khrzhanovsky's 'Glass Harmonica': Subversive surrealist late-'60s Russian animation
Khrzhanovsky's 'Glass Harmonica': Subversive surrealist late-'60s Russian animation In the opening titles of his 1968 animated short Glass Harmonica, Russian director Andrei Khrzhanovsky claims to present a cautionary against "boundless greed, police terror, [and] the isolation and brutalization of humans in modern bourgeois society." Of course, it was more complex than that. At the time Khrzhanovsky made the film, Russian animation had experienced a creative renaissance that spanned most of the '60s, fuelled by the Soviet Union's post-Stalinist liberalization policy best known as the Krushchev Thaw. Although that period yielded cutesy and colorful satires like Fyodor Khitruk's 1962 short Story of a Crime, Glass Harmonica—which posits music to symbolize beauty repressed by avarice—stands apart.
RICHARD LONG OFFICIAL WEB SITE
Richard Long. Artist. Art made by walking in landscapes. Photographs of sculptures made along the way. Walks made into textworks. Selected exhibitions and a list of solo exhibitions.
We have previously featured films by the great Russian filmmaker Andrei Tarkovsky. So we're overjoyed to report that the Moscow film company Mosfilm has just made 5o Russian classics available on YouTube in high definition. According to Yahoo News, Mosfilm has pledged to release five more films each week, all in HD with English subtitles, eventually bringing the total for the year to 200. You can look over the whole list of currently available classics at Mosfilm's YouTube channel. (Non-Russian speakers might want to hit Google Translate.)
50 Classic Russian Films (Including Tarkovsky's Finest) Now Online
Paul Octavious - Projects
Pictorical, the world best stories illustrated
How to select and colour scanned linework in Photoshop
Boris_Indrikov_Gallery
World's Biggest PAC-MAN
Street Philosophy by Matt Stuart (40 pics
VVORK
50 Unexplainable Black & White Photos: Pics, Videos, Links, News
Motivator: Create your own motivational posters!
My credo « Beautiful Desolation
Stewart Lee's insider's take on William and Kate | Stage