Tolkien, Hobbit & Lord of the Rings
JRR Tolkien Reads The One Ring Poem. J.R.R. Tolkien reciting "Namárië" J.R.R. Tolkien recites 'The Mewlips' Lewis and Tolkien: Scholars and Friends. Tolkien Interview. Simon Tolkien: "I don't think JRR would have enjoyed watching the films" Sir Christopher Lee sings Treebeard´s Song. Hobbit Production Blogs 1-9 All | Making Of "The Hobbit: An Unexpected Journey" Movie. BBC Archival Footage-In Their Own Words British Authors J.R.R. Tolkien Part 1. BBC Archival Footage-In Their Own Words British Authors J.R.R. Tolkien Part 2. Lewis and Tolkien Debate Myths and Lies. J.R.R.Tolkien Master Of Middle Earth pt 1 Documentary. J.R.R.Tolkien Master Of Middle Earth pt 2 Documentary. J.R.R.Tolkien Master Of Middle Earth pt 3 Documentary. J.R.R.Tolkien Master Of Middle Earth pt 4 Documentary. J.R.R.Tolkien Master Of Middle Earth pt 5 Documentary. J.R.R.Tolkien Master Of Middle Earth pt 6 Documentary. Interview with JRR Tolkien in 1968 and Adam Tolkien in 2007.
The Journey Continues J.R.R. Tolkien - Origins of Middle-Earth Documentary. J.R.R. Tolkien - The Legacy of Middle-Earth Documentary. "The Hobbit" Kick-Off - Sword & Laser December Book Club. Tolkien Collector - The Collectible Hobbit. The World of Tolkien's Hobbit | Art Beat. Since its first publication in 1937, J.R.R.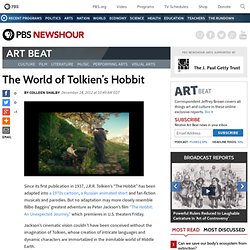 Tolkien's "The Hobbit" has been adapted into a 1970s cartoon, a Russian animated short and fan-fiction musicals and parodies. But no adaptation may more closely resemble Bilbo Baggins' greatest adventure as Peter Jackson's film "The Hobbit: An Unexpected Journey," which premieres in U.S. theaters Friday. Tolkienshop.com: Online Hobbit and Lord of the Rings store where your trip to Middle-earth starts. JRR Tolkien letter reveals poor sales of The Hobbit. 16 October 2012Last updated at 10:45 ET Tolkien spent much of his time at Leeds translating Old Icelandic texts A letter from JRR Tolkien to Swallows and Amazons writer Arthur Ransome has revealed the author's concerns about sales of The Hobbit.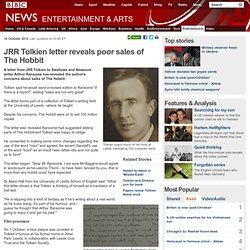 Tolkien said he would send a revised edition to Ransome "if there is a reprint", adding "sales are not very great". The Lord of the Rings Trilogy: Extended Edition on Blu-ray June 28th. Sign up to play "The Lord of the Rings Online"™ for Free! Please enter your existing account information Error: You must agree to the License Agreement, Terms of Service, and Privacy Policy to continue.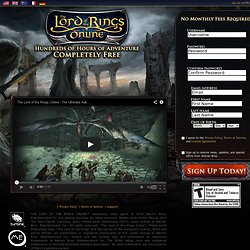 Error: You must agree to the License Agreement, Terms of Service, and Privacy Policy to continue. Error: You must agree to the License Agreement, Terms of Service, and Privacy Policy to continue. Error: You must agree to the License Agreement, Terms of Service, and Privacy Policy to continue. Tolkien computer games. J.R.R.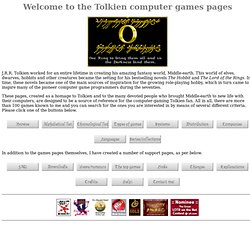 Tolkien worked for an entire lifetime in creating his amazing fantasy world, Middle-earth. This world of elves, dwarves, hobbits and other creatures became the setting for his bestselling novels The Hobbit and The Lord of the Rings. In time, these novels became one of the main sources of inspiration for the growing role-playing hobby, which in turn came to inspire many of the pioneer computer game programmers during the seventies. These pages, created as a homage to Tolkien and to the many devoted people who brought Middle-earth to new life with their computers, are designed to be a source of reference for the computer-gaming Tolkien fan. All in all, there are more than 100 games known to me and you can search for the ones you are interested in by means of several different criteria. How Lord of The Rings Should Have Ended. Lord of the Rings Fanatics Site - For & By Tolkien Fanatics.
The Tolkien Trust - Home page. J.R.R. Tolkien's The Lord of the Rings (3.5e Campaign Setting. Nimrodel - Original Costumes Index. Here in cyber space we invite you to move through the portal of Elysium Gates Web Hosting.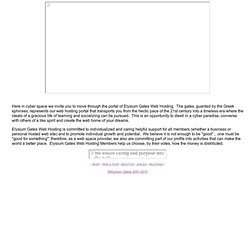 The gates, guarded by the Greek sphinxes, represents our web hosting portal that transports you from the hectic pace of the 21st century into a timeless era where the ideals of a gracious life of learning and socializing can be pursued. This is an opportunity to dwell in a cyber paradise, converse with others of a like spirit and create the web home of your dreams.Elysium Gates Web Hosting is committed to individualized and caring helpful support for all members (whether a business or personal hosted web site) and to promote individual growth and potential.
We believe it is not enough to be "good"... one must be "good for something"; therefore, as a web space provider, we also are committing part of our profits into activities that can make the world a better place. The Tolkien Music List. ۞ | Jef Murray Studios. The Two Towers - A J. R. R. Tolkien Museum Trail. Mount Doom by Alan Chapman The Two Towers is the second filmic instalment of J.R.R.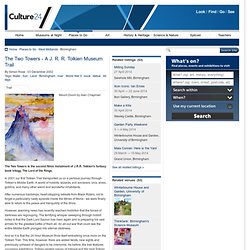 Tolkien's fantasy book trilogy, The Lord of the Rings. In 2001 our first Tolkien Trail transported us on a perilous journey through Tolkien's Middle Earth. A world of hobbits, wizards, evil sorcerers, orcs, elves, goblins, and many other weird and wonderful inhabitants. After numerous hardships, heart-stopping retreats from Black Riders, not to forget a particularly nasty episode inside the Mines of Moria - we were finally able to return to the peace and tranquillity of the Shire. JRR Tolkien. John Howe | CHRONICLES of an illustrator.
Kim Benson -Tolkien Art .net - Hobbit art, Lord of the Rings, elven art, mystical fantasy & ferret art. John Garth: writer, editor and researcher. Birmingham Features - The Lord Of The Rings - JRR Tolkien. TolkienBooks.net - The Home of An Illustrated Tolkien Bibliography. Ian-miller.org. Mythopoeic Society - a non-profit organization devoted to the study of J.R.R. Tolkien, C.S. Lewis, Charles Williams, the Inklings, and the genres of myth and fantasy. "Tolkien opened up in me a dormant love of lost and misty times, myth and legend..." | Ted Nasmith - Tolkien Illustrator - Renderer - Musician.
The Prevalence of Hobbits. The Grey Havens - The Ultimate J.R.R. Tolkien Resource Web Page. Lord of the Rings Wiki. Seeing Tolkien's Middle Earth through the eyes of his illustrators. Over the years, many illustrators have talken a crack at the sweeping vistas and well-furnished hobbit holes of J.R.R.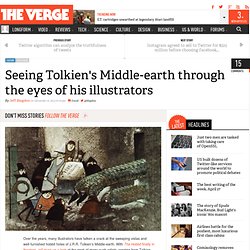 Tolkien's Middle-earth. With The Hobbit finally in theaters, io9 gives us a look at the work of many such artists, ranging from Tolkien himself, to Where the Wild Things Are's Maurice Sendak, to the Crown Princess of Denmark, Margrethe II. Not all of the work found favor with Tolkien, though. Tolkien. The American Tolkien. J.R.R. Tolkien. Hobbit Houses: Dwellings Right at Home in Tolkien's Middle Earth. While you have to go to the theater to see "The Hobbit," some people experience J.R.R.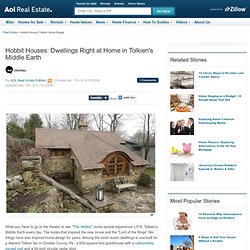 Tolkien's Middle Earth every day. The books that inspired the new movie and the "Lord of the Rings" film trilogy have also inspired home design for years. The Encyclopedia of Arda. The Encyclopedia of Arda is a personal project - a tribute to and a celebration of the works of J.R.R.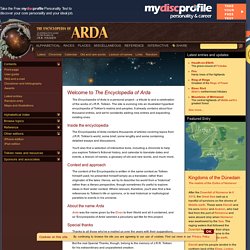 Tolkien. The site is evolving into an illustrated hypertext encyclopedia of Tolkien's realms and peoples. Hobbit Movie News and Information, The Lord of the Rings, Tolkien - TheOneRing.net - Forged by the Fans of J.R.R. Tolkien. Virtual Tour of JRR Tolkien's Oxford. One Ring to rule them all ... 'New' JRR Tolkien epic due out next year. It's the story of a dark world, of knights and princesses, swords and sorcery, quests and betrayals, and it's from the pen of JRR Tolkien.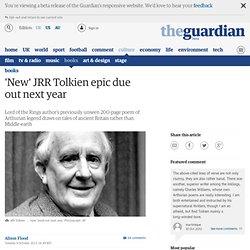 But this is not Middle-earth, it's ancient Britain, and this previously unpublished work from the Lord of the Rings author stars not Aragorn, Gandalf and Frodo, but King Arthur. HarperCollins has announced the acquisition of Tolkien's never-before-published poem The Fall of Arthur, which will be released for the first time next May. Take the J.R.R. Tolkien quiz. Now that Peter Jackson's first installment in his planned "Hobbit" trilogy - "The Hobbit: An Unexpected Journey" - has opened in theaters, it's time to test your knowledge about J.R.R.
Tolkien's tale, and about the author himself. Fret not, the questions are multiple choice. 1. What do the initials in J.R.R. J.R.R. Tolkien. J.R.R. Tolkien - Biography. Tolkien: Man Behind the Myth. O n January 3, 2003, J. R. R. Tolkien would have celebrated his eleventy-first birthday, a most momentous occasion, the same birthday on which Bilbo departed the Shire for Rivendell. 'Exploring J.R.R. Tolkien's The Hobbit': A Reminder To Tolkien Fans Of Their First Love. Seventy-five years ago, J.R.R Tolkien wrote a book for his children called The Hobbit. It isn't just a landmark piece of fantasy literature; it's a movement — a work that's inspired everyone from director Peter Jackson to the band Led Zeppelin to Leonard Nimoy (who recorded his own homage to the book in the late 1960s — "The Ballad of Bilbo Baggins"). Yet though it's widely celebrated, The Hobbit's always kind of existed in the shadow of Tolkien's other great work, The Lord of the Rings. Corey Olsen, self-described "Tolkien professor," tells Guy Raz, host of weekends on All Things Considered, that Tolkien fans tend to fall in love with The Hobbit as children, then move on to The Lord of the Rings and never come back.
BBC Radio 4 - Tolkien in Love. Welcome | Cambridge Tolkien Society. Peter Jackson's Violent Betrayal of Tolkien - Noah Berlatsky. The Hobbit's gory battles don't just pad out its run-time. They contradict the story's message about mercy. 20th Century Fox. JRR Tolkien's daughter sues producers of The Hobbit. University of Wisconsin Tolkien Society. Home Page - The Tolkien Society. Planet Tolkien.
Tolkien Books, Rare Book Shop, Tolkien Store. The Tolkien Professor | Lectures. Tolkien Gateway. Tolkien Home | Official Tolkien Book Shop. J.R.R. Tolkien Quotes (Author of The Hobbit) The Tolkien Estate - Home. Out With Tennis Injury, Tolkien Writes 'Hobbit' Unpublished Tolkien book to be released in 2013.
Studies on the Works of J.R.R. Tolkien. J.R.R. Tolkien and the OED. Mithlond. Unquendor | Tolkien Genootschap Unquendor.
---