Land grab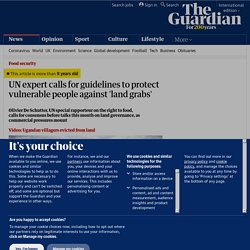 William Bakeshisha, father of six, was evicted from land he claims was given to his father. Photograph: Simon Rawles/Oxfam Governments should be wary of speculation and concentration of ownership when land rights are transferred to investors to "develop" farmland, a UN expert has warned before key UN negotiations on land governance . "We must escape the mental cage that sees large-scale investments as the only way to develop agriculture and to ensure stability of supply for buyers," said the UN special rapporteur on the right to food, Olivier De Schutter , amid concern among civil society groups about "land grabs". The recent surge in food prices has prompted investors and governments to focus on agriculture after decades of neglect. Attention has also focused on land deals in developing countries.
UN expert calls for guidelines to protect vulnerable people against 'land grabs' | Global development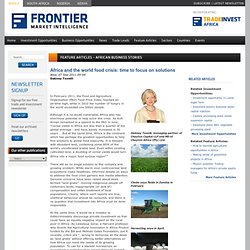 Africa and the world food crisis: time to focus on solutions Wed, 07 Sep 2011 09:04 Dabney Tonelli Dabney Tonelli, managing partner of Chayton Capital LLP and MD of Chayton Africa (Pty) Ltd. Chobe soya fields in Zambia in February Harvesting soya in April Preparing harvested crops for storage and transport in July.
Africa and the world food crisis: time to focus on solutions
Land and Power: The growing scandal surrounding the new wave of investments in land
CBC: Dambisa Moyo on her vision for Africa & what's wrong with aid
Workers at an 11,000 hectare farm in Bako, Ethiopia, run by the Indian company Karuturi. Photograph: Xan Rice Indian agribusiness companies are ready to spend $2.5bn buying, or renting for decades, several million hectares of cheap land in Ethiopia , Tanzania and Uganda in what could be some of the largest farming deals struck in Africa in the last 50 years. But in a separate development, plans for a US-based investment company to lease up to 1m hectares of South Sudan for only $25,000 a year appears to have stalled following protests by local communities over the potential "land grab".
Indian agribusiness sets sights on land in east Africa | Global development
'Glen, Gary and Ross' - a film about land grabs
The designations employed and the presentation of material in this publication do not imply the expression of any opinion whatsoever on the part of the Food and Agriculture Organization of the United Nations nor the International Fund for Agricultural Development concerning the legal status of any country, territory, city or area or of its authorities, or concerning the delimitation of its frontiers or boundaries. The mention of specific companies or products of manufacturers, whether or not these have been patented, does not imply that these have been endorsed or recommended by FAO or IFAD in preference to others of a similar nature that are not mentioned. The designations "developed" and "developing" countries are intended for statistical convenience and do not necessarily express a judgement about the stage reached by a particular country or area in the development process. The views expressed herein are those of the authors and do not necessarily represent those of FAO or IFAD.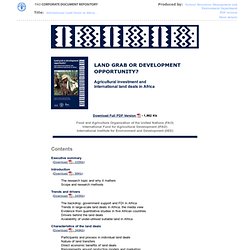 International Land Deals in Africa