Robotik
Login : Robokits World, Easy to Use, Versatile Robotics Kits...
Trossen Customer Cassinelli Alvaro has just posted a video of his newest creation, the Toro-Bots. These robots have Japanese style lanterns affixed to the top of a PhantomX Quadrupeds. The cralwers allow the lanterns to become a dynamic part of a garden landscape.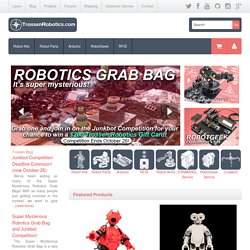 Rethink Robotics™ Baxter Research Robot A safe, affordable platform for academic and corporate labs Meet the Baxter Research Robot – a compelling new addition to the world of corporate and academic robotics research. The Baxter Research Robot is revolutionizing how labs of all sizes are able to leverage cutting edge technology. Find out more Phidgets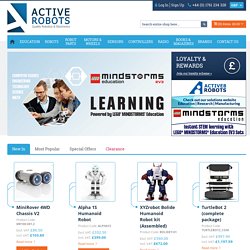 REEM-H2 - Pal Robotics - Modular Robotics | Service Robots | Humanoid Robots | Mobile Robots
Home
Welcome to Robosavvy! We have migrated our website. You find the latest content by visiting http://robosavvy.com. This page is being maintained for historical and archival purposes. You are welcome to browse all of our website and if you have any questions, please get in touch at sales@robosavvy.comThis e-mail address is being protected from spam bots, you need JavaScript enabled to view it or call +44 (0) 207 193 4351. Featured Items
RoboticsConnection
Electronic Kits
::: ROBOTIS :::
Arrick Robotics - Stepper motor, Positioning, Automation, Mobile Robots, Resources
CrustCrawler Robotics - Robotics kits, Robotic Arms,ROV/AUV Thrusters, Bioloids, Servos
Lynxmotion Robot Kits
Lynxmotion is a proud supplier for Project Lead The Way, the leading provider of rigorous and innovative Science, Technology, Engeneering, and Mathematics (STEM) education programs. RobotShop, "The Amazon of Robotics", Enters The Drone Market By Acquiring DiaLFonZo-Copter and Launches Lynxmotion UAV RobotShop is very proud to announce the acquisition of DiaLFonZo-Copter, a recognized leader in the design and production of multicopters. With this acquisition, RobotShop is pleased to announce the launch of the Lynxmotion UAV product line. For more information, see the press release and the blog post, or go to the Lynxmotion UAV Forum for questions and discussions. Lynxmotion Servo Erector Set V1.1 & FlowBotics Studio V2 Released The long-awaited Lynxmotion Servo Erector Set V1.1 is now available for immediate purchase!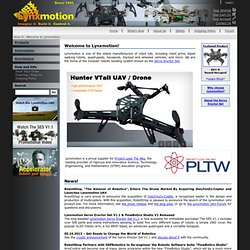 Hot Products We are an authorized distributor of MIT Handyboard System and Expansion Board developed by Dr. Fred Martin of Massachusetts Institute of Technology (MIT) Media Lab with a Licensed Interactive-C development tool for Handyboard and LEGO RCX. Handyboard is used in MIT 6.270 LEGO Robot Design contest
Robot Store (HK) -- Robot parts, MIT Handyboard system, LEGO, OOPIC, Dr Robot kits, robot parts, robot kits, sensors, DC motors, gearbox, gear box, solar battery, stepper motor, wheel, tire, robot parts, RF module, digital compass, sonar, Tamiya models, O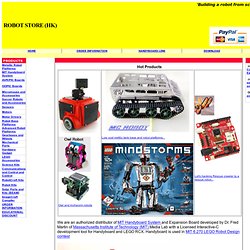 Solarbotics has been sharing electronics, kits, and BEAM Robotics with the Geek community for over 20 years. Designing an Arduino-based mobile solar-powered data logging cat collar? We can help! It's a short week this week, so new product is coming early. We are closed Friday April 18th, which is hence called Good Friday. conclusion