Robotik
Login : Robokits World, Easy to Use, Versatile Robotics Kits...
Introducing our new RobotGeek Gripper! This robot gripper packs a lot of features into a small package. A large 6cm gripping area, adjustable finger tips, geared down ratio for strength, a strong wrist servo, and light weight make this gripper a great solution for a wide range of projects.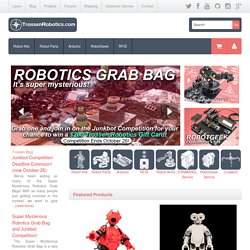 RoboteQ Roboteq Motor Controllers family continues to grow now with 14 main models and a dozen more variants, Roboteq's NxtGen controller's can drive more motor types and reach a broader application range than ever. Visit our Roboteq product page to find the controller that best fits your application or give us a call to discuss your specific requirements. Find out more Aldebaran Robotics Aldebaran Robotics NAO is the most widely used humanoid robot for academic purposes worldwide.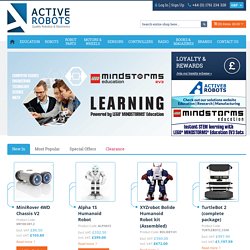 REEM-H2 - Pal Robotics - Modular Robotics | Service Robots | Humanoid Robots | Mobile Robots
Home
Welcome to Robosavvy! We have migrated our website. You find the latest content by visiting http://robosavvy.com. This page is being maintained for historical and archival purposes. You are welcome to browse all of our website and if you have any questions, please get in touch at sales@robosavvy.comThis e-mail address is being protected from spam bots, you need JavaScript enabled to view it or call +44 (0) 207 193 4351. Featured Items
RoboticsConnection
Electronic Kits
::: ROBOTIS :::
Arrick Robotics - Stepper motor, Positioning, Automation, Mobile Robots, Resources
CrustCrawler Robotics - Robotics kits, Robotic Arms,ROV/AUV Thrusters, Bioloids, Servos
Lynxmotion Robot Kits
Lynxmotion is a proud supplier for Project Lead The Way, the leading provider of rigorous and innovative Science, Technology, Engeneering, and Mathematics (STEM) education programs. RobotShop, "The Amazon of Robotics", Enters The Drone Market By Acquiring DiaLFonZo-Copter and Launches Lynxmotion UAV RobotShop is very proud to announce the acquisition of DiaLFonZo-Copter, a recognized leader in the design and production of multicopters. With this acquisition, RobotShop is pleased to announce the launch of the Lynxmotion UAV product line. For more information, see the press release and the blog post, or go to the Lynxmotion UAV Forum for questions and discussions. Lynxmotion Servo Erector Set V1.1 & FlowBotics Studio V2 Released The long-awaited Lynxmotion Servo Erector Set V1.1 is now available for immediate purchase!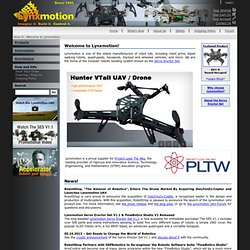 Hot Products We are an authorized distributor of MIT Handyboard System and Expansion Board developed by Dr. Fred Martin of Massachusetts Institute of Technology (MIT) Media Lab with a Licensed Interactive-C development tool for Handyboard and LEGO RCX. Handyboard is used in MIT 6.270 LEGO Robot Design contest
Robot Store (HK) -- Robot parts, MIT Handyboard system, LEGO, OOPIC, Dr Robot kits, robot parts, robot kits, sensors, DC motors, gearbox, gear box, solar battery, stepper motor, wheel, tire, robot parts, RF module, digital compass, sonar, Tamiya models, O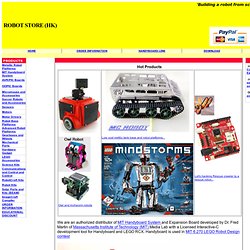 Wednesday links are back, with more wednesdayness and linkness. Or linkedness. In any case, after the holidays we got better. More rested, more well-fed, more exercised, more healthy, more balanced, more busy, more relaxed, more organized, more happy… Er, I think these were New Year resolutions… All I mean is that we are finally back with all kinds of interesting stuff harvested from different parts of the internet. Reading it benefits eye-to-mouse coordination and general well-being. Yours truly is about to teach a mixed media class and wanted to try making some stamps to enhance my (and my students') collaging experience.