PLACES
The Nude Cruise (NSFW) - Slide 3. The largest overwater bungalow in the world BY FAR. 13 Oct 2011 The largest overwater bungalow in the world BY FAR Overwater bungalows and water villas are known for being expensive, but at least they are also known for being larger than a typical hotel room, especially when you include the private decks.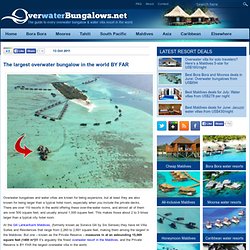 There are over 110 resorts in the world offering these over-the-water rooms, and almost all of them are over 500 square feet, and usually around 1,000 square feet. °°°°°°°THEIR CIRCULAR LIFE°°°°°°° What Hides Head Statue On Easter Island (4 pics) 632-515.jpg (imagen JPEG, 440 × 574 píxeles) Wreck Diving the Mysterious Ghost Fleet of Truk Lagoon [33 PICS] Diver gh0stdot captured amazing underwater images in the ghostly wreckage.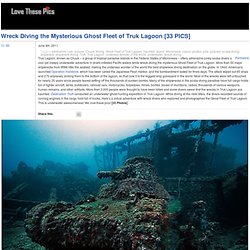 This is a light tank on the deck of the San Francisco Maru at about 50m depth in Truk Lagoon. Photo #1 by © gh0stdot Let's back up and show you where you are with an aerial shot taken while flying over Chuuk in south western part of the Pacific Ocean. Chuuk is the new name for an island group which formerly were known separately as Truk, Ruk, Hogoleu, Torres, Ugulat, and Lugulus. The World's Six Most Beautiful Lakes. World's Beautiful Lakes: Five-Flower Lake, China The pristine water of Wuhua Hai, or Five-Flower Lake, is the pride of Jiuzhaigon National Park in China.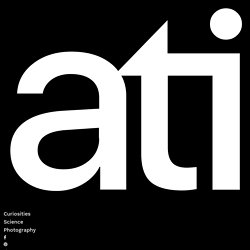 The shallow lake glistens different shades of turquoise and its floor is littered with fallen ancient tree trunks. Wuhua Hai is one in the legendary 108 haizi, or multicolored lakes, in the national park that according to legend, were created after an ancient Goddess dropped a mirror that her lover had given her, smashing it into 108 pieces. The amazing colors make it one of the world's most beautiful lakes: Plitvice Lakes, Croatia.
Most extreme vacation spots. 245.jpg (JPEG Imagen, 920x690 pixels) Trolltunga norway photo. Random photo Submit your photo Stumble Thru landscape photography.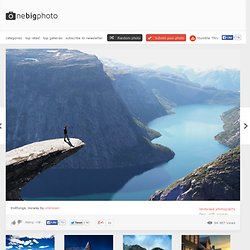 A Places must to See. No matter how advanced our cities and technology is, eventually we get tired of all the noise, stress and crowd of the city and want to be in the nature.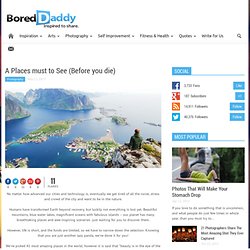 Humans have transformed Earth beyond recovery, but luckily not everything is lost yet. Beautiful mountains, blue water lakes, magnificent oceans with fabulous islands – our planet has many breathtaking places and awe-inspiring sceneries just waiting for you to discover them. However, life is short, and the funds are limited, so we have to narrow down the selection. Knowing that you are just another lazy panda, we've done it for you! Amazing Places To Experience Around The Globe (Part 1) 98 Flares Facebook 13 Twitter 15 Google+ 60 StumbleUpon 0 Pin It Share 10 10 98 Flares × Kayangan Lake, Coron islands, Palawan, Philippines Preachers Rock, Preikestolen, Norway Blue Caves – Zakynthos Island, Greece Skaftafeli – Iceland.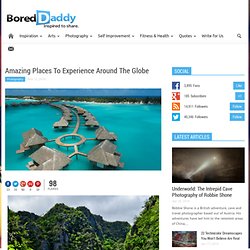 1,200-year-old village with 17 residents - Lifestyle News. 2011-10-21 17:35:39 GMT2011-10-22 01:35:39(Beijing Time) China Daily A village in Mengxian county, Yangquan city of North China's Shanxi province, has just 17 residents.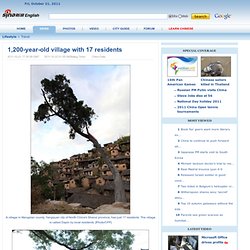 The village is called Dapin by local residents. [Photo/CFP] Walk through "Your Rainbow Panorama" in Denmark. Now reaching the rainbow became possible with the new installation named "Your rainbow panorama" of the Danish-Icelandic artist Olafur Eliasson.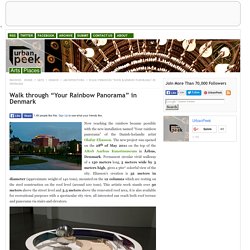 The new project was opened on the 28th of May 2011 on the top of the ARoS Aarhus Kunstmuseum in Århus, Denmark. Permanent circular vivid walkway of a 150 meters long, 3 meters wide by 3 meters high, gives a 360° colorful view of the city. Eliasson's creation is 52 meters in diameter (approximate weight of 140 tons), mounted on the 12 columns which are resting on the steel construction on the roof level (around 100 tons).
This artistic work stands over 50 meters above the street level and 3.5 meters above the renovated roof area, it is also available for recreational purposes with a spectacular city view, all interested can reach both roof terrace and panorama via stairs and elevators. Glass beach, California | ZME Science. Email The place – Glass Beach, California; what are we talking about ?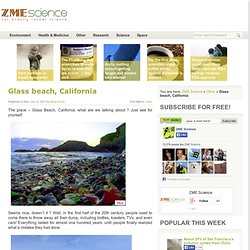 Just see for yourself. Seems nice, doesn't it ? Well, in the first half of the 20th century, people used to come there to throw away all their dump, including bottles, toasters, TVs, and even cars! 5 more Weird World Wonders. Green Lake - An Austrian Lake That Is Used for Hiking. A rare natural phenomenon turns one of Austria's most beautiful hiking trails into a 10 meter-deep lake, for half the year.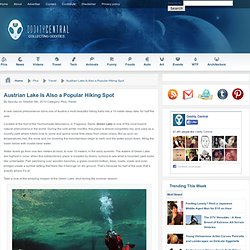 Located at the foot of the Hochschwab Mountains, in Tragoess, Styria, Green Lake is one of the most bizarre natural phenomena in the world. During the cold winter months, this place is almost completely dry, and used as a country park where hikers love to come and spend some time away from urban chaos. But as soon as temperatures rise, the snow and ice covering the mountaintops begin to melt, and the water pours down, filling the basin below with crystal-clear water.
Water levels go from one-two meters at most, to over 10 meters, in the early summer. The waters of Green Lake are highest in June, when this extraordinary place is invaded by divers, curious to see what a mountain park looks like underwater. Dream Bedrooms. Bridges that GROW themselves out of tropical roots and vines crossing rivers.
By Daily Mail Reporter Updated: 15:35 GMT, 10 September 2011 Deep in the rainforests of the Indian state of Meghalaya, bridges are not built, they're grown. Ancient vines and roots of trees stretch horizontally across rivers and streams, creating a solid latticework structure strong enough to be used as a bridge. Ancient solution: The 'double decker' living tree root bridge in the village of Nongriat in Meghalaya, India. Locals have been using the bridges for over 500 years. Bad Control – 10 World's Biggest and Most Amazing Holes. Más tamaños | A Beer with a View | Flickr: ¡Intercambio de fotos! Jul09wallpaper-8_1280.jpg (JPEG Imagen, 1280x960 pixels) - Escalado (56%) Southern Sky Column In the Zhangjiajie National Forest Park, China | SmashWallpapers - Wallpapers News. Mystical, Magical & Magnificent Monasteries in Meteora (20 Pics)
The caves in Meteora, Greece, had inhabitants for fifty millennia, but due to raids, "hermit monks" moved to the safety of sandstone rock pinnacles in the 9th century and began building monasteries. More monks and nuns came, building more monasteries perched high upon the cliffs. Wikipedia reports, "Access to the monasteries was originally (and deliberately) difficult, requiring either long ladders lashed together or large nets used to haul up both goods and people.
This required quite a leap of faith — the ropes were replaced, so the story goes, only 'when the Lord let them break.'" PARIS - panorama | © gillesvidal - photographe. Amazing Places around the world | LikeAndshare.info | likeandshare. Old Garage turned Mini Dream Home! | Hello there! It's been a busy week with a trip to Seattle for the Picasso exhibition and a drive out to the coast but I knew I had to share this amazing remodel with you before the week came to a close. Everyone loves good makeovers and the ones involving tiny spaces, creative design and ingenious solutions are my all time favorites! Check out how Seattle artist, designer and welder, Michelle de la Vega, created this beautiful little 250 sq. ft. haven…
25 Mind-Blowing Aerial Photographs Around the World. A former Cement Factory is now the workspace and residence of Ricardo Bofill | Yatzer™ The marble cathedral of Chile: Natural wonder could be world's most beautiful cave network. The Ultimate Maldives Gallery [30 pics] Hemeroscopium House: Prefab Gone Mad. Switzerland. Coolest. Stage. Ever. I think we all need something like this. Do you agree? Still Looking For Paradise? Maldives - justpaste.it.
---