Fabulous vids
Escucha una nueva colaboración entre Four Tet y Burial | CrazyMinds. Música indie.
Staff Picks on Vimeo
Staff Picks on Vimeo
The statuette is called the Actor for a reason; the Screen Actors Guild Awards are all about the performance. But that doesn't mean the setting will be bare bones. The 18th annual awards ceremony takes place Sunday at the Shrine Auditorium and Expo Hall near downtown Los Angeles. In the week leading up to the ceremony, the hall has been the center of frenetic work to complete the transformation. Massive lighting trusses already have been raised into place.
Screen Actors Guild Awards: Watch the stage being set for Sunday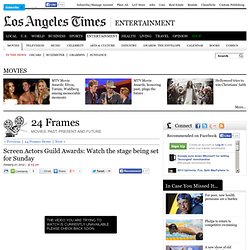 Staff Picks on Vimeo
Staff Picks on Vimeo
Jean-François Coen - « La tour de Pise » + sous-titres
Nokia ringtone during concert of classical music
The Vimeo HD Channel on Vimeo
#boirisme on Vimeo
Staff Picks on Vimeo
Los Reyes Magos (Alberto González)
DREAMER|DUBSTEP