Cooking
Red Velvet Cheesecake Brownies These Red Velvet Cheesecake Brownies are rich, decadent and so perfect for Valentine's Day! Brownie and cheesecake batter are swirled together to make a festive and impressive dessert. Indianapolis, along with many other states in the Midwest, is coping with a huge ice storm that is supposed to cover us in over an inch of ice. Unfortunately the worst of the storm is supposed to come tonight.
Red Velvet Cheesecake Brownies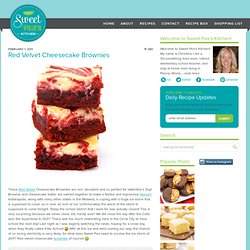 Bacon-wrapped Jalapeno Chicken Bites
610K+Add bacon to anything and it will fly off the table. That's what a caterer once told me and I believe it. Certainly applies here. Whether you're planning a cookout this weekend or cooking indoors (rain predicted here in Texas), grill up a few of these sizzling treats for a quick appetizer or serve as an entree. I can't think of a better way to celebrate the Fourth of July than with a big plate of these spicy and cheesy, smoky and crispy chicken nuggets.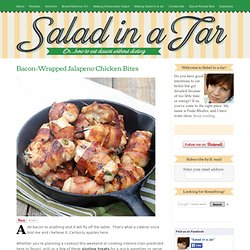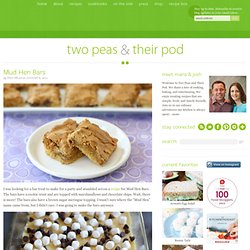 Mud Hen Bar Recipe
Mud Hen Bars I was looking for a bar treat to make for a party and stumbled across a recipe for Mud Hen Bars. The bars have a cookie crust and are topped with marshmallows and chocolate chips. Wait, there is more!
I don't say this very often. But this is one of the most delicious things I've ever eaten. Remember how I made dense, fudgy brownies by using a boxed chocolate cake mix? Well, let's just say that I haven't been able to stop imagining doing the same with a yellow cake mix ever since.
cake batter blondies. | girl meets life.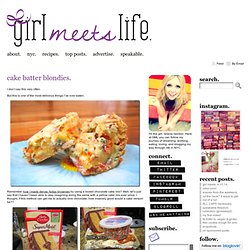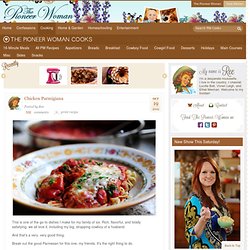 This is one of the go-to dishes I make for my family of six. Rich, flavorful, and totally satisfying, we all love it, including my big, strapping cowboy of a husband. And that's a very, very good thing. Break out the good Parmesan for this one, my friends. It's the right thing to do. Begin with four to six boneless, skinless, trimmed chicken breasts.
Chicken Parmigiana
How to Make Marshmallow Fondant
This time I decided to make it with those mini fruit flavored marshmallows. I had to sort them by colour first. I figured they would add a little bit of flavor to the fondant so I wouldn't have to add much flavoring oil. I use gel colours to dye my fondant but regular food colouring will work too.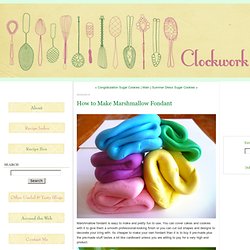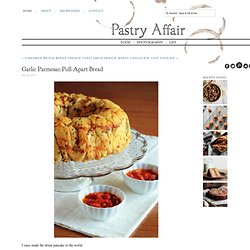 The Pastry Affair - Home - Garlic Parmesan Pull-Apart Bread
I once made the driest pancake in the world. I can see you sitting at home, staring at your computer screen, and scoffing at my bold statement. Driest pancake in the world? Yeah, right. How would you even know?
Cinnamon Sugar Pull-Apart Bread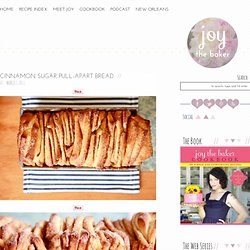 I'm sorry. I know it's Monday morning and you probably came here for some pretty pictures of food that you could glance at, and then move on with your day… and here I go thrusting warm, soft cinnamon sugar bread in your face. It's not fair.
Mystified. That was how I felt when I first learned of this recipe for ice cream that includes but only one ingredient, no ice cream machine, and is good for you. There is nothing more satisfying on a warming spring day then a spoonful of cool, creamy ice cream. I think it is even more satisfying if you know it took you just a few moments to make it from something that came from the earth. So what is the one ingredient for this ice cream recipe?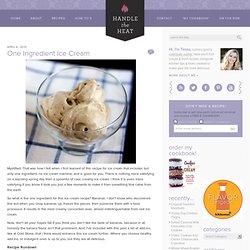 One Ingredient Ice Cream | Handle the Heat
I am really not a fan of Cottage Pie. You see, I like a bit of texture to my food. I like when there's something I can bite into or something that adds a bit of crunch, and with Cottage Pie, well there just isn't.
Chicken Cottage Pie with 3-Vegetable Mash | Simply Delicious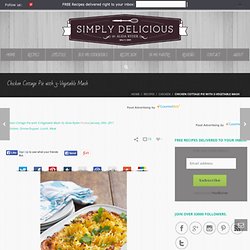 Directions Combine the water, sugar and kosher salt in the bowl of a stand mixer and sprinkle the yeast on top. Allow to sit for 5 minutes or until the mixture begins to foam. Add the flour and butter and, using the dough hook attachment, mix on low speed until well combined. Change to medium speed and knead until the dough is smooth and pulls away from the side of the bowl, approximately 4 to 5 minutes.
Homemade Soft Pretzels Recipe : Alton Brown
TGIF, friends. Hope that you all have had a lovely week, and that a relaxing weekend lies ahead. I'm looking forward to some friend's-birthday-celebrating, farmers-marketing, coffee-(friends)-dating, cake-baking, church-enjoying, and sleeping-inning here in my little corner of the world this weekend.
Pepperoni Pizza Puffs Recipe
English Muffins
My Mom's Famous White Bread
Growing up, we never had store-bought bread. My mom always made bread and was a bit famous for it. [Yes, Draper friends, this is the recipe.]
Love at first bite
Hi Everyone, The first time I ate a Jamaican Beef Patty was not in Jamaica it was in Guyana. But it was made by Jamaicans and it was love at first bite! More than a decade ago, Herdmanston Lodge was owned by a Jamaican couple and was called The Queenstown Inn. Each Friday they made delicious Jamaican Beef Patties that you had to pre-order at the beginning of the week. And then on Friday afternoons between 3.30 and 4, the very warm, flaky, meat sauced patties would arrive. Everyone stopped working to devour the patties.
Crispy Potato Roast Recipe
Hey Guys! So…it's still really hot out…wtf! I'm totally ready for fall…forget this, "I just don't want summer to end" BS…I'm OVER IT! Okay, I apologize for being aggressive right there, but man does this weather make me grumpy. There are a few things that get my mood up during weather like this: 1) My Dog (always) 2) Frequent Fro-Yo and Hawaiian Ice trips with the boyfriend 3) This Roasted Onion Dip. Remember when you were a kid and sleepovers were still the best thing ever?
Cookies 'N Cream Oreo Fudge Brownies